Independent trucker protests over California's "gig worker" law known as Assembly Bill 5 (AB5) have impacted operations at the Port of Oakland as independent big-rig truckers block movement in and out of the port.
The state's 2019 labor law AB5 was sparked by the rise of gig economy platforms like Uber, Lyft and DoorDash, and adds a handful of regulations to independent contractors, making it more difficult for companies to classify workers as independent contractors instead of employees. The law affects those who are entitled to things like minimum wage and benefits.
CNBC reported that the trucking industry received a two-year legal stay regarding the law, but in June, the U.S. Supreme Court denied to hear an appeal from the California Trucking Association that would have protected truckers from the law's impact, prompting the protests.
On Monday, hundreds of independent truckers blocked cargo movement in and out of terminals at the Port of Oakland, the eighth-largest port in the U.S., and continued to protest on Thursday, affecting the port's product deliveries.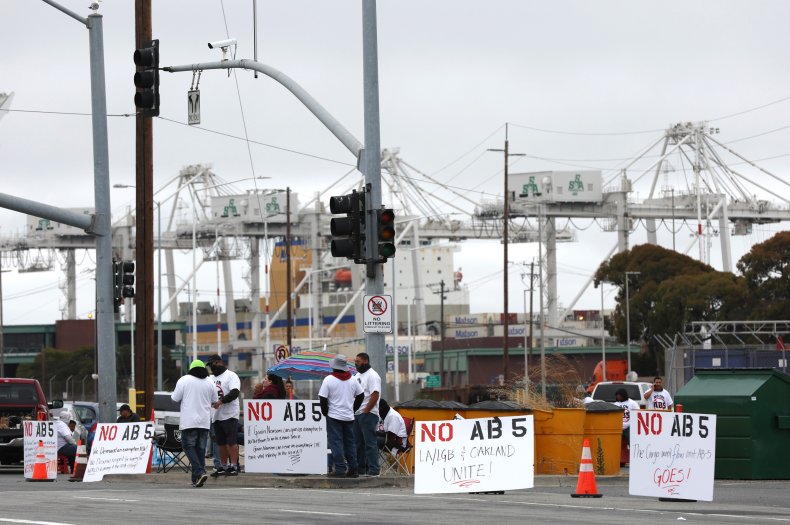 The port sees over 2,100 trucks in the terminals daily, and items from across the world, such as wine and meat from Australia, aluminum from South Korea, furniture from China, as well as clothing and electronics, are distributed from Oakland, according to CNBC.
However, as the independent trucking companies continue in opposition, the port has reported cargo ship traffic jams and stockpiled goods on the dock. On Wednesday, the Port of Oakland announced that it was shutting down cargo operations.
"The shutdown will further exacerbate the congestion of containers," and port officials are urging operations to resume at the shipping terminals to keep up, a port statement said according to the Associated Press.
Bill Aboudi, the owner of AB Trucking, is one of the protesters. He told CNBC that the truckers are bitter toward California Governor Gavin Newsom.
"So far there has been no contact with the governor's office. It seems the governor is not concerned about taking American workers' rights away," Aboudi said. "These are independent, small businesses that choose to operate their own trucks, and now that right is taken away from them. They do pay taxes, they do have insurance. It's their choice to do that."
Closures at the port were also the result of a lack of longshoremen, as many dockworkers said they felt "unsafe" working in the terminals while trying to navigate the crowds.
It is unclear when the protest might end, and the Port of Oakland is anxious to have business as usual again.
"We understand the frustration expressed by the protestors at California ports," Port of Oakland Executive Director Danny Wan said, according to FreightWaves. "But, prolonged stoppage of port operations in California for any reason will damage all the businesses operating at the ports and cause California ports to further suffer market share losses to competing ports."
Newsweek reached out to the Port of Oakland for further comment.