How the Patriots Won the Greatest Super Bowl Game Ever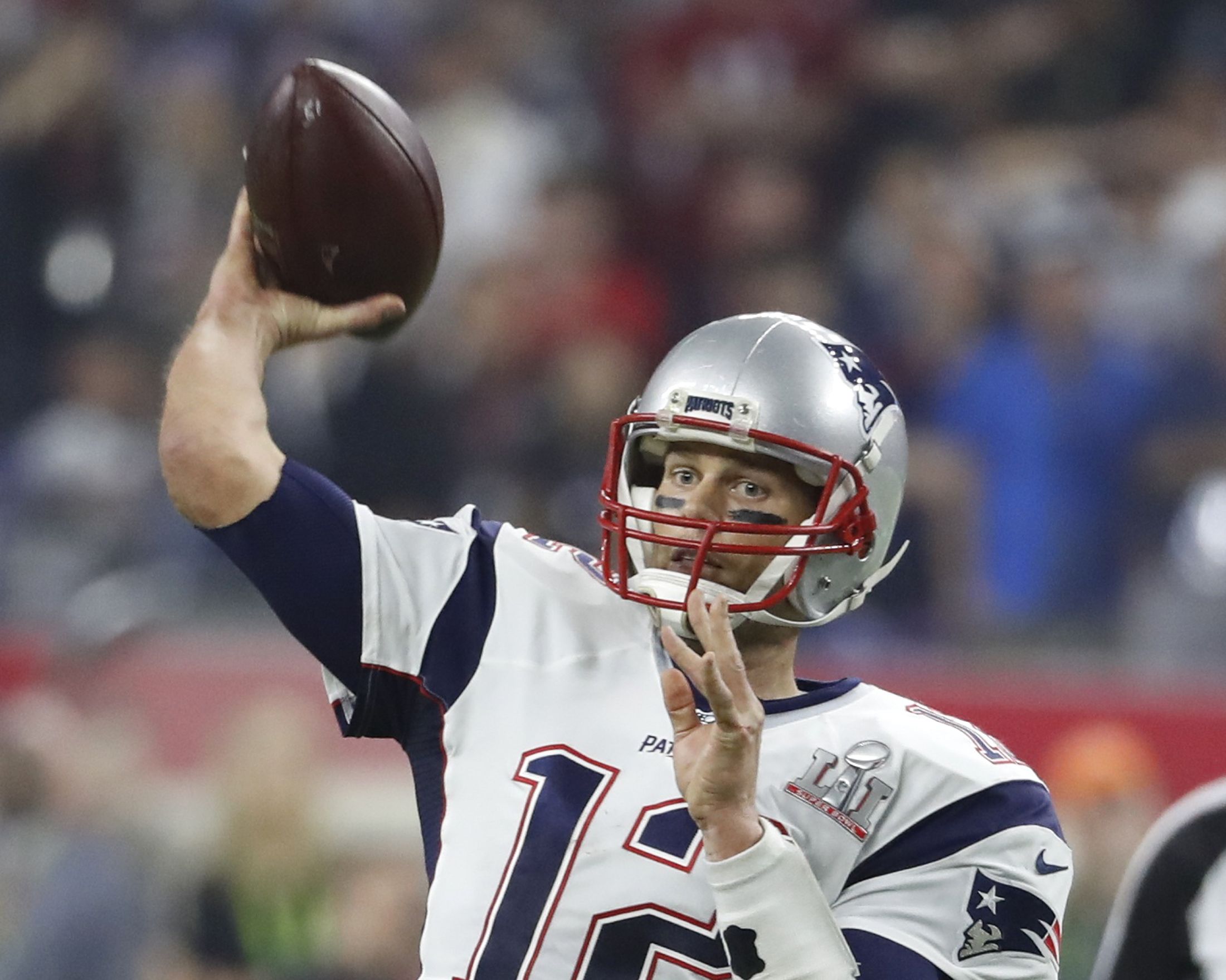 By now all of us should have learned our lesson. We should know better than to prematurely affix a toe tag on a reeling contestant in an event of national import. How many evenings must we sit huddled together, one nation indivisible in front of our flat screens, before we finally learn the cardinal rule of epic drama: What absolutely cannot happen, will happen.
On Sunday night in Houston, in the 51st edition of the Super Bowl, the Atlanta Falcons were, to borrow a phrase from halftime act Lady Gaga, on the edge of glory. Instead, the Falcons found infamy as the New England Patriots overcame a 25-point second-half deficit to win in overtime, 34-28. If it was not the greatest Super Bowl ever played, it featured by far the most dramatic reversal of fortune, as none of the previous 100 participants had ever overcome more than a 10-point lead to win. In the words of ESPN's Chris Berman, who hosted the postgame NFL Primetime in the final moments of his illustrious 38-year career, "Houston, we have a classic."
The Patriots, who were appearing in their seventh Super Bowl with Bill Belichick as head coach and Tom Brady as quarterback, trailed 21-3 at halftime. Then matters really became dire. With 8:31 remaining in the third quarter, Falcon quarterback Matt Ryan, the league's Most Valuable Player, threw a six-yard touchdown pass to running back Tevin Coney. Rise up: The Falcons led 28-3 and it seemed as if this Super Bowl was truly for the birds. For those who place value on analytics, ESPN Stats and Info tweeted, "Falcons current win probability—96.4%."
In that same tweet, they added a humdinger of a harbinger as footnote: "(Keep in mind they did lose a game to Chargers this season in which they had a win prob of 95.4%)."
Through three quarters, the Falcons, who were making their second Super Bowl appearance and seeking their first win, were stronger, faster and hungrier. They harassed the 39-year-old Brady relentlessly, sacking him five times and even forcing him into throwing his first pick-six (an interception returned for a touchdown) in 34 career postseason games. After Robert Alford stepped in front of Brady's throw intended for Julian Edelman and returned it 82 yards for a touchdown, putting Atlanta up 21-0, the camera found a defeated-looking Brady seated on the bench, head down, elbows on his knees. It's as dejected as a man can possibly look who is worth eight figures, married to a Brazilian supermodel and sporting a full head of dark hair.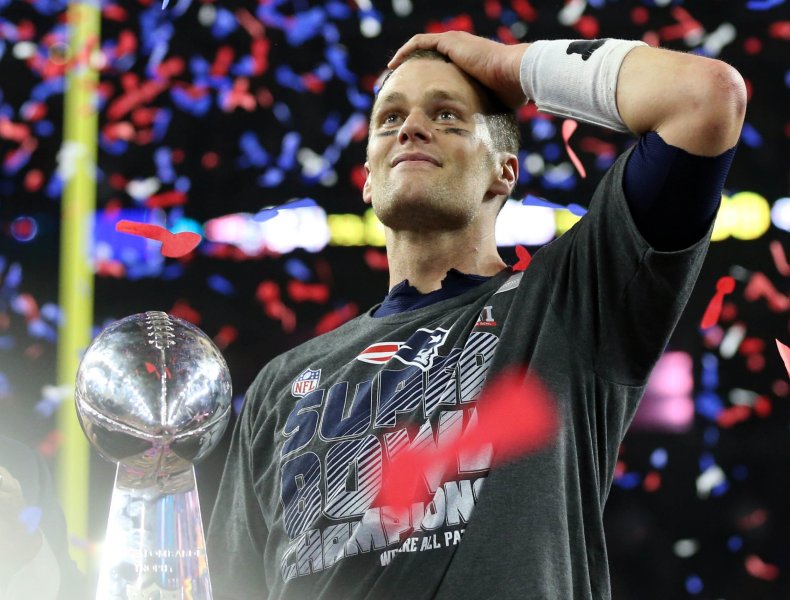 But this is Tom Brady. This is the three-time Super Bowl MVP who sat out the first four games of the 2016 season due to a league-imposed suspension and still led the Patriots to a 14-2 record. This is the quarterback who after being selected in the sixth round of the 2000 NFL draft—after six other quarterbacks—had the temerity to introduce himself to the team's owner, Robert Kraft, by saying, "Picking me was the smartest decision this organization ever made."
Never count out Tom Brady. Ever. He wears number 12, but it may as well be 007.
Led by their 17-year veteran, the Patriots staged the most improbable comeback a Roman-numeraled football game has ever seen. To enumerate, there were nine plays that occurred after Atlanta took its 28-3 lead that, had any one of them turned out differently, would have spelled a Falcon conquest. Let's run through them:
With 6:04 remaining in the third quarter, New England faces fourth-and-three from its own 46. One play earlier the Pats had gotten too cute, attempting a double pass in which Brady lateraled to Julian Edelman (a former college quarterback), who then threw incomplete downfield. This time Belichick makes sure that the greatest quarterback in NFL history makes the pass attempt, and Brady completes a short one to Danny Amendola, who then runs for 17 yards.
Three plays later, facing third-and-eight from the Falcon 35, Brady drops back to pass but is flushed from the pocket. He scampers upfield for 15 yards and a first down to sustain the drive. It is New England's longest run from scrimmage.
With 8:31 to play and Atlanta up 28-12, the Falcons face a third-and-one from their 35. They need one yard to buy themselves at least three more plays while New England needs two touchdowns and a pair of two-point conversions simply to tie the game. Falcons running backs are averaging 5.8 yards per carry. Much like a Bond villain who needlessly fashions elaborate and unreliable modes of death for our hero, Atlanta calls for a pass with a five-step drop. Ryan is hit and fumbles the ball. New England recovers.
On third-and-eleven from the Atlanta 26, Brady finds rookie wide receiver Malcolm Mitchell, who makes a diving catch for a 12-yard gain. Mitchell was previously best-known from a CBS Sunday Morning profile that focused on his membership in a middle-aged ladies' book club as an undergrad at the University of Georgia.
After scoring a touchdown to make the score 28-18 with 5:56 to play, New England attempts its first two-point conversion. A direct snap to running back James White fools Atlanta's interior defense and the third-year player scoots in easily. Now the score is 28-20 and, well, remember that feeling you felt last November 8—be it elation or horror—when Florida was called for Donald Trump? Déjà vu.(Atlanta fans, this is only going to get worse. We understand if you wish to stop reading, or start looking at cat videos.)
An acrobatic 27-yard catch by Atlanta's Julio Jones stakes the Falcons to a first-and-ten at the Patriot 22 with 4:40 to play. The Falcons can run the ball three times, kill two minutes off the clock or compel New England to burn its timeouts. Then Atlanta, which as a city owns one world championship to Boston's 36, can bring in Matt Bryant to kick a field goal. Bryant made 92 percent of his field goal attempts this season, including a 59-yarder. This would likely have been a 40-yarder and given Atlanta a two-score lead. Instead, Ryan again drops back deep to pass and this time he is sacked for an 11-yard loss.
On the ensuing play, the Falcons are called for holding. They will eventually punt from the Patriot 45, having lost 23 yards in two plays.
The Julian Edelman catch, a preposterous circus of limbs and appendages that entails a Falcon defender swatting the ball, the ball ricocheting off the defender's knee, and then Edelman cradling it, briefly losing possession of it, and recovering it with both hands a nanometer before it touches the turf. It goes for 23 yards, but more than that, it lends the outcome an air of inevitability. It's the greatest Super Bowl catch since David Tyree's that helped knock out the Pats nine years earlier in Super Bowl XLII.
The second two-point conversion, a quick screen to Danny Amendola, who is positioned in the slot on the left side. Amendola narrowly crosses the white stripe of the goal line before being driven backward two yards. That conversion forces overtime, the first in an NFL championship game since 1958—the one between the Baltimore Colts and the New York Giants at Yankee Stadium that is simply known as "The Greatest Game Ever Played." But this one was likely better, though the overtime was somewhat anticlimactic.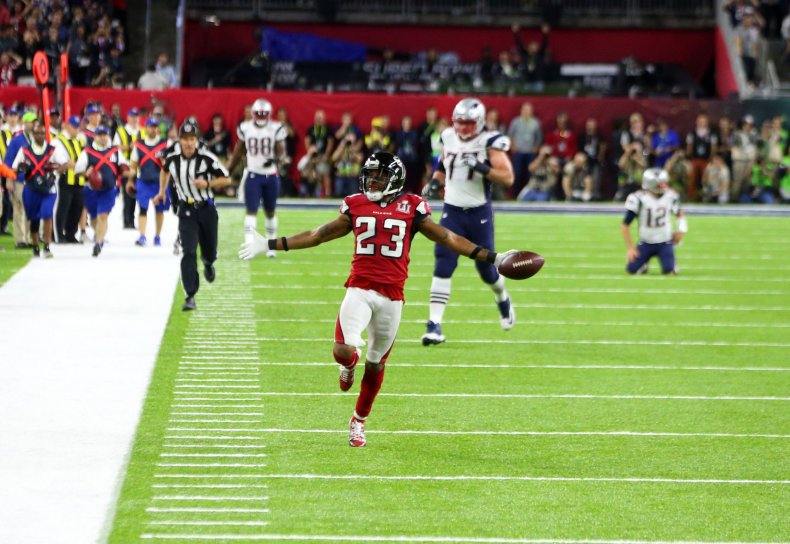 Just how bizarre was Super Bowl LI? Although the Patriots trailed by 25 points and never led in regulation, the 34-28 final score provided them their largest margin of victory, six points, in any of their five Super Bowl triumphs. Brady, who was forlorn in the first half, finished the game having set NFL records for most completions (43) and passing yards (466) in a Super Bowl, while tying retired defensive end Charles Haley for the most Super Bowl wins of any player (5). James White, a backup running back, set a Super Bowl record for most catches (14) in a game and most points (20). The Pats scored 34 points and never converted a point-after kick, which may be a record for any NFL game.
New England should never have won. New England absolutely had to win. While most of the 100 million or so of us were shoveling dirt atop the Patriots' coffin, we were ignoring the dramatic elements. Of course, the night had to end with the venal commissioner, Roger Goodell, handing the Vince Lombardi Trophy to his voluble nemesis from "Deflategate," Robert Kraft. Of course Brady—the quarterback who kept a "Make America Great Again" ball cap in his locker, and who wrote a letter of support to the future 45th president, which that man read aloud to a raucous New England audience just one day before election night—had to overcome long odds to claim victory and a hug from his foreign-born supermodel spouse.
In the past nine months, a nation that is obsessed with sports and politics has been enthralled by events that, to borrow a line from U2, "have to be believed to be seen." The Cleveland Cavaliers overcame a 3-1 deficit against a Golden State Warriors team that had set an NBA record for regular-season wins to triump in its first NBA championship in June. The Chicago Cubs overcame a 3-1 deficit against the Cleveland Indians in early November to win their first World Series in 108 years. And soon after that, the host of a reality show overcame every pundit and poll to become the leader of the free world.
Bill Belichick and Tom Brady won another Super Bowl. Who cares how they did it—why are we surprised?