How Peacock Turned the Video Game 'Frogger' Into a Real-Life Game Show
Many video games have been adapted into TV shows and movies, but not many can claim to have been turned into a game show.
Replacing frogs with humans and pixels for real life, Frogger has been adapted and enhanced on Peacock. The streaming service launches its new energetic game show today with fantastical courses, celebrity hosts and a grand cash prize.
Let's take a look at how the team at Peacock turned a classic arcade game into a crazy, exhausting and dynamic assault course.
What does Frogger on Peacock look like?
The concept of Frogger remains the same as the original game—get from one side to the other.
In Frogger the game, the digital frog would have to avoid getting squashed by traffic and avoid falling in the water, the humans in Peacock's version have to follow the same concept, except there won't be real moving traffic for them to avoid.
Contestants have to jump across moving conveyor belts, spinning platforms, water jets and many more challenging obstacles. It's essentially a mix between Total Wipeout and The Floor is Lava.
There are a number of courses for contestants to try and conquer. They'll be platforming their way across courses like Frog City, Candy Frog Land, Frogs in Space, Frog Skull Island, Ribbit River, and Toad Temple. It will take more than just agility to make it through as the contestants must use strategy, problem solving skills and strength to make it across.
In a press statement, Peacock said Frogger "brings to life this popular franchise and supersizes it on an epic course! Audiences and contestants alike will be transported into a wild, whimsical Frogger world, filled with all the simple but challenging elements of the mega-hit from Konami."
While in the '80s video game you'll win points, the contestants on Peacock's game show could win a massive $100,000 grand prize.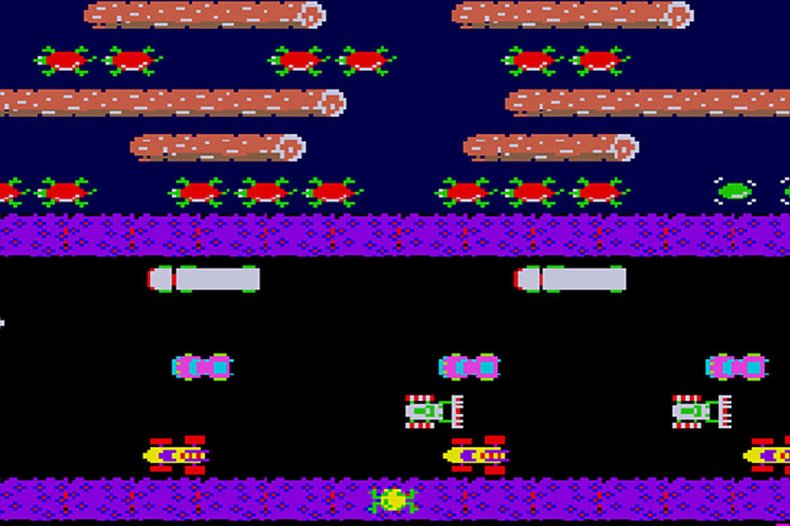 Who hosts Frogger on Peacock?
Comedy actor Damon Wayans Jr. (Happy Endings, New Girl) and Kyle Brandt host the new game show which was actually commissioned by the video game's original creators Konami. The hosts will also double up as commentators; watching and critiquing the contestants successes and failures.
There will be 13 episodes throughout the season in total and the first three episodes are available to watch on Peacock now. New episodes drop every Thursday.
The series has been created for television by Chris Culvenor of Eureka Productions. Eureka Productions are the producers in partnership with the video game company Konami Cross Media NY, Inc.