How Pickup Artists Changed the Game Amid COVID and #MeToo
When coronavirus started to spread last spring, there was sufficient bravado in Reddit's Seduction forum—a popular gateway to "pick-up artistry"—that the moderators felt the need to intervene.
"This is not the time to cold approach large numbers of women in rapid fashion," they chided in a public safety announcement. "...Stop treating this situation as if it's just some normal obstacle."
Over the past year, posts in r/Seduction have bemoaned the chilling effect of face masks, plexiglass barriers, and a deadly virus on their "daygame": The pickup artist (PUA) term for meeting women in public. But now talk is increasingly of logistics.
As restrictions in the U.S. and U.K. start to lift, "field reports" are on the rise and members are swapping notes on their experience with the "COVID cold approach".
One Redditor writing recently under the topic "How to approach a girl while wearing mask?" expressed his unease: "Have you done it? It just feels weird."
In a separate discussion, another had formed a solution to the mask problem: "It's definitely more challenging not being able to see each other's faces. Just bought a face shield... should improve my hitting average."
Not for the first time, the so-called "seduction community" is revising its playbook.
It has now been more than 15 years since Neil Strauss' book "penetrating the secret society of pick-up artists" brought the subculture into the mainstream. The Game sold more than three million copies, many to men seeking to share in Strauss' transformation from "Average Frustrated Chump."
The tactics ranged from silly (magic tricks, statement hats) to sinister (how to overcome a woman's "Bitch Shield," "Anti-Slut Defense," and "Last-Minute Resistance" to sex). But in 2005, critics were less inclined to explicitly condemn The Game's misogyny than to cast a skeptical eye at its "science of seduction."
Elsewhere The Game was hailed as a "dating bible," the suggestion that sexual success could be as straightforward as studying stock lines and routines proving irresistible.
"A lot of the stuff in The Game was a little bit of a fantasy—but it convinced a lot of people," says Wayne Elise, who appears in the book as "Juggler."
Of the many gurus from whom Strauss learned "game," Juggler was depicted as a charming up-and-comer who claimed to be able to pick up women simply by reading his grocery list.
"My point was you don't need the fantastical stories," Elise says now. "I think a lot of guys just end up making stuff up."
But The Game's value was precisely in presenting a script that could be followed. "It gave a blueprint of 'here's how you talk to a girl'; it took all the guesswork out of it," says André Sampson, a 27-year-old IT consultant and content creator.
He credits discovering online daygame tutorials as a college graduate in Chicago in 2017 with giving him social confidence: "I was taking notes like I was in class."
Some of what he saw was "kind of creepy," or a gateway to a "dangerous" worldview. But for Sampson, learning how to strike up a conversation with a woman in public was "life-changing."
"People laugh, but that got me my first real relationship," he says.
Today PUA terminology such as "negging" (giving a woman a backhanded compliment, to prime her to seek validation) and "peacocking" (wearing flashy clothes or statement accessories as a conversation-starter) is part of the mainstream dating lexicon. But, in 15 years, "game" has changed.
If PUA ever had a veneer of counter-cultural cool—consider the flattering depictions in the romcoms Hitch (2005) and Crazy Stupid Love (2011)—it has lost it now.
In the time of #MeToo, The Game describes blatant sexual misconduct, while r/Seduction is now situated within the wider online "manosphere" that has been linked to real-world violence against women.
Elliot Rodger, the self-described incel—"involuntary celibate"—who murdered six people in 2014, was active on r/PUAHate, a since-shuttered Reddit forum that rallied against PUA for making false promises.
Meanwhile, the most infamous modern-day PUAs—among them Roosh V, Julien Blanc, and Jeff Allen—espouse strategies that make the rune readings in The Game seem endearing.
All three had their international travel restricted following public outrage, while online platforms such as Amazon and YouTube have cracked down on their content.
Today people rarely identify as PUAs, says Jane Ward, professor of gender and sexuality studies at University of California Riverside: "They have rebranded."
Strauss has distanced himself from the community, detailing his subsequent mental health struggles and eventual retreat into monogamous bliss in his 2015 book The Truth.
Neither Strauss nor his mentor the magician Mystery responded to Newsweek's requests for an interview. Ross Jeffries, often credited as founding PUA in the late 80s, replied with one word: "Pass."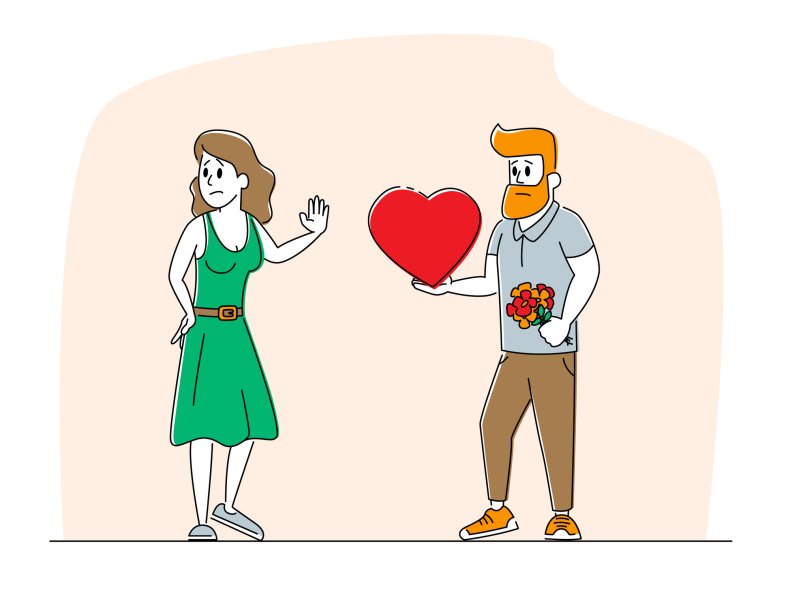 Speaking over Zoom, Elise is at pains to stress that he is not a spokesperson for The Game, or even a PUA (though he proudly identifies as such in the chapter he contributed, in which he and Strauss chat up a woman at an art gallery).
Much of what was described in The Game was "shameful," Elise says – "because it didn't work, and because it taught guys to bother women, to do the wrong thing in a lot of ways. But I've never been part of that."
He distinguishes his Los Angeles-based coaching company, Charisma Arts, as teaching conversation skills and "how to date out of your league."
Elise later expands in an email that #MeToo has been not only good for society but good for business, with it "being very much aligned with my ideas around consent and not using gimmicks or pressure... The goal is not sex. The goal is for a mutual enjoyable outcome."
The palatable package reflects a fact of the post-Game gold rush: Seduction is now less subculture than it is industry—meaning it can be marketed. By 2017, Ward says, many women were familiar with PUA's scripts, necessitating a change in tack.
The modern-day seduction industry brands itself as holistic and chivalrous, teaching a "performatively empathetic masculinity" that recognizes women's need to protect themselves from misogyny—while operating within it.
The new approach is "still utterly transactional," says Ward, but given a sheen of legitimacy by popular science and social justice frameworks. It is hard to shake the sense that contemporary "dating coaches" have disavowed The Game not for the misogyny of its intent, but the crudeness of its approach.
"Hiding behind a bunch of lines and routines, that's not what we want," says Matt Artisan, whose "honest dating advice" as The Attractive Man on YouTube has 865,000 subscribers.
Artisan came to PUA around 2010 but says he soon found the playbook "too prescriptive" and geared around quick fixes.
Now, Artisan, 39, and his global team of trainers stage "natural attraction bootcamps" such as the one he is about to do in Miami: A three-day live workshop and 90 days' mentoring for $7,500.
Rather than gimmicks and "instant gratification," he says he helps men overcome internal blocks such as shame and self-doubt for lasting success: "There's always a confident man underneath," Artisan says.
He sees his business as personal development. But his process—having participants roleplay approaching hired models in a "rejection-free environment," then attempt it on women in public while mic'd up and filmed for subsequent feedback—is PUA packaged for sale.
"However much trainers might like to claim otherwise, the basic principles and practices remain the same," says Rachel O'Neill, a research fellow in sociology at the University of Warwick, England, and author of Seduction: Men, Masculinity and Mediated Industry.
Indeed, Artisan's argument that "if there's more men that are better with women... crimes against women will go down" repeats the one Strauss made in The Game 15 years earlier.
For the most part #MeToo presented "a useful marketing opportunity" for the seduction industry, says O'Neill, allowing trainers to emphasize its supposedly detrimental impact on men, then "present themselves as having the solution".
They responded with similar swiftness to the pandemic. When Artisan's bootcamps early last year were canceled, he devised two new mentoring programs: One on improving "inner game," and a dating app profile makeover. Elise does one-on-one coaching on Zoom.
Artisan tells his clients who have stopped meeting people or going on dates because of the pandemic to "quit blaming COVID" for their lack of confidence: "I think it's mostly an excuse... As long as you can leave your house, even if you have to wear a mask, even if you have to wear a shield—it's still possible."
He says COVID has accelerated a shift to online business models that was already underway with the boom in messaging: "Pickup, seduction—it's moved much more into writing skills because people are on their phones all the time... The idea of approaching women in person has really diminished."
The dominance of online dating does further complicate the question of how we might define a modern-day PUA. "Someone that swipes right on 20 people and gets 20 matches—would you call them a pick-up artist? That idea doesn't exist anymore," says Sampson. "...Online game is the game."
Indeed, it is possible to see some parallels between the dehumanizing, transactional, scattergun approach of The Game and the dating culture rolled out by technology.
Sampson finds dating apps frustrating for the superficiality of the connection: "It takes nothing to meet someone online, so you don't mean that much to them."
He has more than 515,000 followers on TikTok for his videos teaching gender-neutral "confident, charismatic communication," the majority of them female; many tell him they wish they felt able to talk to strangers.
Sampson says he used to dream of a romcom-style meet-cute: "I wished I could just bump into a girl, or we'd be in the same class, whatever – and it just doesn't happen."
Daygame taught him to "make those relationships happen," he says: "I didn't need Hollywood luck that doesn't exist."
To Ward, a queer woman and the author of The Tragedy of Heterosexuality, the seduction industry is indicative of a breakdown in straight gender dynamics more broadly.
Both women and men feel let down and disillusioned by their relationship experiences, and "are willing to pay thousands of dollars to see if they can get straight culture to make good on that promise," she says.
It is striking that dating advice for women and seduction bootcamps for men both promise the skills to find real connection—while describing a fraught or mysterious process of "bringing together two kinds of people" seemingly from different planets. (Indeed, Artisan laughs off the suggestion that he could also teach women confidence skills as a "whole different ballgame.")
Ward says it speaks to the work yet to be done in dismantling archaic ideas about sex and gender, and the multi-million-dollar industries that perpetuate them: "There's a lot of money to be made from men's sense of failure and heartbreak."
O'Neill predicts the seduction industry's next move will be towards subscription models, making it even harder to keep track of.
As much as it is possible to feel empathy for those often vulnerable men who take up its practices and promises, she believes it is beyond useful reform: "Rather I think we as a society need to take a step back and ask why so many men feel this is something they need in the first place."
But after a year of few chances for connection, it seems that demand might be higher than ever.
Johnny Cassell—a self-described "men's lifestyle strategist" in London, who teaches "the art of attracting women you truly want" at £5,000 ($7,100) a head—is anticipating a surge of interest as men commit to making changes in their lives.
One client has booked in two weeks of intensive, one-on-one tuition for next month, Cassell says: "A lot of people are just itching to get out there."
This article was updated to clarify the location of Wayne Elise's business.