How Poland's Strict New Abortion Ruling Could Be Mirrored Across the Globe
Tens of thousands of protesters have violated COVID restrictions to fight against a new high court ruling that has put a near-total ban on abortion in Poland.
Protesters have taken to the streets for the seventh day straight, blocking major roads and bridges and chanting anti-government slogans. Some protesters dressed as Handmaid's Tale characters took part in demonstrations that saw churches vandalized and Masses disrupted on Tuesday.
It was seen as a targeted attack on the Catholic Church, seen as an ally of Poland's government. The protests began last Thursday over a Constitutional Court ruling which no longer allows women to terminate pregnancies due to fetal abnormalities and only legalizes abortion in cases of rape, incest, or threats to a woman's health.
Women's rights groups expressed fury at the decision, slamming it as "a war against women". The protests have since turned into a wider fightback against the government which is being accused of chipping away at the rights of women and minorities. Some women opposed to the ruling have organized a "strike" and will be expected not to attend work, school and not do domestic chores. It is a protest inspired by a 1975 strike by women in Iceland in 1975.
Poland's prime minister Mateusz Morawiecki said Tuesday: "What is happening in the public space, those acts of aggression, attacks, barbarism, is unacceptable. I don't give my consent to attack people, churches, and the right to pursue values by others."
But Jaroslaw Kaczynski, leader of the ruling Law and Justice party, urged his supporters to defend the predominantly Catholic nation's churches, potentially setting the stage for clashes with demonstrators. Once the court decision comes into effect, terminations in Poland will only be allowed in cases of rape or incest, or if the mother's health is at risk.
Polls show there was little support for the tightening of restrictions, with fetal abnormality accounting for the overwhelming majority of legal abortions in Poland - around 1,000 last year. Women's groups claim between 80,000 to 120,000 Polish women travel abroad to end their pregnancies every year.
Legal abortions are often held up by lengthy waits and doctors refusing to perform them, often on religious grounds. Doctors may also refuse to prescribe contraception for the same reason.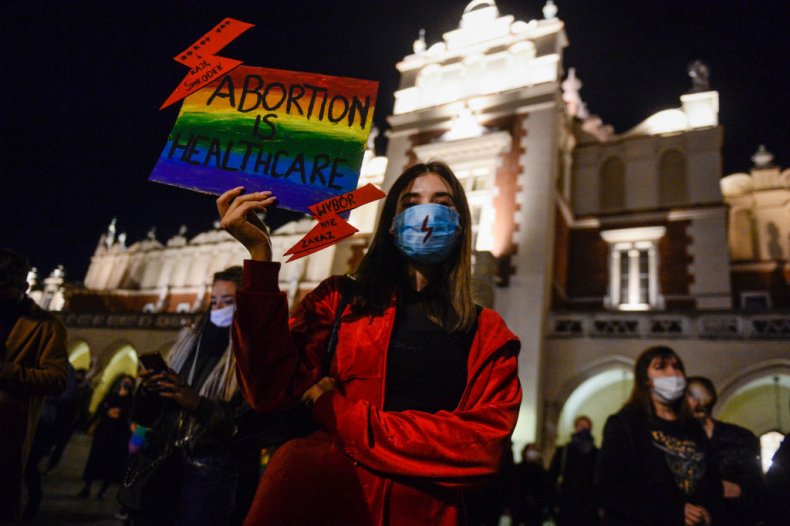 In the court ruling, which cannot be appealed, tribunal president Julia Przylebska said that allowing abortions for fetal abnormalities legalized "eugenic practices" and that as Poland's Constitution guarantees the protection of human life, termination based on the health of a fetus amounted to "a directly forbidden form of discrimination".
Protesters are demanding the court reverse the decision. Amnesty International, the Center for Reproductive Rights, and Human Rights Watch have all called the court ruling an "assault on women's rights".
Esther Major, senior research adviser at Amnesty International, said: "This judgment is the result of a coordinated, systematic wave of attacks on women's human rights by Polish lawmakers and represents their latest attempt to ban abortion in Poland. Legal prohibitions on abortion do not prevent abortion or reduce the rates of abortion - they serve only to damage women's health by pushing abortions underground or forcing women to travel to foreign countries to access the abortion care they need and to which they have a right.
"Although all women may be affected by this cruel judgment, marginalized groups of women who cannot afford to travel will disproportionately suffer the consequences of the judges' actions."
It is feared the decision may even have far-reaching implications for other countries. On the same day the court ruling was made, Poland joined the United States, Brazil, Uganda, Hungary, Egypt, Saudi Arabia, and a handful of other countries in signing the Geneva Consensus Declaration, a statement challenging the right to abortion.
In the U.S., Secretary of State Mike Pompeo signed the anti-abortion declaration which he said: "defends the unborn and reiterates the vital importance of the family". It came just days before Justice Amy Coney Barrett was officially confirmed to the Supreme Court, filling the seat once held by Justice Ruth Bader Ginsburg. Barrett was confirmed on Monday with a 52-48 Senate vote, the first time in 151 years a justice was confirmed with zero support from the minority party.
Donald Trump already vowed to nominate judges with the intention of overturning Roe v. Wade, the 1973 ruling that confirmed the constitutional right to abortion. With Barrett poised to rule on a number of issues, rights groups fear for the future of Roe v. Wade. A devout Catholic, Barrett has personal opinions against abortion, and groups opposing the termination of pregnancies championed her nomination.
She signed off on an advertisement in 2006 that called for the overturning of Roe v Wade and described it as "barbaric". Barrett has said that she won't let her personal beliefs around abortion affect her work as a judge.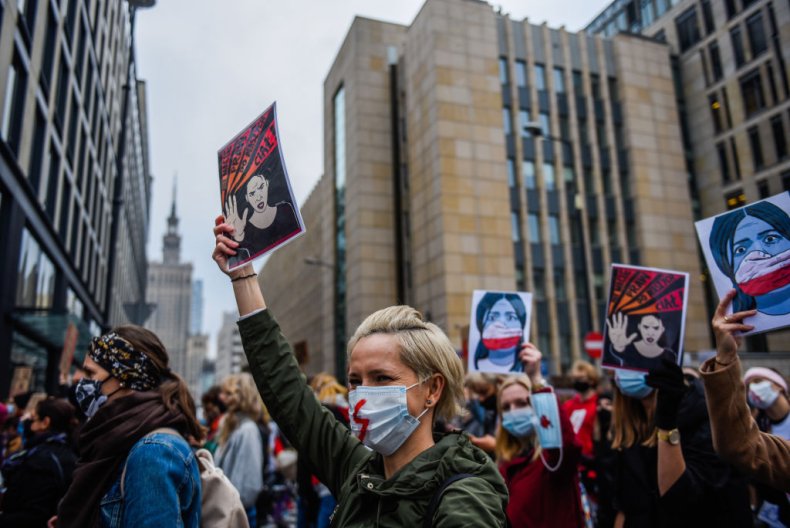 In the Republic of Ireland, up until May 2018, the eighth amendment imposed a near-total abortion ban and greatly restricted maternity care, by giving a pregnant person and a fetus equal legal status.
In 2018, voters in Ireland chose to legalize abortion in a historic referendum, and in January last year, the country opened its new abortion services. Women can request to have an abortion up to 12 weeks but must have it certified by a doctor and wait for three days before having the procedure. In the case of fatal fetal abnormalities, the time limit for access to abortion is extended, but only if two medical practitioners certify that death will occur within 28 days after birth.
Campaigners say there is still a long way to go, with many in Ireland still struggling to access abortions due to a lack of provision, the time restrictions on terminations and an enduring legacy of shame.
In England, Scotland and Wales, abortion is legal subject to certain conditions. The Abortion Act 1967, as amended by the Human Fertilisation and Embryology Act 1990, allows termination to be carried out by a registered medical practitioner in a hospital or specially licensed clinic but only if two doctors agree that a woman is less than 24 weeks pregnant and that it is necessary to prevent damage to the woman's physical or mental health or any of her existing children.
Abortion is only legal after 24 weeks if there is a serious threat to the woman's health or life, or there is a substantial risk that the child will be born with physical or mental abnormalities and be seriously disabled. Abortion was only decriminalized in Northern Ireland in October 2019, when Section 58 and Section 59 of the Offences Against the Person Act 1861 - which made abortion a criminal offense - was repealed.
Before that point, abortion was only allowed in Northern Ireland if a woman's life was at risk or there was a danger of permanent and serious damage to her physical or mental health. The British Pregnancy Advisory Service (Bpas) warns that Britain "cannot be complacent about reproductive rights" and says hard-earned victories "can be rolled back at the whim of a small handful of individuals".
"Currently, most women in Britain experiencing an unplanned or unwanted pregnancy will be able to access the care they need," a spokesperson tells Newsweek. "We must not forget that abortion is still a crime, and any woman who ends a pregnancy outside of the terms of the 1967 Abortion Act, for example by using pills purchased online, can be sentenced to up to life imprisonment, and MPs in Westminster still have the power to impose restrictions.
"The only way to protect access to abortion care permanently is to decriminalize abortion, removing the ability of politicians to control women's reproductive rights, and that is what we are calling for here in Britain."