How Police Departments Are Responding to Protesters Following Minneapolis Unrest
Four days of unrest in Minneapolis that erupted after a black man, George Floyd, died while in police custody has led to changes in how Chicago police plan to handle protests and large gatherings in their city.
According to a CBS Chicago report Friday, Chicago police officers have been told not to use force to break up crowds.
"Until further notice, large gatherings will only be monitored until the crowd disperse on its own. Please ensure that all supervisors under your command are made aware of this instruction," said a memo sent to commanders and officers.
Newsweek reached out to the Chicago Police Department for a comment.
Protests have been on the rise in recent weeks, with demonstrators at state capitols demanding state economies that closed to halt the spread of the new coronavirus, to reopen.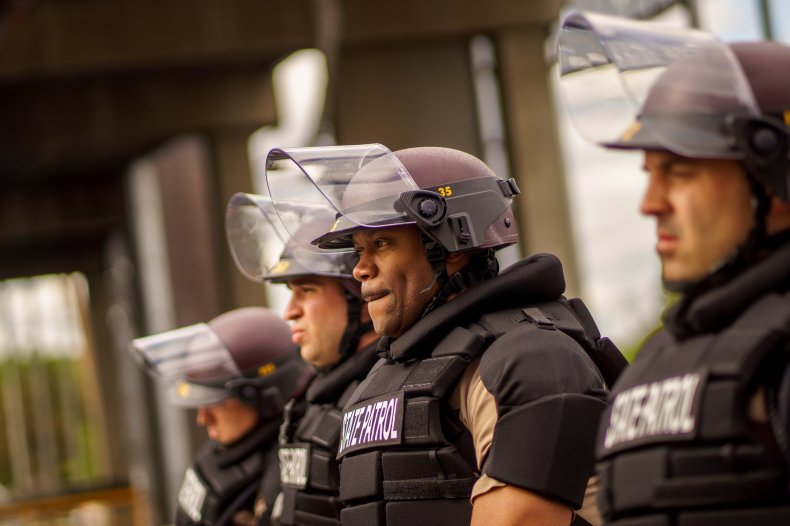 The protests in Minneapolis this week led to multiple arrests, a number of injuries, and the torching of a police station. The unrest was a reaction to a video was showing former Minneapolis Police Officer Derek Chauvin kneeling on the neck of Floyd, who was handcuffed and laying on the ground. He died that day in police custody.
Some protesters in Minneapolis destroyed or burned property, and many encountered police in riot gear.
Like Chicago, other police departments across the country have employed different stances toward dealing with protesters and crowds.
"Our officers don't show up in riot gear like they do in other cities — they show up in uniforms," Denver Mayor Michael Hancock told The Denver Post.
In Albuquerque, New Mexico, officers responded in riot gear and used tear gas and a helicopter to disburse protesters angered over Floyd's death.
Los Angeles Police dealt with protesters demanding justice for Floyd on Wednesday and initiated crowd control wearing their uniforms and carrying semiautomatic rifles.
Demonstrators also clashed with police in New York City this week in reaction to Floyd's death, and like in Los Angeles, the police didn't show up in riot gear.
According to a New York Post report, police arrested 70 protesters on various charges of assault, criminal trespass, and weapons charges.
Houston Police Chief Art Acevedo, who was an Los Angeles police officer during the Rodney King riot in 1992, condemned Chauvin's actions and called the tactics "bad policing."
On Wednesday, Acevedo said he spoke with trainers at the Houston Police Academy about the use of force, particularly as it relates to chokeholds, and told trainers this was not to an acceptable HPD tactic unless an officer is in a fight for his or her life, according to a Houston Press report.