How Popular is Donald Trump in the U.K.? President's Favorability Rating Far Lower Than Barack Obama's
United Kingdom residents have an overwhelmingly unfavorable view of President Donald Trump, with recent polls showing only 21 percent of Great Britain having a positive opinion of the United States leader.
Political opinion data from YouGov U.K. shows Trump, who is visiting the U.K. this week with his family, ranks only behind former President Barack Obama in terms of fame. But among U.K. residents surveyed between May 2018 and April 2019, two-thirds had a negative opinion of Trump, compared to only 11 percent who felt that way about Obama. The 45th and current president of the U.S. ranks 7th among the most popular foreign politicians in the U.K., just between Pakistan's Imran Khan and former U.S. President George W. Bush.
Trump's visit comes at a politically tumultuous time in England, amid the Brexit split from the European Union and British Prime Minister Theresa May leaving her post in July.
The YouGov survey data reveals only 21 percent of U.K. residents had a positive opinion of Trump, compared to Obama, who had a staggering 72 percent favorable rating.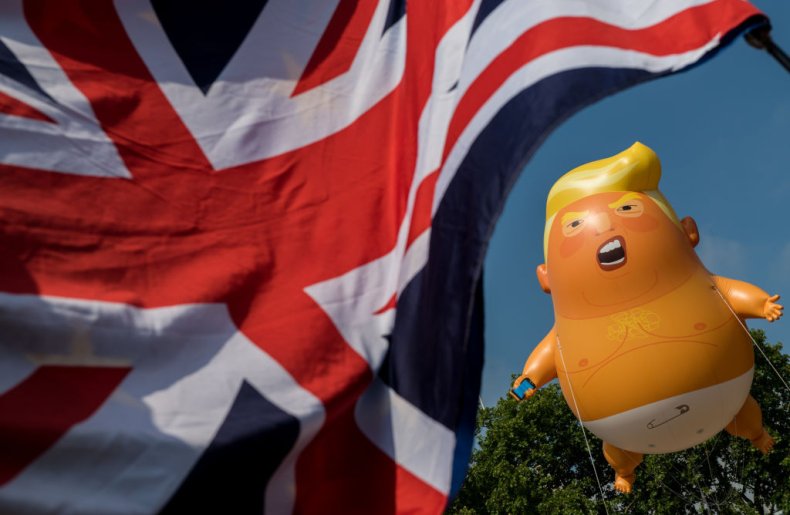 However, U.K. support of almost every other foreign politician outside of Obama was notably low. In second place among public popularity is Hillary Clinton, who only enjoyed favorable opinions among 29 percent of U.K. residents in the YouGov surveys. Just behind her in third place was Canadian Prime Minister Justin Trudeau, who also only had a 29 percent favorable rating.
Vermont Independent Senator Bernie Sanders ranked below Trump in the U.K. in terms of positive opinions, with only 19 percent expressing a favorable rating.
Data collected in 2018 from the Pew Research Center's Global Attitudes Survey found Trump does have the support of several right-wing populist parties across Great Britain. The United Kingdom Independence Party (UKIP) showed a majority, 53 percent, expressed confidence in the U.S. president. Trump's approval among the overall U.K. population found his favorability has actually increased from the start of his presidency in 2016, according to Pew.
Statistically, both Trump and Obama are "heard of" by 99 percent of United Kingdom residents, according to the YouGov data.
About 21 percent of millennials had a positive opinion of Trump among the U.K.'s young adults, compared to Obama who enjoyed more than three-quarters approval with 76 percent. Among U.K. Baby Boomers surveyed by YouGov, only 17 percent had a positive opinion of Trump, while 68 percent liked Obama.
On Monday, Trump and First Lady Melania met with Queen Elizabeth II on the first day of their state visit to the country Monday. The president managed to insult London Mayor Sadiq Khan just minutes before Air Force One touched down in the U.K., referring to the local politician and Trump critic as a "stone cold loser."
Trump's three-day U.K. visit is scheduled to include visits to London, Manchester, Belfast and Birmingham. All of the president's children have also come along for Trump's first state visit. Protests are expected throughout Trump's visit, but right-wing leaders in the U.K. have dismissed them as too well organized by outside influencers.
"What we're seeing is a political leader who made a series of promises that he's doing his utmost to keep to," said Brexit Party leader Nigel Farage, during a Fox News interview this week.
"And so his approval ratings in Britain are much, much better than they were two-and-a-half years ago. I know we've got these organized, paid-for protests, but it's funny because when the president of China comes, when people from Arab states who have very poor human rights records come, we get very low levels of protest."