President Joe Biden is on his first overseas trip since taking office in January, but where does he stand on the world stage?
Polling from U.S.-based, nonpartisan Morning Consult suggests that he's doing better than at least four of the other global world leaders that are joining him at the G7 summit in England this weekend.
According to Morning Consult, Italian Prime Minister Mario Draghi is the most popular leader at today's meeting, which is focused on ending the coronavirus pandemic, stopping future pandemics and addressing climate change, among other priorities. As of Thursday, Draghi polled at a 65 percent approval rating among adults.
Morning Consult conducts more than 11,000 daily interviews globally about leadership approval, based on a seven-day moving average of all adults in a given country. The survey, conducted online with a representative sample in multiple languages and weighted by demographic factors, has a margin of error 1 to 3 percentage points.
German Prime Minister Angela Merkel is the second most popular leader at this weekend's summit, which is being held after last year's was scrapped because of the coronavirus pandemic that shut down many countries last year.
At least 600,000 people in the United States have died of COVID-19 and nearly 3.8 million worldwide.
The G7 is an informal group of world leaders representing the United States, the United Kingdom, France, Canada, Italy, Japan and Germany each year. This is Biden's first overseas trip since taking office in January.
Morning Consult tracks the approval rating for governmental leaders in Australia, Brazil, Canada, France, Germany, India, Italy, Japan, Mexico, South Korea, Spain, the United Kingdom and the United States each week.
According to Morning Consult's poll, Biden is the third most popular leader gathering this weekend with a 52 percent approval rating, after getting Congress to approve two nearly $2 trillion relief packages and pledging millions of COVID-19 vaccines to less-developed countries, after the United States ramped up its vaccine distribution efforts.
The U.K.'s Boris Johnson, who was once a close ally of former President Donald Trump but has since embraced Biden, followed with a 47 percent approval rating.
Canadian Prime Minister Justin Trudeau had a 45 percent approval rating, while France's Emmanuel Macron clocked in at 35 percent.
Coming in last is Japanese Prime Minister Yoshihide Suga, who took office in September 2020, amid the coronavirus pandemic.
Suga has come under fire amid a fluctuating Cabinet and questions about his COVID response. Morning Consult reports that his approval has dropped from the 56 percent to 27 percent since he took office, while others have mostly stayed level or positive. Macron also has been underwater, seeing his disapproval consistently hover around 60 percent, while his approval has leveled in the 30s.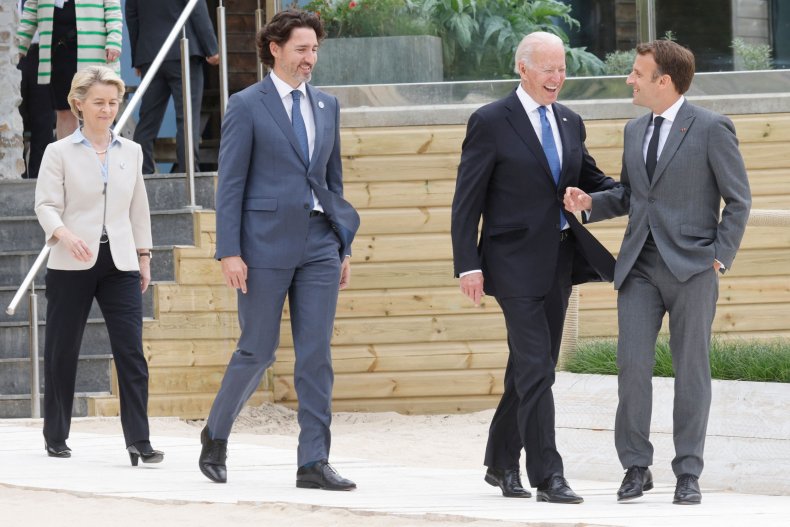 Correction, 06/11/2021, 4:00 p.m. ET: An earlier version of this article misstated that Macron's disapproval rating has leveled in the 30s, when actually it's his approval rating that has remained in the 30s.