What to Call God: Pray to 'the Father,' Pope Francis Urges Catholics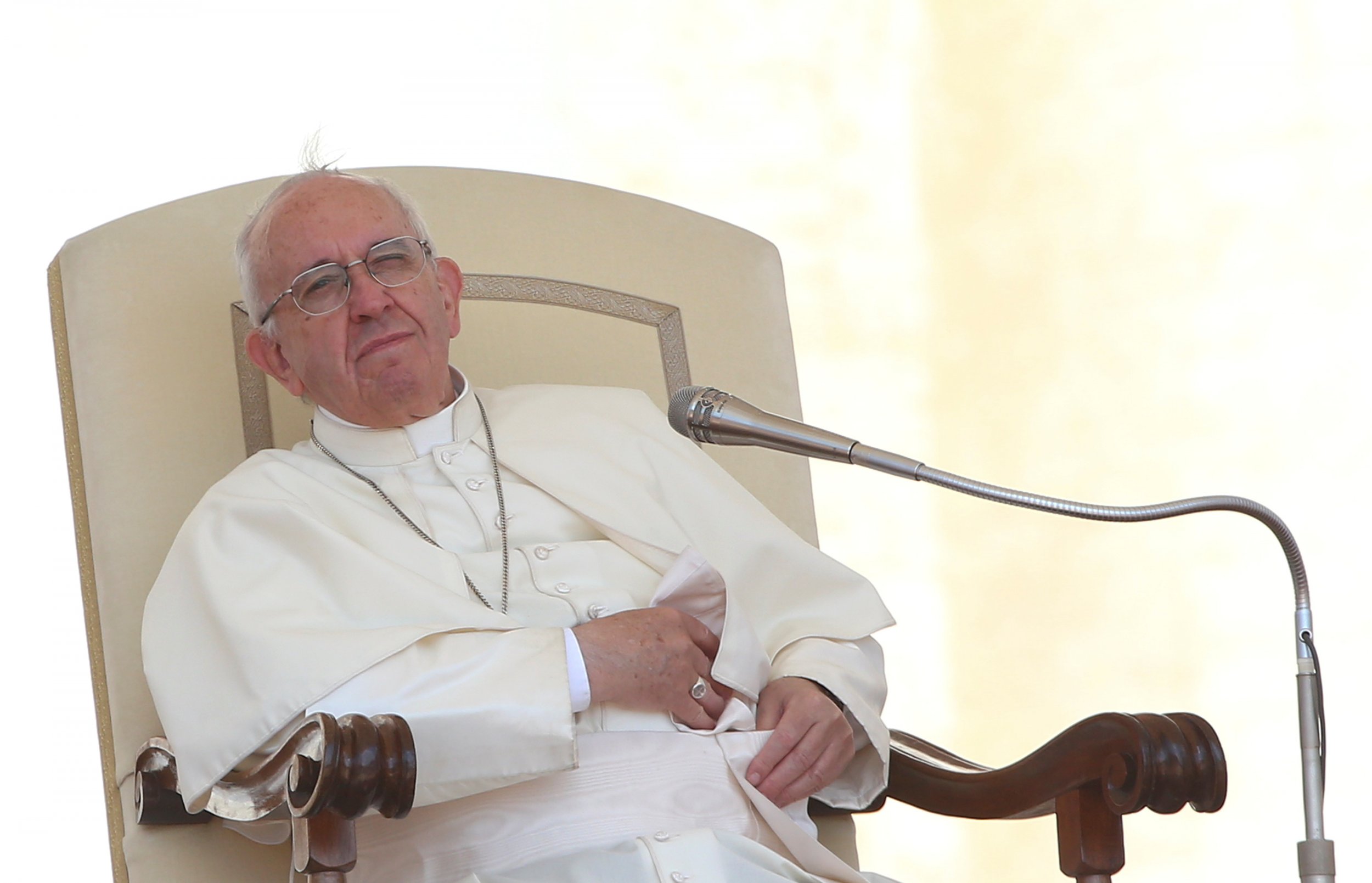 Pope Francis is urging Christians seeking to nurture their spirituality to embrace calling God "Father" in favor of other honorifics. Francis, who has used the papacy to rail against barriers that might create distance between the Catholic Church and rank-and-file Catholics, said Wednesday from the Vatican that as Jesus encouraged followers to say the "Our Father" prayer, calling God, well, God could limit prayer and fellowship.
"Calling God by the name 'Father' is not something that can be taken for granted," the pope said. "We are tempted to use the highest titles, which are respectful of his transcendence. But calling him 'Father' puts us in his confidence, like a child talking to his dad, knowing that he is loved and cared for by him."
Pope Francis explained to the crowd of 15,000 people gathered at St. Peter's Square that while God is not a biological father in the "human sense," calling him "Father" can make faith seem less scary.
"The mystery of God, which has always fascinated us and made us feel small, doesn't scare us anymore, it doesn't pressure us or anguish us," the pope said. "God is a Father in his own way: good, helpless before man's free will, only able to conjugate the verb to love. God is a father who does not apply human justice and is ready to forgive and embrace his long-lost son."
The first Jesuit pope in more than 1,200 years, Francis has sought to change the direction of the church on divisive issues such as poverty, clergy reform, climate change and divorce. He has criticized the church as being "obsessed" with abortion, same-sex marriage and contraception, and said it should become a "home for all." He also called for decentralizing power in the church by uplifting bishops and laypeople, including women. In April 2016, Pope Francis released a 256-page document urging church leaders to be less judgmental toward single parents, gay people and unmarried couples.
"A pastor cannot feel that it is enough to simply apply moral laws to those living in 'irregular' situations, as if they were stones to throw at people's lives," he wrote at the time.
During his latest public address, Francis said the "Our Father" prayer underscores how man can speak to directly to God, "who always watches us with love, and who surely won't abandon us." The Catholic Church believes in the Holy Trinity, that God is a union of the Father, Son and Holy Spirit. Under this belief, the Father is the creator who made man and Earth, the Son is Jesus Christ, and the Holy Spirit is God's force, or the church.
There are roughly 1.2 billion Roman Catholics in the world, including 77.4 million in the U.S.