As the deadly new coronavirus continues to spread around the world, a scientist has released a list of items to collect in case COVID-19 is declared a pandemic—but stressed that people should not panic buy or hoard.
Virologist Ian Mackay, adjunct Associate Professor at the University of Queensland, Australia, wrote in a blog post that, as COVID-19 isn't widespread in most parts of the world, "now is a great time to make a list, label up a 'Pandemic Stash' box, and begin to slowly fill it with items that won't go off and that you won't touch unless needed."
Writing on his Virology Down Under website Tuesday, Mackay said if more cases appear and can't be traced back to known chains of transmission then "the efforts in some countries to contain COVID-19 will have failed."
"At some point, we'll be in the main phase of a pandemic," he said, emphasizing that "a pandemic doesn't necessarily mean the disease is severe" but rather denotes a pathogen that has spread widely within two or more countries other than the first one to report it.
Mackay suggested that while some things are out of the control of the average person, we can reduce our risk of being infected and cut the chance of running out of essential foods and goods.
The list included extra prescription drugs and over-the-counter fever and pain medicines; feminine hygiene products; toilet paper and tissues; and vitamins "in case food shortages limit the variety in your diet." He also advised buying items including soap, alcohol hand rub and household cleaning products.
In terms of food, he suggested purchasing cereals, grains, beans, lentils and pasta; tinned food such as fish, vegetables and fruit; oil, spices and other flavorings; dried fruit and nuts; powdered milk; items for pets; as well as soft drinks, candy and chocolate for treats. Mackay urged people to also consider the needs of elderly relatives.
Mackay also provided a list to be used in the event that a "severe" pandemic cuts access to fresh foods. The products "should be the last things to buy if you have a hint of when supplies might slow or stop for a (hopefully short) time."
Those include bread and wraps, meat for freezing, milk, eggs, yogurt, and fruit and vegetables. Car fuel should also be bought at this time, he said.
"But don't panic buy and don't hoard!" said Mackay.
Asked if people should start buying extra supplies in case there is a COVID-19 pandemic, Amesh Adalja, a senior scholar at Johns Hopkins Center for Health Security, told Newsweek, "If governments impose quarantines and restrictions on movements it may be logistically difficult to obtain certain goods and having a small stockpile may make sense. Also, if people want to avoid going out it can delimit exposure."
People may wish to stockpile items such as food and medications, he said.
Adalja added, "I would advise people to keep abreast of the developments going on locally and inquire at their schools and workplaces about new policies in place."
Mackay published the article as the spread of COVID-19 in countries including South Korea, Iran and Italy prompted fears the virus could soon be classed as a pandemic. The outbreak first started late last year China's Hubei province, where 2,615 of the total 2,762 fatalities have occurred. Over 81,000 COVID-19 cases have been reported, with more than 78,000 in mainland China.
As shown in the map by Statista below, the virus has reached 40 countries and territories, including the U.S., Russia, and Egypt, with new cases confirmed in Afghanistan, Bahrain, Iraq and Oman in the past day.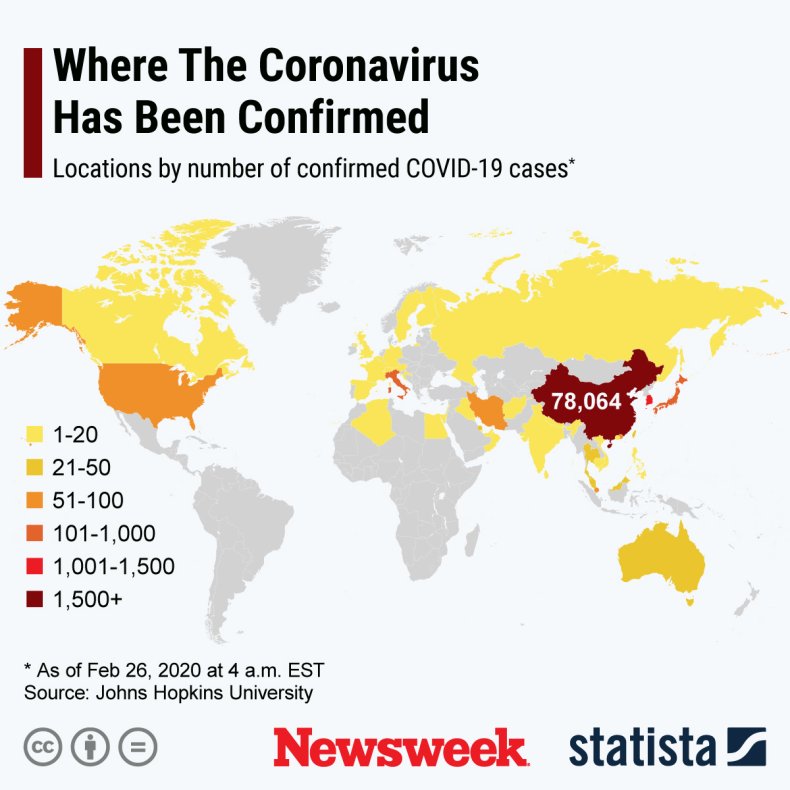 On Monday, World Health Organization director-general Tedros Adhanom Ghebreyesus said: "Our decision about whether to use the word 'pandemic' to describe an epidemic is based on an ongoing assessment of the geographical spread of the virus, the severity of disease it causes and the impact it has on the whole of society."
"Does this virus have pandemic potential? Absolutely. Are we there yet? From our assessment not yet," he said.
David Heymann, professor of Infectious Disease Epidemiology at the London School of Hygiene and Tropical Medicine, said on Monday that "terms such as pandemic are distracting."
Heymann argued: "What is necessary is to understand the current situation in each country," adding: "It is for WHO to determine when the outbreaks should be called a pandemic and they will do this based on information from many different sources."
However Mackay wrote on his website: "this word [pandemic] may bring to the attention an event that some still manage to ignore when softer words are used.
"And let's face it if we don't start using this possibly scary word and talking about and planning for the possibilities now—how much more panic and fear will result because we were taken totally by surprise?"
This article has been updated with a map and comment from Amesh Adalja.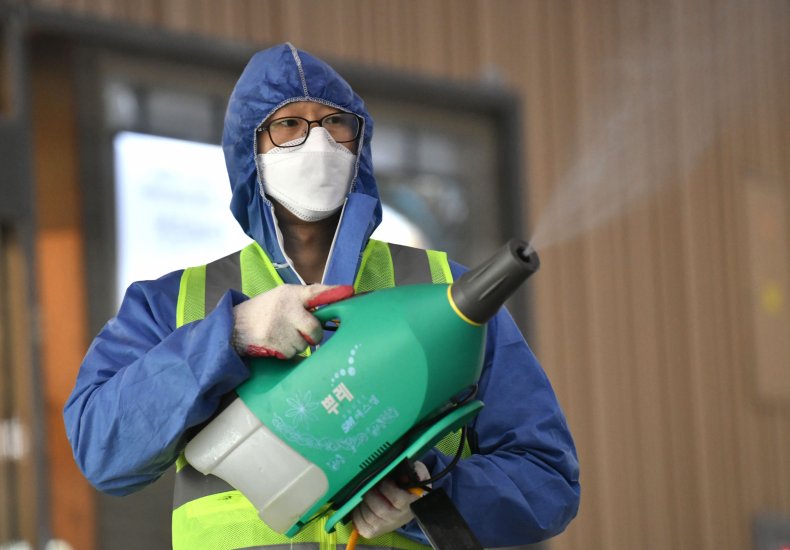 Uncommon Knowledge
Newsweek is committed to challenging conventional wisdom and finding connections in the search for common ground.
Newsweek is committed to challenging conventional wisdom and finding connections in the search for common ground.
About the writer
Kashmira Gander is Deputy Science Editor at Newsweek. Her interests include health, gender, LGBTQIA+ issues, human rights, subcultures, music, and lifestyle. Her work has also been published in the The Independent, The Independent on Sunday, The i Newspaper, the London Evening Standard and International Business Times UK.