With war raging in Europe, the already fraught U.S.-China relationship has reached a critical juncture. So far, the White House has refrained from issuing any ultimatums to Beijing even as it tacitly backs Russian President Vladimir Putin's invasion of Ukraine. According to numerous credible reports, China is even considering providing Russia with military assistance to sustain its battlefield operations.
While Beijing has denied those reports, it has made clear its opposition to the Western sanctions that aim to cut off Russia's financial lifelines. China has a long track record of deriding unilateral sanctions, often ignoring them altogether. That strategy is now being put to the test as Beijing seeks to advance its revisionist ambitions without jeopardizing China's access to the Western capital and technology it needs to power its development.
Nevertheless, if the goal of Western sanctions is to pull Putin back from the brink, the Russian president must know for certain China will not be coming to his rescue, even if Chinese leader Xi Jinping is inclined to do so.
The only way for Washington and Brussels to accomplish that objective is to impose harsh, compulsory penalties on any Chinese entities that skirt sanctions, in effect tying Beijing's hands.
Last month, China claimed Russia was not its "ally." But make no mistake—the two countries are as economically interdependent as ever. In 2021, trade between China and Russia reached new heights, jumping 35.9 percent to a record $146.9 billion. Since 2019, the China-backed Asian Infrastructure Investment Bank (AIIB) has loaned more than $500 million for various Russian projects. Last January, Moscow requested $12 billion from the AIIB to finance five new ventures.
The bond between the two countries grew stronger following a recent summit between Xi and Putin. Just weeks before the invasion of Ukraine, the two leaders finalized several new energy-related initiatives, including plans to construct a Russian pipeline to satisfy China's surging energy demands. Soon thereafter, Beijing lifted restrictions on Russian wheat imports, a move aimed at addressing rampant food insecurity across China.
These and other developments aside, China's economic partnership with Russia is not "without limits," as Xi and Putin purport.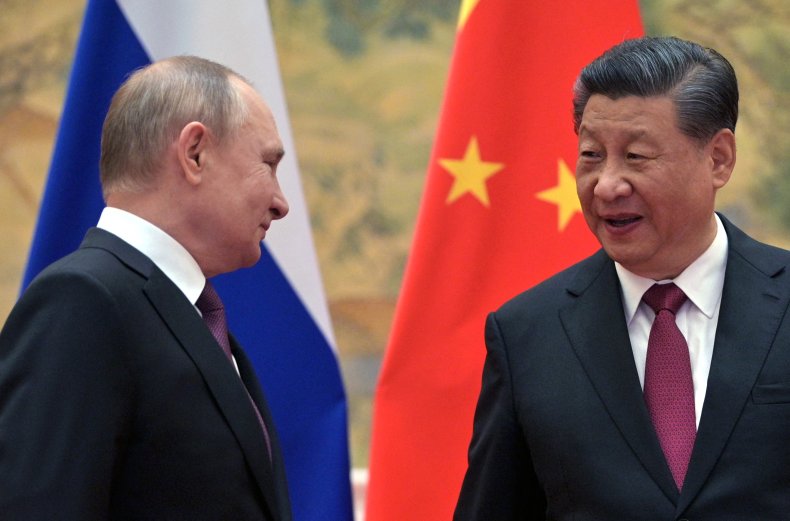 Russia's invasion comes at a sensitive moment for Beijing. Xi is already grappling with a severe domestic economic slowdown and record-high COVID-19 caseloads in more than a dozen Chinese provinces. His domestic position has deteriorated so rapidly that Beijing recently warned that amid China's "economic downturn, some deep-seated problems may surface."
That's why, when push comes to shove, Beijing will protect its own interests—its financial links to the West—at the expense of its partnership with Moscow.
Exploiting this divergence will require Western policymakers to ramp up their scrutiny of China's financial support of Russia. They must make clear that any Chinese entities that do not comply with sanctions will find themselves subject to sanctions or export controls—no questions asked. That should include China's central bank, which currently holds 13 percent of Russia's foreign exchange reserves—funds that Russia desperately needs.
Similar to previous maximum-pressure campaigns, Washington should also automatically terminate the correspondent banking relationships between American financial institutions and Chinese entities which flout sanctions. The deterrent effect of severing these relationships, which enable cross-border payments, would be immediate, as Chinese entities would be hesitant to facilitate transactions that could result in their expulsion from the dollarized economy.
Enhanced regulatory pressure must also be brought to bear on China's Belt and Road Initiative (BRI) investments in Europe and Central Asia, nearly half of which pass through Russia. While many BRI programs are yuan-denominated, others are transacted in dollars or euros, and are therefore vulnerable to Western sanctions. The same logic applies to scrutinizing AIIB's ventures in Russia, a large percentage of which are financed in dollars or euros by China's state-owned banks and government ministries.
Lastly, U.S. and European regulators should dissect transactional data associated with China's Cross-Border Interbank Payment System (CIPS), which Beijing established in 2015 as a yuan-denominated alternative to SWIFT. Unfortunately for Russia, CIPS' scale remains limited, with the platform only processing about 13,000 transactions a day compared with SWIFT's 40 million. What's more, nearly 80 percent of CIPS' transactions are connected to SWIFT's global network, making them subject to U.S. and European sanctions enforcement.
Nevertheless, to avoid a scenario in which China and Russia consider bolstering CIPS as a sanctions workaround, Congress should mandate that any actors caught using CIPS to circumvent Russia's SWIFT ban be made immediately subject to secondary sanctions.
As Washington and Brussels have long known, partnerships come with price tags. With Russia's military bearing down on civilian population centers, it is high time that China learn that lesson for itself.
Craig Singleton is a senior China fellow at the Foundation for the Defense of Democracies, a non-partisan think tank focused on foreign policy and national security issues.
The views expressed in this article are the writer's own.