How to Prevent Identity Theft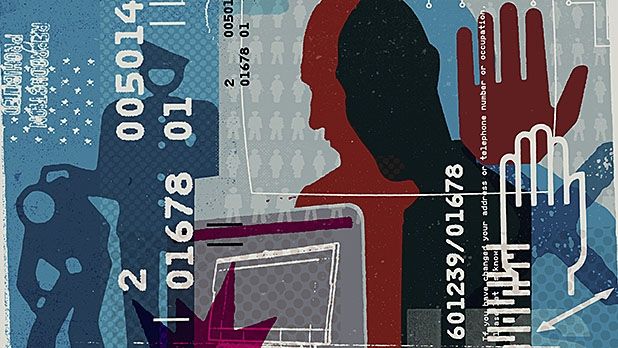 This article first appeared on MensJournal.com.
One, Mississippi.
Two, Mississippi.
Someone in the United States just became a victim of identity theft. That's according to the latest annual report from Javelin Strategy and Research, a California firm that has tracked identity theft figures since 2003. Javelin's report shows progress has been made in catching such thefts earlier. But having your identity hacked is still a massive headache—not to mention big business for fraudsters, who stole a total of $16 billion in 2014.
Related: 8 Ways to Keep Your Data Secure
And this might sound obvious, but it's important: Catching ID theft quickly, and taking the necessary steps to recover from it and get your life back in order, are absolutely crucial for any victim. But an even better plan is to go on the offensive and do all you can to avoid getting your personal info stolen in the first place. Most of the suggestions below are really just common sense, but a lot of us ignore them—at our peril.
Rarely give out your Social Security number.
Think of those nine digits as the combination to a safe containing all of your valuables. Once thieves have the number, they can use it to apply for credit cards in your name, and to gain access to other sensitive personal information. Don't carry your card in your wallet, and be suspicious of anyone who asks for your number, be it in person, over the phone, or via email or text, even if they claim to represent a real company or government agency. If you're unsure if a request for your number is legit, call the institution in question's customer service number and ask.
Related: 8 Steps to Take to Recover from Identity Theft
End unsolicited credit card offers.
Prescreened credit offers are like free candy for identity thieves. All they have to do is steal the offer from your mail, apply for and get the card, and then start charging up a storm. You can opt out of getting these offers by going to optoutprescreen.com, where you can sign up to halt them for either five years or for eternity. The tradeoff is giving up the convenience of having creditors come to you. So when you need a new card, check out creditcards.com, google.com/compare/creditcards, or nerdwallet.com/credit-cards/, to compare rates and perks from different banks and financial institutions.
Related: How to Keep Your Data Safe While Traveling
Beef up your passwords.
Most Internet security experts agree that the key to keeping your accounts safe isn't to change passwords constantly. Doing so usually leads people to choose less-secure passwords, so they can remember them more easily. Instead, use a password that's hard to crack in the first place, and use a unique one for each of your important accounts. Then you don't have to bother changing it unless you have reason to suspect your account has been, or could be, hacked. Naturally, the longer your password is, the better. Aim for at least eight characters, with a combination of upper and lower case letters, and at least one number and one special character. Or, consider using a password manager.
Related: 3 Simple Steps for Keeping Photos Out of Hackers' Hands
Be wary when using unsecured WiFi.
Free WiFi can be a godsend when you want to connect your laptop, tablet, or smartphone to check email or browse the web when you're on the go, in a coffee shop, or in a hotel lobby. But an unsecured network that doesn't require a password could be set up by thieves looking to intercept your data, so avoid using one unless it's absolutely necessary. If you must use an unsecured connection, turn off file sharing on your computer and designate the network as a public network, which limits access to your machine. Never use a public WiFi network to check important financial accounts, do online shopping, or pay bills.
Pay with Paypal, Google Wallet, or Apple Pay.
Whenever possible, skip using your credit card in favor of more secure payment methods such as Paypal, Google Wallet, or Apple Pay, which better protect your accounts from fraud because your actual card number is never passed on to merchants. And while the outdated and woefully insecure magnetic-strip technology used on U.S.-issued credit cards for decades is thankfully being replaced by more secure microchip technology, it's going to take a while to replace the 1.2 billion credit and debit cards used in the United States. By the end of this year, Javelin Strategy and Research estimates 60 percent of newly issued U.S. credit cards and 25 percent of debit cards will have the new chip technology. For now, the safest bet is to use a virtual payment system.
Related: The World's Most Secure Smartphone​
Be savvy on social networks.
Information you post on Facebook, Twitter, LinkedIn, Instagram, and other social networks could be very useful to identity thieves. For instance, back in 2009, researchers at Carnegie Mellon University showed that if thieves have just your birthday and hometown, they can guess your Social Security number with a scary amount of accuracy. Along with leaving those identifying markers off your profile, skip posting your email address, and be extra cautious when linking your account to apps, programs, games, and quizzes that require you to enter any personal information.
Pay attention to your bank statements.
The rise of electronic statements for credit cards, bank accounts, and more has been an unconditional win for trees. But not getting paper bills each month also means more effort to actually look over your statements, as it requires logging in to your accounts to check your transactions. Whether you're getting old-fashioned paper bills or e-statements, make the effort to look them over for strange charges. And if you see anything out of the ordinary, alert your creditors or bank immediately.