Harry, Meghan See Less UK Political Support as Labour Wary of 'Culture War'
Prince Harry and Meghan Markle once appeared to enjoy support from Britain's opposition Labour Party. But now, it seems Labour would rather "avoid being dragged into" Sussex-centric news cycles as leader Keir Starmer has rallied behind Queen Elizabeth II, experts told Newsweek.
The Conservative Party is currently in power and members sporadically criticize the Duke and Duchess of Sussex, who are seen as having betrayed Harry's grandmother. Labour Party politicians who formerly backed the couple seem to have given up supporting them.
For four years from 2015 to 2019, the opposition Labour Party was run by Jeremy Corbyn, a socialist sometimes compared to Bernie Sanders, whose activist base came to take up under-fire Meghan's cause as a social justice issue.
However, since 2020, Sir Keir Starmer has been in charge and brought Labour back behind the Monarchy, falling silent on Harry and Meghan's plight.
The transition was complete when, on Thursday, April 21, the Labour leader wished Elizabeth a happy birthday from the "entire party" in what Newsweek has been told was likely intended to indicate anti-Monarchy sentiment was no longer welcome.
Starmer wrote: "On behalf of the entire Labour Party, I'd like to wish Her Majesty The Queen a very happy birthday.
"The nation looks forward to celebrating your Platinum Jubilee and marking your continued inspirational commitment to public service."
Starmer has not, however, joined in the chorus of criticism routinely fired at Harry and Meghan by the press in Britain.
Gabriel Pogrund, co-author of Left Out: The Inside Story of Labour Under Corbyn, told Newsweek: "With Starmer, he will take any opportunity to show he is on the side of the British royal family. I don't think he's going to waste his time getting into a culture war with Harry and Meghan. I just think it's way down on his list of priorities.
"I don't think he's going to win over loads of floating voters or bring back the red wall [heartland seats lost to the Conservatives in 2019] by declaring that he doesn't like pugnacious Harry and woke Meghan. It doesn't help him."
He added: "When he says the entire Labour Party wishes the queen well, then that means if you don't, you don't belong in his movement."
Jeremy Corbyn and the Monarchy
The stance is a marked difference to the party under Corbyn, who is widely viewed as a republican—someone who would rather the U.K. elect its head of state—who practiced a degree of restraint on the subject of Monarchy for electoral reasons.
The former leader did, however, make criticisms when opportunities presented themselves, including after Prince Andrew's car crash Jeffrey Epstein interview in November 2019.
The December election was looming and Corbyn was in a televised leadership debate with Prime Minister Boris Johnson when he glibly joked the Monarchy "needs a bit of improvement."
And his wife Laura Alvarez famously gave Harry and Meghan a book of left wing poetry after they saw each other at Westminster Abbey in 2020, as reported in Pogrund's book.
"We revealed this detail about Corbyn's wife having handed Harry and Meghan a book of verse by a proto-feminist which I think took place in Westminster Abbey after Corbyn's election defeat," Pogrund said.
"But that did say something, I think it was noteworthy that they felt some solidarity with her."
That solidarity came in part from the shared experience of being regular targets of the media.
"I think that both Meghan and Harry as well as Corbyn and now Alvarez felt as though they had been on the receiving end of unfair treatment at the hands of the tabloid media in particular," Pogrund said. "Obviously they have very different origins and creation stories but there are plenty of similarities."
It was not just Corbyn but grass roots elements of his movement, including younger commentators and polemicists, that have at points echoed elements of Meghan and Harry's narrative.
Ash Sarkar, contributing editor of Novara Media, who calls in her Twitter profile for "luxury communism now," was seen as a key supporter of Corbyn during his leadership of the party.
Some of her comments have closely echoed Meghan and Harry's narrative about Monarchy's gilded cage as expressed to Oprah Winfrey.
Following Prince Philip's funeral, she wrote on Twitter: "The monarchy is a dehumanising institution, which mangles those who have the good fortune to be born into it."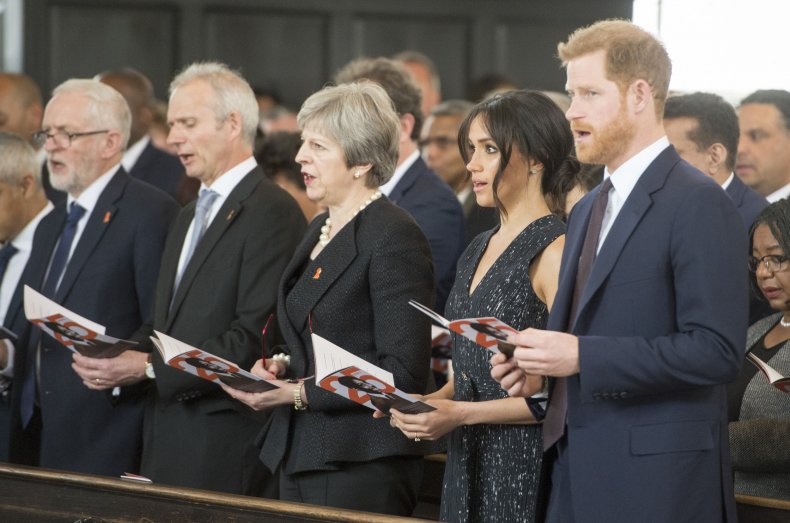 Harry, Meghan and Culture Wars
Regularly described in the British media as a Corbynista, Sarkar's views would once have been taken in some quarters as indicative, at the very least, of the attitude within Corbyn's wider movement if not within the Labour Party itself.
Now, however, commentators like Sarkar have been pushed to the fringe, just like Corbyn himself who was kicked out of the Parliamentary Labour Party by Starmer, though he is still a member of the wider party.
Lee Harpin, political editor of the Jewish News, who specialises in the internal politics of the Labour Party, told Newsweek: "Ash Sarkar and some of the Corbynistas were coming out and being supportive of people within a Monarchy that they, only a few months earlier, wanted to get rid of and trample all over.
"Somehow they were able to build this alliance with people within that family. It was quite ludicrous but it very much served the identity politics thing."
He added: "I think the leadership now would try to avoid being dragged into any kind of debate about Harry and Meghan. I don't think they'd want to go there to be honest now. It's just not somewhere they want to be.
"They just want to be seen as supportive of the Monarchy per se. Nobody on the shadow front bench will go there now."
However, it may not be all bad for Harry and Meghan as Harpin suggested Labour's shift in stance has defused some of the culture war surrounding the couple, making the royal family less fertile ground for point scoring.
Asked if there was still political capital in Harry and Meghan's royal relations, he said: "I think that evaporates now. That's another advantage, another definite decision that Starmer took to make sure that Labour can't get dragged into culture wars."
And he said the strategy stretches beyond the Sussexes to other controversial subjects, including the debate about trans rights.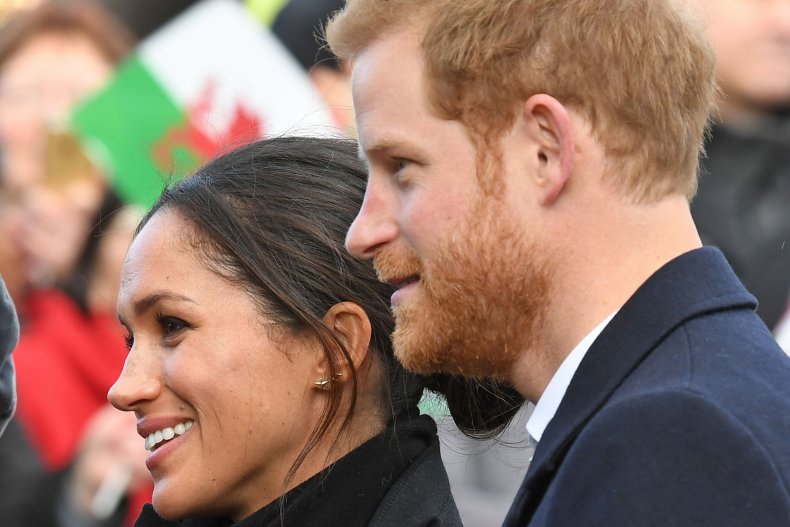 Harry, Meghan and the Conservative Party
For now though, Conservatives in Britain do still feel strongly about Harry and Meghan and their relationship with the queen.
Nile Gardiner, director of the Margaret Thatcher Center for Freedom at The Heritage Foundation, told Newsweek: "The British Conservative Party is tremendously pro-Monarchy and very loyal to the queen and that has always been the case.
"I think there's growing unhappiness with the relentless sniping coming from Meghan and Harry not least all of these attacks coming from their base in California.
"The reality is Meghan and Harry still have royal titles and yet they are actively undermining the Monarchy with the attacks that are coming forward, especially that is the case with Meghan Markle."
The Prime Minister's spokesperson recently allowed Downing Street to be drawn into the debate that followed when Prince Harry said he wanted to ensure the queen was "protected."
Asked whether Elizabeth's protection arrangements were adequate as they stood the spokesperson confirmed they were, to the delight of headline writers.
The Daily Mail ran with: "Number 10 hits back at Harry's claims he is 'making sure the Queen is protected'—as his war with Home Office over funding for his security rumbles on."
When Meghan won her privacy and copyright lawsuit against the newspaper's sister title, The Mail on Sunday, in December, the duchess spoke of a precedent-setting victory.
However, she got a rude awakening when Downing Street confirmed they were studying the judgement carefully as they considered replacing the very law Meghan's win had been based on.
It seems not to have been an empty threat as the party does appear to be pushing ahead with its long held ambition to replace the Human Rights Act with a British Bill of Rights, which would frame freedom of speech as a trump card.
Meghan won her case based around asserting the primacy of her privacy right over the newspaper's right to freedom of expression.
If new legislation does emerge and it undermines the legal precedent behind privacy that Meghan was reaching for the Conservatives may well see that as no bad thing based on the love of the Monarchy within their electoral base.
Gardiner told Newsweek: "I would describe Meghan as someone who has a vendetta against the British Monarchy."
For more royal news and commentary check out Newsweek's The Royal Report podcast: