How Prince Harry, Meghan Markle's Media Projects Could Help 'Rebuild' Brand
Prince Harry and Meghan Markle face an important decision as they determine which direction they take their content creation deals, moving on from "look back" projects towards a productive future, a new episode of Newsweek's The Royal Report podcast discussed.
After the back-to-back releases of the couple's Harry & Meghan Netflix docuseries and Harry's tell-all memoir, both of which made a number of bombshell claims against the royal family, it has been announced by the couple's Archewell organization, via Variety, that the couple's future projects will "look forward" not back.
Newsweek's chief royal correspondent, Jack Royston, said on The Royal Report that this could be a signal from the couple that they are moving away from repeatedly retelling their royal story which has caused their popularity on both sides of the Atlantic to plummet.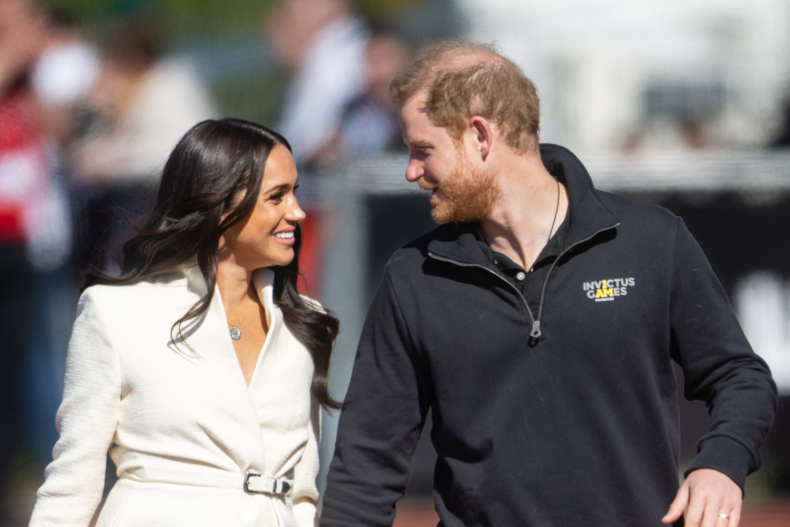 "Harry and Meghan's head of communications has announced some staff changes—a few people leaving, some promotions, a few new hires—but, most importantly of all, a move away from 'look back' projects as they now move forwards to their future outside the royal family," he said.
"For almost two years since Oprah in March 2021, Harry and Meghan have—through a number of different formats and a number of different projects—been retelling basically the same story which was about their exit from royal life.
"Now, that obviously is looking back to events in the past that are no longer in motion...and if they are moving away from 'look back' projects that does suggest that they are no longer going to be focussing on that whole rift."
Where the couple could move from this point, with their content creation deals signed with both Netflix and Spotify for millions of dollars, could, Royston said, be "switching their focus slightly from looking at unscripted shows to looking more at scripted."
The retelling of their fractured relationships with members of the royal family and British press which prompted them to step down from their roles in the monarchy and move to the United States has been "hugely commercially successful," for the couple, Royston told listeners, but at the cost of their own popularity, which according to a Newsweek poll took a dramatic hit after the publication of Spare.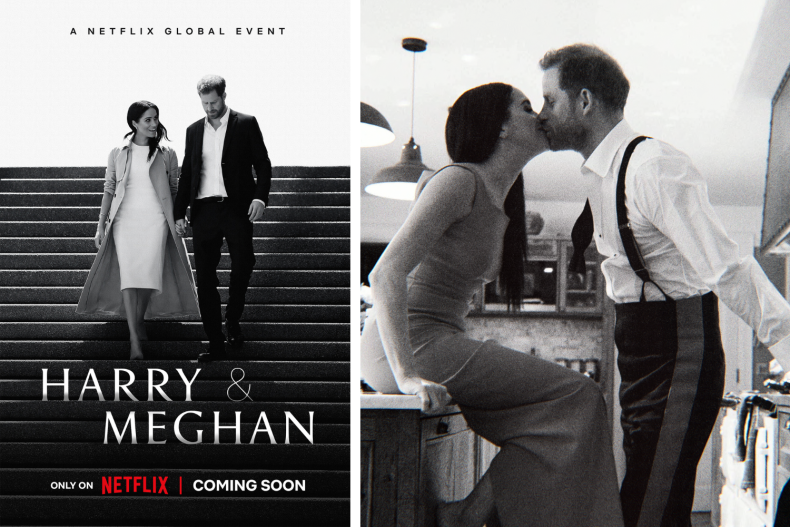 "Now that they've got that stuff out of the way they can kind of go anywhere and they can choose perhaps to try and rebuild their brand which has taken a knock," he said.
"If that is the case that they're turning their back on the kind of reality-targeted approach to their Netflix deal and wind up going down the fiction route instead, that will be a landmark shift in their approach and we will potentially get to see a whole new version of Harry and Meghan as TV producers.
"Alternatively though, they are still going to be under commercial pressure because everybody is—welcome to life in the private sector.
"It will be really interesting to see whether they can kind of craft a niche for themselves in an incredibly competitive industry—one of the most competitive industries on the planet—while rebuilding their brand."
So far, Harry and Meghan have released seven media projects since stepping away from the royal family in 2020: the docuseries The Me You Can't See; a special holiday podcast episode; Meghan'sArchetypes podcast series; Meghan's children's book The Bench; Harry's memoir Spare; the couple's Harry & Meghan Netflix series; and the Live to LeadNetflix series.
There is only one confirmed upcoming project, a Netflix docuseries titled Heart of Invictus, which will follow competitors as they journey to compete in the 2022 Invictus Games. There is no official release date for the project but it is expected to hit screens before the 2023 games in September.
James Crawford-Smith is Newsweek's royal reporter based in London. You can find him on Twitter at @jrcrawfordsmith and read his stories on Newsweek's The Royals Facebook page.
Do you have a question about King Charles III, William and Kate, Meghan and Harry, or their family that you would like our experienced royal correspondents to answer? Email royals@newsweek.com. We'd love to hear from you.