How Prince Harry Met the U.K. Public for First Time Since Royal Exit
Prince Harry was brought briefly back to his old royal life at a charity event ahead of what would have been Princess Diana's 60th birthday.
The Duke of Sussex flew into Britain last week and self-isolated at Frogmore Cottage, his U.K. home, in line with COVID protocol.
The trip was undertaken to unveil a statue of his mother alongside brother Prince William at the Sunken Garden of Kensington Palace later today, Thursday, July 1.
However, he snuck in a more conventional royal engagement beforehand when he attended the 2021 WellChild Awards Wednesday.
The charity visit takes him back to the life he lived before he dramatically turned his back on the royal duties he had known since birth.
He completed his final royal engagements in March 2020 when he attended the Commonwealth Day Service at London's Westminster Abbey where historian Robert Lacey suggested family tensions caused Harry to become emotional.
In Battle of Brothers, he wrote: "Observers also noted that Harry's face was 'quite tense and unsmiling'—and that when William sat down close to him, he barely greeted his brother.
"Throughout the service, Meghan megawatted away with her best TV smile but, as the ceremony progressed, Harry appeared to grow gloomier.
"According to one observer, 'his accelerated blinking even suggested he might have been fighting back tears.'"
Wednesday's visit, in contrast, appeared more cheerful as Harry mingled with award winners and their families.
Charity WellChild aims to help seriously ill children live at home instead of at the hospital.
Harry has a longstanding relationship with the charity, having been named a patron in 2007.
Thursday's long-anticipated royal fixture may prove more emotionally charged for the Duke of Sussex, not only because of his difficult relationship with his brother.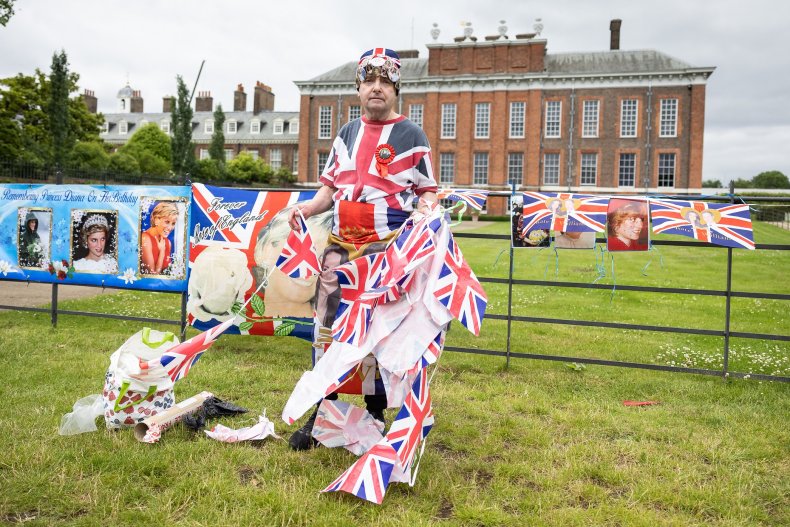 In Focus
Royal fan John Loughrey unveils Union Flag bunting at Kensington Palace on June 30, 2021 in London, England, ahead of what would have been the 60th birthday of Princess Diana, on Thursday, July 1. Prince William and Prince Harry will unveil a statue in her honor to mark the occasion.
Launch Slideshow

3 PHOTOS
The statue of Princess Diana is due to be unveiled at the Sunken Garden of Kensington Palace, one of her favorite places, according to the woman who redesigned it in her honor.
The emotional significance of marking what would have been Diana's 60th birthday will resonate for both brothers but there is even more at stake for Harry.
This will likely be his first return to Kensington Palace since his royal exit in March 2020—or potentially even longer ago than that.
The royal residence is the place where Meghan Markle told him in January 2019 that she was experiencing suicidal thoughts.
It is the place where staff accused Meghan of bullying them and where he backed his wife while William backed their shared communications secretary who made the allegations.
It is also the place where Lacey's book recently revealed William "threw Harry out"—dividing the shared household.
That decision saw Harry and Meghan create a new office at Buckingham Palace in March 2019—two months after Meghan's suicidal feelings.
The duke returned to Britain for the first time in April for Prince Philip's funeral but he stayed at Frogmore Cottage in Windsor as the ceremony was nearby at St George's Chapel, Windsor Castle.
It is not clear whether he visited the Kensington Palace (nicknamed KP) in 2020, when he made two visits in January and March.
Royal diary, the Court Circular, last recorded his presence at an official event there for a reception by the Endeavour Fund on October 16, 2019.
And that was before they set off for Canada the following month—the first major step towards their new post-royal lives.
Omid Scobie and Carolyn Durand wrote in the bestselling biography Finding Freedom how Harry saw the palace as a "goldfish bowl" with no privacy from the public, who fill the surrounding park on hot summers days.
A source told the authors: "He wanted to get away from the goldfish bowl that was Kensington Palace.
"Everywhere you turn you're surrounded by staff and family. He was at a point in his life where he was working with his brother, doing the foundation with his brother, and living by his brother. It was too much."
And the public are already out in force at the gates to the palace Thursday in anticipation of the statue unveiling.
A small shrine has been created to Princess Diana, including banners and photos in the same spot where in 1997 a sea of flowers marked the death of Harry and William's mother.
Fans started gathering Wednesday and some camped overnight hoping for a glimpse of the royal brothers on the day they confront their difficult recent history.