How Prince Harry's Mother's Day Tribute Shows Commitment To Visit Royals
Prince Harry may be living out in California but he asked for flowers to be laid on his behalf at Princess Diana's grave for the U.K.'s Mother's Day.
The Duke of Sussex ensured the tribute was made at the plot on the Althorp Estate, Diana's family home, a Sussex spokesperson confirmed to Newsweek.
The gesture shows his commitment to his mother's memory as he awaits the unveiling of a formal memorial in July, a project pursued jointly with his brother Prince William.
The statue of their mother has been years in the making, having originally been intended for completion in time for the 20th anniversary of her death in 2017.
It will now mark what would have been her 60th birthday, on July 1, and will sit in the Sunken Garden at Kensington Palace.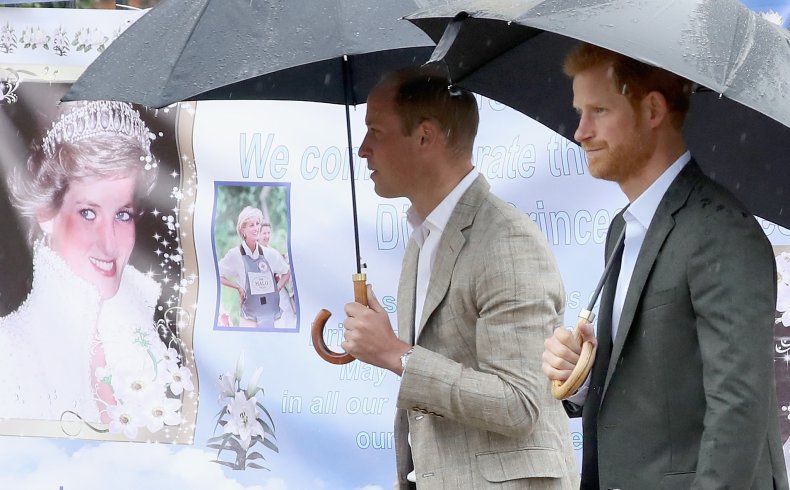 Insiders told Newsweek Prince Harry wants to go to the event, but owing to the global pandemic nothing has yet been booked.
If he does go, the trip will mark the first time he has seen his family face to face since his journey with Meghan Markle to London for their final royal duties in March last year.
Meghan and Harry's bombshell interview with Oprah Winfrey will surely be discussed, and standing side by side with Prince William may be particularly difficult.
Meghan told Oprah Winfrey Kate Middleton made her cry when they had an argument at a bridesmaid's dress fitting for Princess Charlotte, contrary to press reports suggesting the reverse had happened.
She said: "It made me cry and it really hurt my feelings.
"And I thought in the context of everything else that was going on in those days leading to the wedding that it didn't make sense to not be just doing whatever everyone else was doing, which was trying to be supportive."
However, there is another grim backdrop to July's unveiling—a Buckingham Palace review of bullying allegations against Meghan was launched days before the Oprah Winfrey interview was broadcast.
Meghan and Harry have not been invited to take part, whereas U.K. newspapers, including the Daily Mail, have reported between 10 and 12 former staff are set to provide their stories.
If Harry does make it to Britain, he will also have to decide how long he goes for, with Prince Philip's birthday on June 10 and Trooping the Color, Queen Elizabeth II's official birthday parade, on June 12.
Meghan is pregnant with their second child, a girl, and is due sometime this summer—meaning she may be unable to travel.
That would mean Prince Harry potentially risking missing the birth or leaving their newborn during the precious early weeks of her life.
Kensington Palace announced in August: "The statue that Prince William and Prince Harry have commissioned to commemorate their mother, Diana, Princess of Wales, will be installed next year on what would have been her 60th Birthday.
"The statue was commissioned to mark the twentieth anniversary of her death and recognize her positive impact in the UK and around the world.
"The statue will be installed in the Sunken Garden of Kensington Palace on 1st July 2021, marking The Princess's 60th birthday.
"The Princes hope that the statue will help all those who visit Kensington Palace to reflect on their mother's life and her legacy."
It is yet to be confirmed who will officially attend.