How Prince Harry Suing U.K. Government Could Put His Security More at Risk
Prince Harry's royal security lawsuit against the British government could leave him more at risk, court papers seen by Newsweek suggest.
The Duke of Sussex is suing the U.K. Home Office for removing his police protection detail on visits to Britain, which he argues makes it unsafe for him, his wife Meghan Markle and their two children to visit his home country.
However, the government department hit back in a strongly worded court filing that hinted his legal action may be making his own situation worse not better.
Lawyers stated the Home Office, the Metropolitan Police and the royal family do not comment publicly on who receives police protection.
The filing, seen by Newsweek, reads: "That is for the obvious and well-understood reason that the more information is placed into the public domain about who has public security protection and in what form, the easier it is for hostile actors to piece together such information with other material in the public domain and enable inferences to be drawn about the degree of protection afforded to those individuals and to other persons.
"Ultimately, the more information in the public domain about which individuals receive protective security and to what level, the greater the prospect of a successful attack against those individuals, or to others not in receipt of protective security."
The reference to "others not in receipt of protective security" may refer to other members of the royal family whose police teams have been removed or never instated to begin with.
After Harry's lawsuit became public in January, 2022 it did not take long for both the mainstream media and social media debate to turn to the fact that Princess Beatrice and Princess Eugenie's police protection was removed in 2011.
After Harry's lawsuit against the government was revealed, a headline in the Daily Express read: "Beatrice and Eugenie show private security feasible despite Harry's UK demands."
If Harry wins the case, he may well get the chance to have his police protection restored but if he loses he will be forced to confront whether he intends to ever return to Britain.
If the legal action fails, any would-be assassin might be newly encouraged by the revelation he considers his own security arrangements to be inadequate.
The Home Office comments came during discussion over how to redact Prince Harry's own court filings, which stretch to 283 pages and have not yet been made public.
The duke initially requested that all the paperwork remain confidential but government lawyers suggested that would breach the principle that the justice system must be open to scrutiny as well the right to freedom of expression of journalists.
Over 10 pages, Richard Palmer QC, representing the Home Office, heaped criticism on Prince Harry's conduct in the case, which is still in its earliest stages.
The document suggested Harry already has exceptional status, has no right to sue and did not show respect to the Royal and VIP Executive Committee, RAVEC, which decides who should get protection and comprises the Home Office, police and the royal household.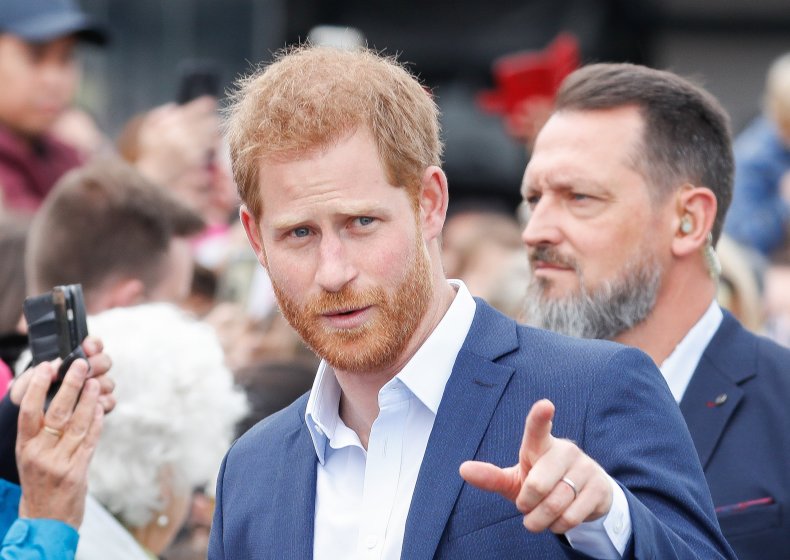 Palmer also warns the government will seek costs from Harry should he lose and describes the saga over his request for confidentiality as an "unprecedented expenditure of time and resources."
The document reads: "[The Home Office] makes clear that the grant of permission will be opposed and that it will be submitted that the claim is unarguable and unmeritorious."
The filing says the original decision on his security was made on February 28, 2020, and that the lawsuit is therefore "substantially out of time."
It said: "[Prince Harry] has failed to afford the necessary measure of respect to [the Home Office] and RAVEC as the expert, and democratically accountable, decision-maker on matters of protective security and associated risk assessment."
It added: "Personal protective security by the police is not available on a privately financed basis and RAVEC does not make decisions on the provision of such security on the basis that any financial contribution could be sought or obtained to pay for it.
"RAVEC has in fact attributed to the claimant a sort of exceptional status whereby he is considered for personal protective security by the police, with the precise arrangements being dependent on the reason for his presence in Great Britain and by reference to the functions he carries out when present."
Harry's legal representative said in January, 2022 that he offered to pay for his police protection himself during internal royal family discussions two years earlier at the Sandringham Summit, in January, 2020.
The statement, sent to Newsweek, added: "That offer was dismissed. He remains willing to cover the cost of security, as not to impose on the British taxpayer."
However, the government court filing suggested that Harry did not make this offer to RAVEC during "pre-action correspondence" or ahead of a key visit in June, 2021.
The prince was granted police protection for Prince Philip's funeral due to the terror threat associated with the ceremony, in April, 2021.
However, he was refused security several months later in June, 2021 when he arrived in Britain ahead of the unveiling of a statue of his mother, Princess Diana, at Kensington Palace on July 1.
During the trip, Harry attended an event for charity WellChild and was chased by paparazzi after leaving.
Police protection officers would have been able to arrange motorcycle outriders capable of whisking him through traffic jams and red traffic lights.
However, without their support his team were left subject to the same motoring laws as the photographers seeking pictures of him.
The stakes are high for the prince as his legal representative said in January it was unsafe for the Sussex family to return to Britain without police protection.
Quoted by the BBC, his attorney, Shaheed Fatima QC, told the court: "It goes without saying that he does want to come back to see family and friends and to continue to support the charities that are so close to his heart.
"Most of all, this is and always will be his home."
If his case is as weak as the Home Office suggests, he may have to decide whether he intends to stay away from Britain, never introducing daughter Lilibet Mountbatten-Windsor to Queen Elizabeth II, who she is named after.
However, if he does lose he will have told the world just how insufficient he considers his own private security to be when operating on British soil.