How Prince Harry Told Royal Family About Meghan Markle's Miscarriage
Prince Harry told the royal family about Meghan Markle's miscarriage in the summer and they were "very supportive," a royal expert says.
The Duchess of Sussex wrote in moving terms about the moment she realized she was losing her second child while holding baby Archie in her arms.
Meghan described in an essay for the New York Times "watching my husband's heart break as he tried to hold the shattered pieces of mine."
In an account confirmed by Newsweek, royal expert Katie Nicholl told the BBC how Prince Harry told other members of the royal family about their grief.
She said: "The royal family were very supportive about it. They were aware of what had happened.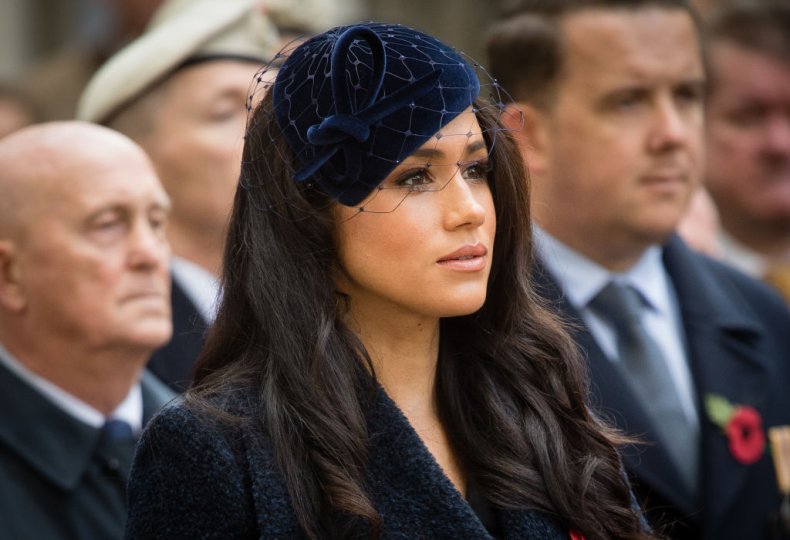 "Harry was in constant touch with them over the summer and they knew what they were going through.
"My understanding is they've been supported by the royal family on this episode."
Social media was today full of supportive messages as other women shared their own experiences of miscarriage and praised Meghan for her bravery.
Journalist Anita Singh wrote on Twitter: "When I had a miscarriage, I remember scouring the internet for articles by women who had been through the same thing.
"Because reading that you're not alone is helpful and it's comforting. So thank you to Meghan Markle for writing about something so difficult."
Author Elizabeth Day wrote on Twitter: "Chrissy Teigen and the Duchess of Sussex speaking openly about something that historically has given women so much pain, shame and trauma, is a game-changing step.
"I, and countless others, am so grateful to them. Beyond that, I simply want to tell them: I am so, so sorry."
Another social media user wrote: "I'm [crying] with you, for Harry and Meghan, for myself who has lost 3 babies through miscarriage, and for every other family or woman that has gone through this unbelievable and unbearable [heartbreak].
"My prayers for everyone who are able to respect others pain even if they don't share it."
Meghan wrote in her New York Times Article: "I knew, as I clutched my firstborn child, that I was losing my second.
"Hours later, I lay in a hospital bed, holding my husband's hand. I felt the clamminess of his palm and kissed his knuckles, wet from both our tears.
"Staring at the cold white walls, my eyes glazed over. I tried to imagine how we'd heal."
She added: "Sitting in a hospital bed, watching my husband's heart break as he tried to hold the shattered pieces of mine, I realized that the only way to begin to heal is to first ask, "Are you OK?"