Prince Harry Gives Himself Months Off Work After Baby—Would Only Get 3 Days As a Royal
Prince Harry and Meghan Markle have "several months" to focus solely on parenting newborn baby Lilibet "Lili" Diana Mountbatten-Windsor—through their foundation's parental leave policy, Newsweek can reveal.
The Duke of Sussex is taking time off work to concentrate on Lili's first precious experiences now that he is outside the royal family.
After his son Archie was born on May 6, 2019, Harry returned to work to attend a promotional event for The Invictus Games The Hague 2020 in the Netherlands three days later, on May 9.
An insider told Newsweek both Meghan and Harry "will be taking several months off to spend time with their daughter."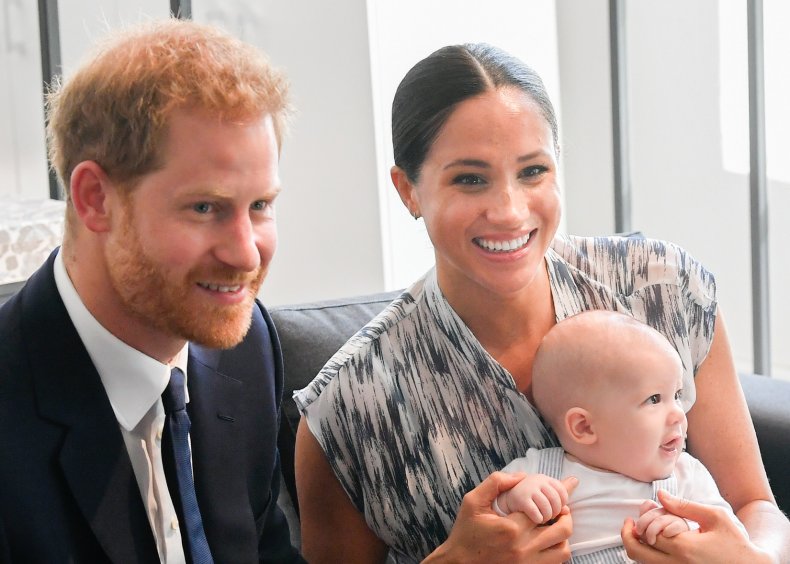 The source said this was part of nonprofit Archewell's parental leave policy, suggesting the couple will offer staff the same privilege in the future.
The Archewell website also states: "While the Duke and Duchess are on parental leave, Archewell will continue to do important work and publish stories on the site. We look forward to seeing you!"
A statue of Princess Diana is due to be unveiled on the grounds of Kensington Palace on July 1 as a result of a joint project between Prince Harry and Prince William spanning years.
There has been much speculation among U.K. royal watchers over whether Harry will attend the event on what would have been his mother's 60th birthday.
It is not currently clear whether the Duke of Sussex considers his leave from his job at Archewell to cover his appearance at the unveiling or whether he will still make the trip to Britain to attend.
Lili was born on Friday, June 4, at 11:40 a.m. local time but the couple did not announce it until Sunday, June 6.
Her first name is drawn from Queen Elizabeth II's nickname "Lilibet," which dates back to childhood when she could not pronounce her name.
The couple's spokesperson confirmed she will be known as Lili. She also has the middle name Diana, in tribute to Harry's mother.
The royal family's official Twitter account posted: "Congratulations to The Duke and Duchess of Sussex on the birth of Lilibet Diana!
"The Queen, The Prince of Wales and The Duchess of Cornwall and The Duke and Duchess of Cambridge are delighted with the news.
"Lilibet is Her Majesty's 11th great-grandchild."
Prince William and Kate Middleton's Twitter account posted: "We are all delighted by the happy news of the arrival of baby Lili.
"Congratulations to Harry, Meghan and Archie."
Prince Charles and Camilla's account posted: "Congratulations to Harry, Meghan and Archie on the arrival of baby Lilibet Diana.
"Wishing them all well at this special time."
A 2019 UNICEF report found the U.S. was the least generous for paternity leave out of 41 Organisation for Economic Co-operation and Development (OECD) countries, offering no paid time off for fathers, The Guardian reported.
Some states have their own policies, including California, where the couple live, which offers eight weeks of paid family leave at about 60 to 70 percent of income.
The policy is not affected by immigration status, according to the State of California's Employment Development Department website.
After attending the event for the Invictus Games The Hague 2020 in the Netherlands just three days after son Archie was born in May 2019, Harry went on to honor two more public engagements the following week before flying to Italy from May 23 to May 25.
In a statement Sunday, Meghan and Harry said: "On June 4th, we were blessed with the arrival of our daughter, Lili.
"She is more than we could have ever imagined, and we remain grateful for the love and prayers we've felt from across the globe.
"Thank you for your continued kindness and support during this very special time for our family."
A statement from the couple's spokesperson on Sunday read: "It is with great joy that Prince Harry and Meghan, The Duke and Duchess of Sussex, welcome their daughter, Lilibet "Lili" Diana Mountbatten-Windsor, to the world.
"Lili was born on Friday, June 4 at 11:40 a.m. in the trusted care of the doctors and staff at Santa Barbara Cottage Hospital in Santa Barbara, CA.
"She weighed 7 lbs 11 oz. Both mother and child are healthy and well, and settling in at home.
"Lili is named after her great-grandmother, Her Majesty The Queen, whose family nickname is Lilibet. Her middle name, Diana, was chosen to honor her beloved late grandmother, The Princess of Wales."