How a Private Commemoration of the Tiananmen Protests Riled Chinese Police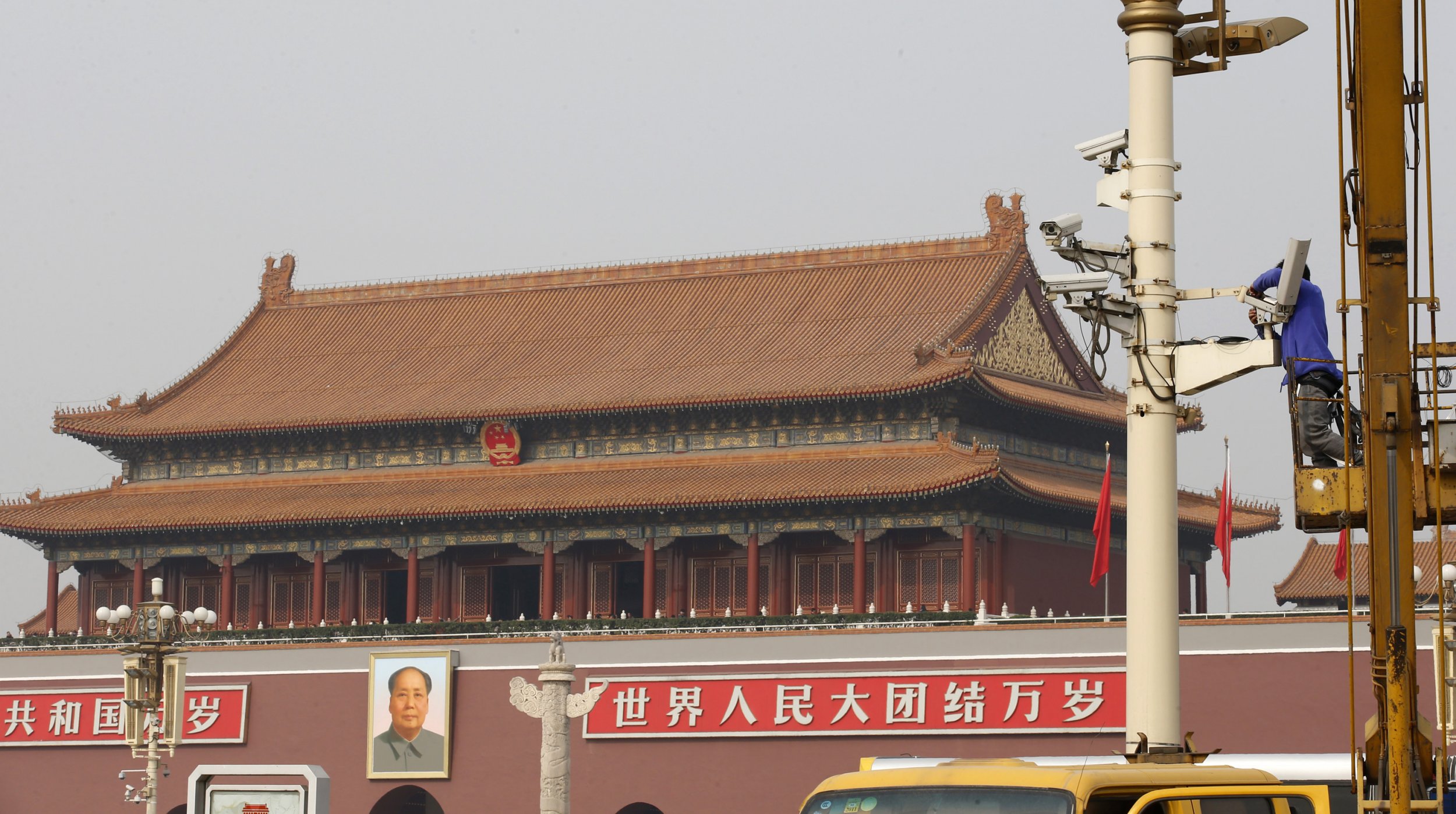 BEIJING (Reuters) - Early last month, 15 people went to a Beijing apartment to mark the 25th anniversary of the crushing of pro-democracy protests around Tiananmen Square. Among them were scholars, a prominent Chinese human rights lawyer, writers and the mother of a student who was killed by soldiers on June 4, 1989.
A few days later, five were in police detention after a photograph of the gathering circulated on the Internet. They were charged with "causing a disturbance", a crime that carries a jail term of up to five years.
It's the first time authorities have charged anyone for commemorating the Tiananmen crackdown privately in a home, activists said, showing China's determination to snuff out any mention of an event that riveted the world and convulsed the ruling Communist Party.
Beijing usually puts people under temporary house arrest and tightens security ahead of the June 4 date.
"We haven't seen this sort of crackdown before," said Zhang Lifan, an independent historian who was not at the gathering.
Rights group Amnesty International said 48 people had been detained, placed under house arrest, questioned by police or had gone missing ahead of the anniversary. Police have also warned foreign reporters from visiting "sensitive places" and prevented them from interviewing people on the topic.
Police declined to comment, as did an official at the Beijing No.1 Detention Center, where the four men and one woman are being held. Under China's two-stage legal process, charges levied under detention allow police to interrogate a suspect and build a case. The suspect is then either formally arrested and tried or released.
Sensitive anniversaries always worry China, but none more so than that of the Tiananmen crackdown. After initially tolerating the student-led demonstrations in the spring of 1989, the Communist Party sent troops to crush the protests.
The government has never released a death toll for the crackdown, but estimates from human rights groups and witnesses range from several hundred to several thousand.
The anniversary comes as China grapples with challenges such as slowing economic growth, dire pollution, endemic corruption and violence in the troubled western region of Xinjiang.
"This is a rocky time for China. They've got to keep tight control," said David Zweig, a professor of Chinese politics at the Hong Kong University of Science and Technology.
READY TO PAY THE PRICE
Addressing the gathering on the afternoon of May 3, human rights lawyer Pu Zhiqiang said he never regretted participating in the 1989 protests as a student.
"If I have to pay a price for June 4, I will do it," he said, according to people there and lawyers representing the detained activists.
Liu Di, a blogger who became a symbol for free speech in China when she was detained in 2002 for criticizing the government, spoke for about two minutes, saying she advocated non-violence to bring about change.
The participants were not too concerned about government reprisals, although they had turned off their mobile phones to avoid surveillance. Xu Youyu, a scholar, told his friends: "We haven't had a problem when we've held these forums in the past."
A day later, police summoned several of them for questioning. Police raided their homes and took their computers. Five - including Pu, Liu and Xu - were detained on May 6.
While the Tiananmen crackdown has always been taboo in China, activists had been able to commemorate it quietly. Mo Shaoping, a lawyer for Xu, said the 20th anniversary was marked by a larger forum in a hotel in Beijing.
Since Xi Jinping became president in March 2013, however, his administration has taken a hard line on dissent, detaining and jailing activists, clamping down on Internet critics and tightening curbs on journalists in what rights groups call the worst suppression of free expression in recent years.
Indeed, although Xi appears determined to tackle corruption and pollution and put the economy on a more sustainable path, he has so far shown little time for political reform or a loosening of Community Party control.
It is unclear why the five activists, whose detentions have been criticized by the United States and the European Union, were targeted and not others who attended the gathering.
Several family members of those detained said they were surprised since not all were high-profile critics of the government.
Xu is a research fellow with the Chinese Academy of Social Sciences, a government think tank. Hao Jian, who hosted the forum at his apartment, teaches at the Beijing Film Academy.
The fifth person detained was Hu Shigen, a dissident writer who spent 16 years in prison after he planned June 4 memorial activities in 1992.
The most well-known is Pu, 49. As a student in Beijing in 1989, he stood in front of a banner that said: "Hunger strike for democracy and freedom".
Pu later became one of China's most prominent free-speech lawyers, representing dissidents including artist Ai Weiwei.
PHOTOGRAPH GOT THEM IN TROUBLE
On May 1, Hao called Pu to invite him to the commemoration. When Pu arrived, a large red banner with the words "2014 Beijing June Fourth Memorial Symposium" was unfurled on the floor.
At the two-hour meeting, the activists took turns to speak. They discussed the contents of a statement marking the event and took a photograph of the gathering with the banner.
Later that night, Xu told Hua Ze, a New York-based human rights activist, that state security officers had tried to contact him. It was not clear if it was about the gathering or something else.
Hua said Xu told her he was emailing the statement and photograph and to quickly pass them on. Hua sent them to several friends, including reporters.
Police told Liu Di, the blogger, that distributing the photograph on the Internet "caused great impact globally and domestically", said Ma Gangquan, one of Liu's lawyers.
"The police said if you hold this forum at home and no one knows about it, that's no problem," Ma said. "But the problem is you have put this on the Internet … so the impact is very, very big."
Zhang Sizhi, an 87-year-old lawyer representing Pu, said he believed some of the five would be convicted.
"(The government) believes that in the current situation, by organizing such an event, this group can cause great danger to the legitimacy of the regime," he said.