How to Project Authenticity and Engagement in a Primarily Virtual World
How to show that you're genuinely interested and involved in a conversation, even via Zoom.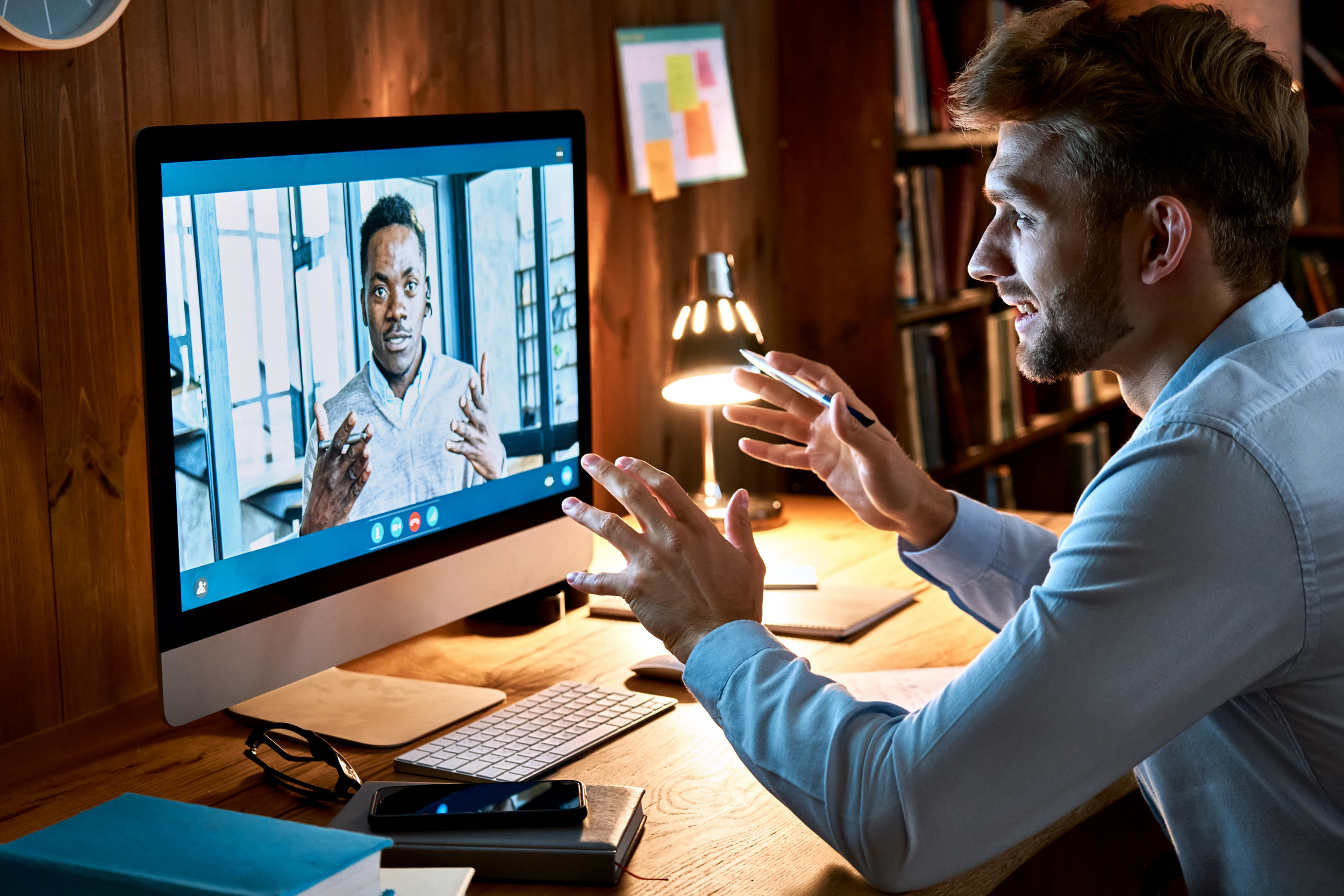 Are authenticity and engagement possible in a virtual world?
Many of us have been thrust into remote work due to COVID-19. Therefore, we've also been forced to use more virtual tools for connecting.
Meeting virtually can sometimes feel like it requires extra effort. It takes a little something extra to show you're truly listening and interested, and to make eye contact in a way that resonates with everyone present.
You've seen the repercussions of using these virtual tools while on video. And you've also likely seen that interest in these tools has been waning. So how can you show that you're genuine and involved, even when you're on an endless stream of video meetings (also known as Zoom fatigue)?
Let's start with what Zoom fatigue looks like. First, you can instantly tell when someone isn't making you a priority virtually:
• Their video isn't turned on or clearly showing their face.
• They aren't looking at the screen.
• They are constantly looking at their phone or clicking around on the keyboard.
Does this sound like you? If so, your colleagues may feel like you aren't interested in being involved.
The way I see it, our now mostly virtual world can help us weed out those who aren't truly authentic or actively engaged. To project authenticity and engagement in a primarily virtual world, you have to set the intention of being present from the start. You can do that by:
• Ensuring your phone is put away.
• Closing out email and other platforms where people can message you.
• Listening to understand versus listening to speak.
Beyond that, you'll want to think about other areas in which you can actively remain present and authentic.
1. You can always tell when someone is truly "with you" by their nonverbal clues; for example, if they're with you, they'll nod their head in agreement or smile at a remark. Give a head nod, a thumbs-up, a smirk or a smile as you're listening. I'm not saying to do this in an inauthentic way — just do what you would do if you were meeting face to face. This will show the speaker that you're listening with enthusiasm.
The Newsweek Expert Forum
is a private, vetted community where pioneering thinkers and industry leaders go to share their insights on business, culture & arts, health, money, science, sports, travel & lifestyle, and technology.
Do I qualify?
2. Speak up. How many times have you said, "Are you there?" during a silent moment that went a second or two too long? Silence is expected in face-to-face meetings, mostly because of the nonverbal cues I mentioned earlier. But virtually, we need to do a better job of using our voices to check in and show interest.
3. In the early days of working remotely, I know I was preoccupied with my hair and makeup and hoping the dog didn't bark at the mailman. I encourage you to throw these worries out the door. What is more authentic than your kid running past the camera, the dog chewing on a squeaky toy or the doorbell ringing for a delivery? Many – if not most – of us are in this new work from home (WFH) situation. We all need to be more forgiving about real life.
4. In the real world, we have built-in pleasantries. We share news about our personal lives and chat about sports. This is where human connections are formed. But when we're virtual, we tend to rush right into the agenda. Don't forget the small talk to help you connect on a personal level.
Our virtual WFH setting – whether it's due to lockdown, quarantine or just a new remote directive – isn't likely to change soon. And if you can't avoid video meetings for work, then you'll have to make a commitment to focus on authenticity and engagement when you're virtual.
By following these tips, you should be able to be more effective and present online. So put that phone down, give a smile and open your ears.