How to Protect Yourself From Fraud During Black Friday Shopping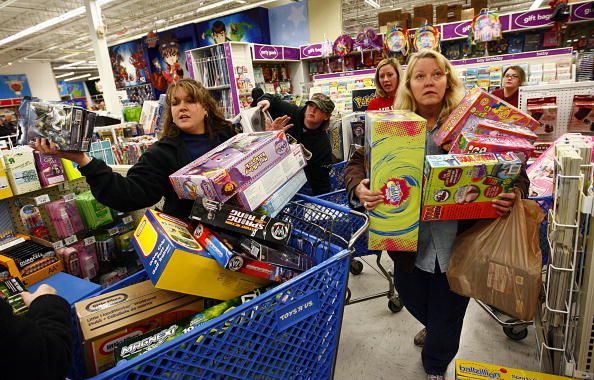 Even before Thanksgiving dinners are cleared off the table, stores and online retailers are screaming for consumers' attention with Black Friday sales and deals. Over the years, the start time for the beginning of the hectic holiday shopping season has inched up. You've barely digested your food before it's time to hit the mall.
About 164 million people (that's 69 percent of the country's population) plan to shop over the long Thanksgiving weekend, according to the National Retail Federation. Retailers of all kinds see up to 30 percent of their annual sales take place in the last two months of the year.
With all that extra activity and a lot of money changing hands,it's prime time for thievery says John Buzzard, industry fraud expert for CO-OP Financial Services.
Thanks to the frenzy of holiday season transactions, criminals—anyone who has stolen identities, skimmed payment cards or is hoping to sell counterfeit goods—"can hide in plain sight," Buzzard told Newsweek. "Holiday shoppers can fall victim in a variety of ways," because "everything looks like fraud pretty much from the middle of November through most of January."
Buzzard shared seven fraud-beating tips with Newsweek, good for every day of the year but especially now:
Steer clear of too-good-to-be-true deals: As the saying goes, if it sounds too good to be true, then it probably is. Be cautious of unknown merchants and be extra wary of items listed at prices far below those of other retailers. The ultimate bargain could be counterfeit or stolen goods.
Try alternative payments: Consider substituting your regular debit and credit cards with prepaid debit cards or tokenized forms of payment, like Apple Pay, Samsung Pay or Android Pay. Taking a prepaid debit card on a holiday vacation means there's a limited amount of funds available rather than your entire bank account, reducing potential losses if it's compromised. Same goes for shopping during the holidays. With tokenized payments, Buzzard explained, transactions are anonymized. "At no point is your payment card in play," he said. "If there's a data breach, that information is suppressed."
Attend to your computer: "Many consumers have laptops or PCs that are chronically infected with a variety of viruses and malware that facilitate the transfer of payment card information from the infected device directly into the hands of a cyber crook," Buzzard said. He recommended getting a virus and anti-malware scanning program that runs daily, and emphasized that consumers should make sure it's always updated with the latest version.
Beware credit offers: Those last-minute deals that offer discounts in exchange for opening up a new credit account can be a trap. "Please pay attention to how the information is collected," Buzzard warned. "Be wary of verbally providing the information to sales people or anyone unknown. Equal caution should be extended to paper forms that can easily be pocketed by retail personnel long after you've left the premises."
Say no to carbon copies: Sometimes vintage is best left in the past, like those old-school machines that imprint your card number on a carbon copy. "If you are offered this method of payment, politely decline and walk away," Buzzard said.
Chip cards are your friend: The goal of the chip on your credit and debit cards is to better protect you from crooks who might try to steal your personal information. The chip has become more prevalent here since a 2015 rule shifted liability from banks to businesses that aren't equipped to use the technology. Buzzard said there are legitimate reasons why a retailer might not be letting consumers insert chip cards, such as a tech or configuration problem or the reader simply being dirty. But there could be more sinister explanations for pushing a consumer to swipe or dip. "Trust your little voice," Buzzard advised. "If something feels a little odd, if a merchant is intent on funneling you toward one behavior, there's nothing wrong with saying, 'Eh, I'll go somewhere else." Or ask if the retailer accepts alternative payment methods (see the second tip).
Police your balances: Make sure to watch all of your account balances—checking, savings, credit and any others—for unauthorized charges or deposits. "It cannot be overstated: No matter what you're doing every day, quickly check your financial accounts," Buzzard said. He encouraged everyone to set a daily text or email alert (whatever your bank or other financial institution offers) to make it easier to track balances. "Criminals are counting on you not being vigilant" he said. "If you see dramatic changes to your balances, contact your financial institution immediately."