How Pundits and Late-Night Comics Stole the Show at the GOP, Democratic Conventions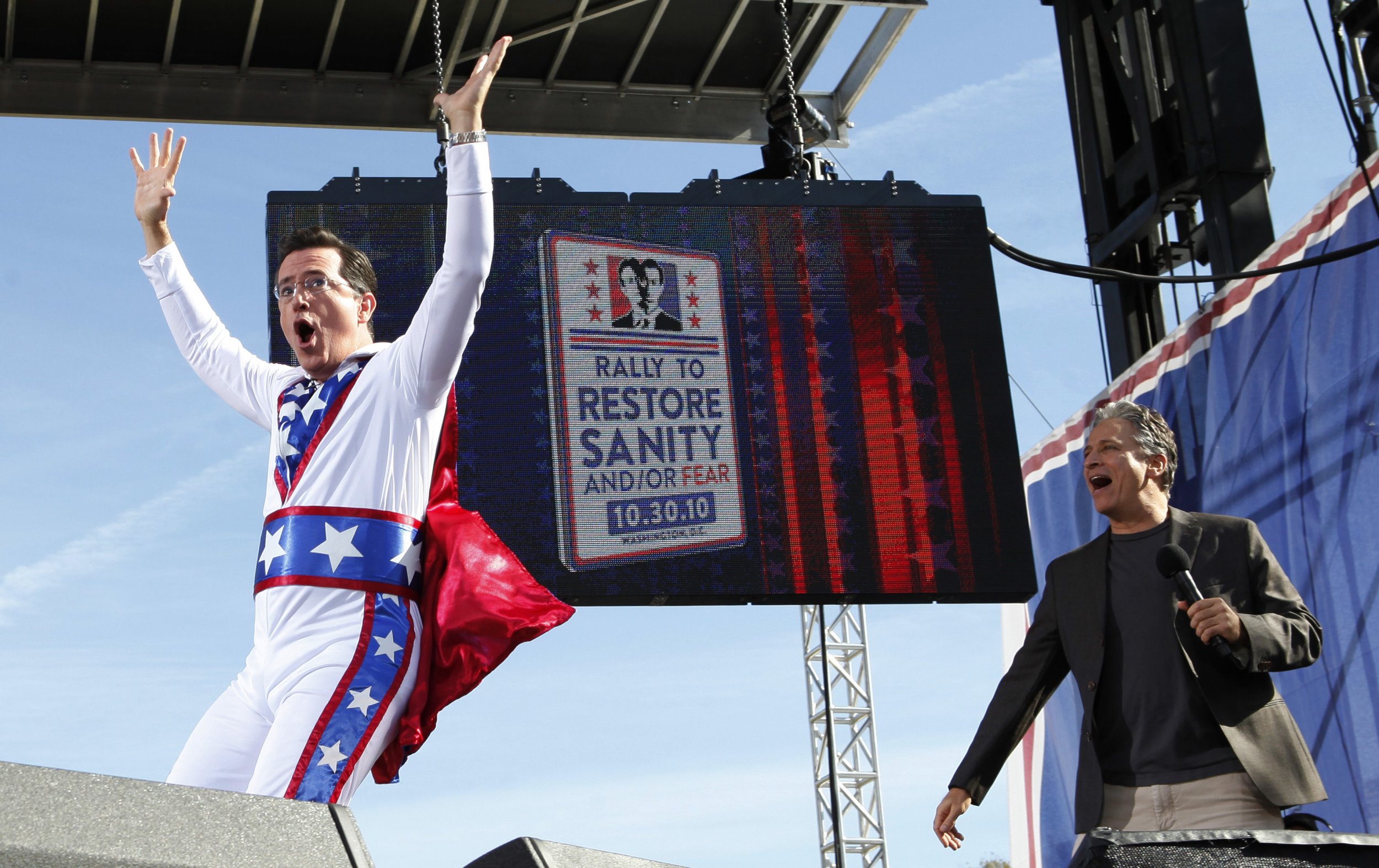 The two weeks of political conventions were a midsummer night's dream for political pundits and late-night comics. While Donald Trump and Hillary Clinton were steamroll-calling their way to the Republican and Democratic (sorry, Bernie Bros) nominations, a plethora of cable news hosts and analysts, as well as well-known entertainers, appeared on camera with renewed vigor. Here's our roll call of some of the most memorable players.
Stephen Colbert
For the first time since retiring his Bill O'Reilly-esque character from The Colbert Report, Colbert made The Late Show both inspired and relevant. On the first night of the Republican Convention, Colbert kicked off a live broadcast with a Yankee Doodle Cagney musical number titled "The RNC Is Like Christmas in July."
The following evening, he invited Tony Award-winning actress Laura Benanti to do an impersonation of Melania Trump that was so spot-on she momentarily fooled the studio audience.
Tamron Hall
Occupying a midday host's slot on MSNBC, Hall turned her low-profile pulpit into Thunderdome ("two men enter, one man leaves"). On the second day of the Republican Convention, she eviscerated former Happy Days star Scott Baio by allowing him to discuss how he'd written his speech in church, then hammering him over his misogynistic tweets ("Did you think about that in church?"). Tamron did not love Chachi.
Bill Maher
HBO's Real Time host, the only prominent on-air personality this fortnight who has been sued by Trump, aired four live YouTube episodes during the conventions that began as soon as that night's convention finished. An unabashed critic of Trump and a man who was once fired by ABC for his provocative comments, Maher opened his regular Friday night show with this quip on Trump's speech to the GOP gathering the night before: "If that speech was any darker, it would have been shot by the police."
Bill O'Reilly
The prickly Fox News host and prolific author of American history books, O'Reilly took it upon himself to clarify first lady Michelle Obama's remarks about slaves having built the White House. On Tuesday, one night after she spoke, O'Reilly told viewers of The O'Reilly Factor that the slaves were "well-fed and had decent lodgings." Presumably, O'Reilly learned this by reading their Yelp! reviews (it's worth noting that Abigail Adams, the first lady at the time the White House was being built, described those same slaves as "half fed, and destitute of cloathing").
Colin Jost and Michael Che
The "Weekend Update" hosts from Saturday Night Live popped up in both Cleveland and Philadelphia to riff on the conventions. Che, on the plethora of weeping young women at the Democratic Convention after Bernie Sanders finally conceded defeat: "You'd think Dave Matthews was playing 'Crash Into Me.'" Jost, on the Democrats' penchant for political correctness: "They won't even say 'Phillie Phanatic.' They just say that he was a Mets fan who was radicalized online."
CNN's On-Site Set
Anderson Cooper's show is named AC360, and it was halfway there with a semicircle of nine panelists joining the snow-haired host. While in Cleveland, Cooper may have consulted Cavaliers coach Tyronn Lue for advice on how to juggle playing time for nine pundits who clearly wanted to be heard. Were vacationing Supreme Court justices tuning in and saying to themselves, "So that's what it looks like to have nine people on one bench"?
Rob Reiner
How surreal was it, in 2016, to see the former Michael "Meathead" Stivic from All in the Family railing against an authoritarian Republican president (in this case, potential president) who was in favor of breaking into the Democratic headquarters? More than 40 years ago, Reiner played a liberal character who constantly agitated against Richard Nixon and Watergate. During the Democratic Convention, Reiner, who also directed the 1995 film The American President, appeared on MSNBC to compare that event to the hacking of the Democrats' national headquarters, "where everything is stolen, and there's a conceivable connection to the Trump campaign. That, to me, is just off the charts insane."
Norman Lear, who created All in the Family and turned 94 this week, could not have written it any better himself.
Jon Stewart
The erstwhile host of The Daily Show may have retired, but he has not lost his ire. During the Republican Convention, he returned to the air to occupy The Late Show desk of his former colleague Stephen Colbert. Showing no rust from his sabbatical, Stewart went double-neck guitar solo on Fox News in general and Sean Hannity—whom he referred to only as "Lumpy"—in particular.
Donald Trump
Sure, he's the Republican nominee, but no one manipulated the media with more moxie than the Fifth Avenue pseudo-billionaire. Trump was never offstage the entire fortnight, beginning with his WWE entrance on the first evening of the GOP gathering to his hijacking of the Democrats' convention with his "sarcastic" suggestion that Russia hack Clinton's emails. In between, he admonished NBC correspondent Katy Tur to "be quiet" and spoke for 75 minutes at the GOP convention (but how much of it was clapping?). When he was not on TV, he was on Twitter. Sure, love trumps hate, but Donald trumps the news cycle.