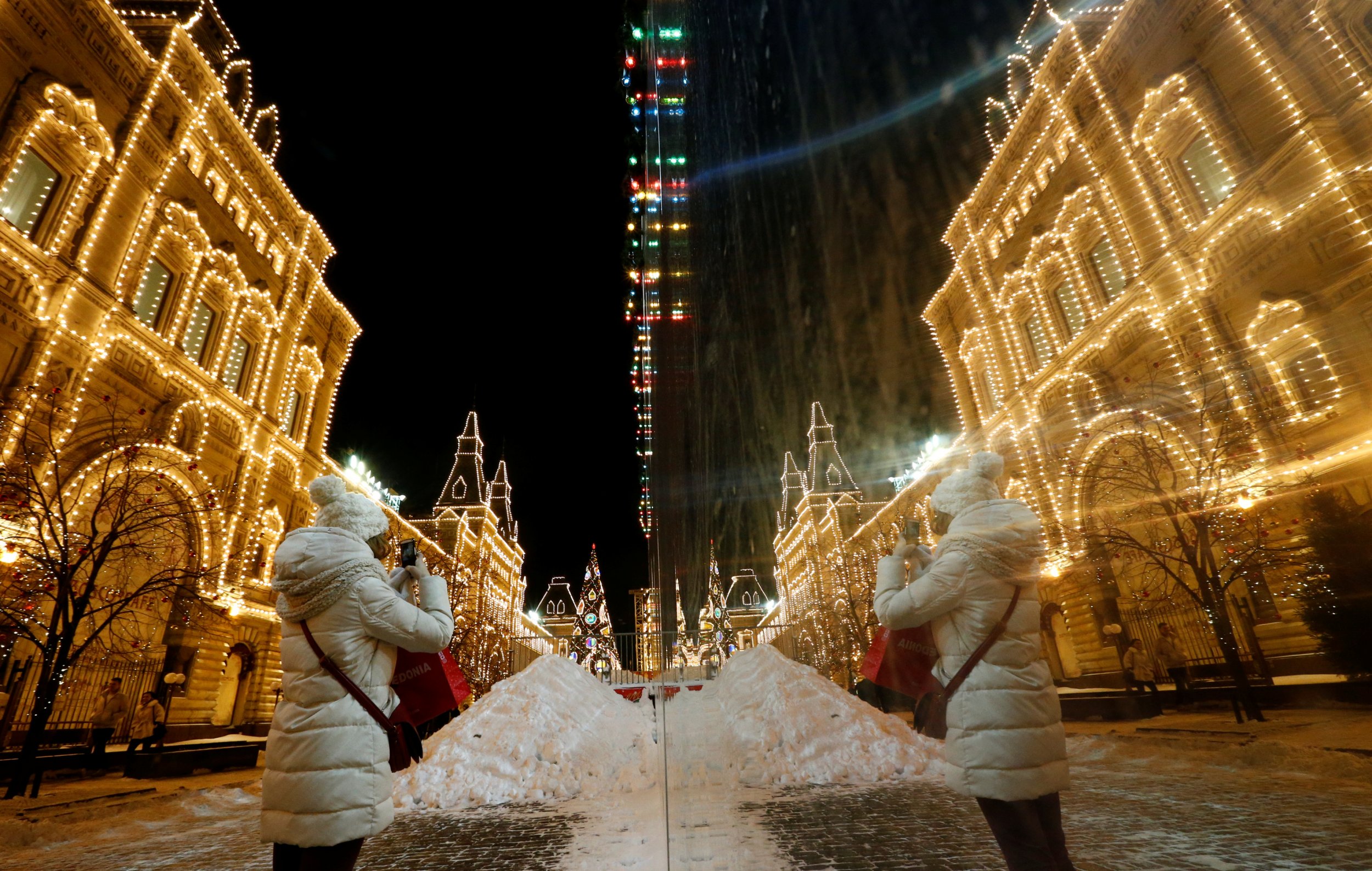 This article first appeared on the Wilson Center site.
Russia's economic performance has not looked encouraging for the past eight years. GDP has grown a meager 0.2 percent a year on average between 2009 and 2016.
The country's GDP has declined from its peak of more than $2 trillion to $1.3 trillion now, while the per capita GDP is down to its 2007 level of $9,000. The difference is the economy was on the rise back then. The year 2007 saw Russian IPOs making headlines, business and consumer confidence growing, and foreign investment pouring in.
Nothing of the kind is happening today, though the situation is far from critical. The federal budget is reasonably balanced and debt levels are low. Russia's public debt is at an enviable 4 percent of GDP ($46 billion). Even adding in the corporate debt of all the companies and banks in which the government has more than a 50 percent ownership would not bring that figure above 21 percent of GDP.
Foreign currency reserves are far from their heights of 2008, but at $385 billion, they are sufficient to maintain a confident monetary policy. They have not been falling because the Kremlin has decided not to prop up Russia's ailing currency. The ruble has gone down, but the reserves are at confident levels.
This state of affairs could be ascribed to President Vladimir Putin's peculiar economic views. They could be called mercantilist as they represent the kind of understanding of a nation's economy that was common in early modern Europe. To Putin, money equals power. He is fundamentally opposed to building up debt because that puts power in the hands of one's creditors. Putin prefers cutting public spending to borrowing because borrowing undermines a country's "sovereignty." In a similar vein, he treats the nation's financial reserves as a rainy-day stash, not as instruments of monetary and fiscal policy.
Money, in Putin's view, is a prize in itself. When a country imports goods, it is doing its counterparts a favor because they get paid. On the contrary, when a country exports goods, it enjoys an advantage over the importing countries because they pay.
This is why when Putin thinks of countermeasures to Western sanctions, he bans imports, even if they happen to be basic foodstuffs; he does not stop his exports of oil, gas or metals because they bring in money. In his view, being dependent on imports is a bad thing while being dependent on exports is a norm.
Many watched in disbelief when Putin performed a fundamental about-face and changed the country's economic course from integration into the world economy to relying more and more on domestic resources. Because he sees imports as essentially a waste of money, he has been an enthusiastic supporter of import substitution.
The Kremlin is ready to spread this strategy to all sectors: foods, oil extraction, defense, cinema, software. This strategy has failed so far: manufacturing is not growing, society's well-being is neither increasing nor decreasing. The only sector that has benefited from import substitution is agriculture, but this accomplishment has led to rising prices and declining quality of the foods that people get.
And even here there is no boom: Agricultural producers are not sure whether the current rules of the game are stable. If the Russian leadership reconciles with the West in two or three years, foreign food producers will flood the Russian market with cheaper and better products.
Import substitution provides ample room for public officials to consolidate power and exert control. For instance, defense enterprises are not allowed to procure electronics produced abroad.
Not all goods are manufactured in Russia, however, so the Russian General Prosecutor's Office and the Federal Anti-Monopoly Service (FAS) purport to identify the breaches and punish the perpetrators.
Some manufacturers conceal the foreign origins of their goods by reassembling imported items, introducing Russian interfaces or simply replacing labels. Entrepreneurs risk prosecution when they pass off foreign goods as Russian ones even if no substitute is made in Russia.
Russia Has the State Monopoly Capitalism That Troubled Lenin So Much
Clearly, this approach inflates prices, fuels corruption and creates Soviet-style technological backwardness. According to Russian Deputy Minister of Economic Development Evgeny Elin, import substitution in government procurement, which covers all products for the defense sector and 460 types of civilian goods, has led to a 40 percent price increase on average.
For Vladimir Putin, the state is a player rather than a referee setting the rules of the game. Prolonged economic stagnation is a result of the twofold increase in the state's share in the national economy spearheaded by Putin.
According to FAS, the share of state-owned and state-controlled companies in GDP increased from 35 percent to 70 percent in 2005–2015. The number of state and municipal unitary enterprises increased three times in 2013–2015 only. These enterprises are the primary enemies of competition, as FAS indicates in its recent report.
Russia now has the kind of state monopoly capitalism that troubled Vladimir Lenin so much more than a century ago.
The situation is even worse than that, but FAS, being a government agency, cannot really say so. Vladimir Putin has friends: Gennady Timchenko, the Rotenberg brothers, the Kovalchuk brothers. Every regional or local official, every head of ministry or agency, also has friends and acquaintances, sons and daughters. The preferences that they benefit from are similar to the ones that state enterprises get.
Let's just say that profit redistribution is not limited to the state sector. Its final goal is enrichment of specific beneficiaries: public officials and their friends. This is why the elimination of competition in politics quickly resulted in the elimination of competition in the nation's economy. Few Russians expect the economy's pace to pick up soon.
Explosive growth of the state sector during the long recession of 2009–2016 made this period easier to endure for civil servants and public sector employees than for the rest of the Russian population.
Opinion polls show that public sector employees are much more confident they will not lose their jobs and wages than people working in the private sector. The middle class that had managed to integrate into the global economy by 2008 has borne the brunt of the oil plunge and Russia's newfound self-sufficiency.
Foreign education for children and even foreign travel have become too expensive for those in the middle-income deciles. Direct restrictions were imposed on the overseas trips of public officials, who constitute a major share of the Russian middle class.
Vladimir Putin is hardly frustrated by all this. The Russian middle class—well off, well educated and comfortable city residents—betrayed him during the protests of 2011 and 2012. If we lived in the 16th century, the traitors would be executed, just like the Novgorod rebels executed by Ivan the Terrible.
Vladimir Putin punished the present-day rebels in a different way, by shrinking their incomes and restricting their freedom to travel to the West. New rules of loyalty became another punishment, as they are now much tougher than five years ago.
Back then, experts could be writing reports commissioned by state companies with one hand and assisting Alexei Navalny with his economic program with the other. A higher level of loyalty is required these days. The state is ready to pay for it, while at the same time selectively punishing those who do not play by the new rules of the game.
Economic stagnation is not a curse for President Putin but a blessing. At least he might well see it this way. A less independent population makes fewer demands on the state in terms of access to political freedoms.
Drastic economic decline is not in Putin's interests (though there is no drastic decline anyway, as the Russian economy experienced a visible decline only in late 2014 to early 2015), but neither is explosive economic growth. Stagnation is what Putin needs to be confident he is in control.
Read more from Newsweek.com: