Queen Elizabeth II's Floral Tributes Evoke Memories of Princess Diana's
Britain has entered a period of mourning following the death of Queen Elizabeth II, and many have started placing flowers outside of London's Buckingham Palace.
The scene sparked comparisons to photos after the death of Diana, Princess of Wales, in 1997. The mother of Prince William and Prince Harry died from her injuries following a car crash in Paris. She was 36 years old.
Following news of Diana's death, mourners went to Buckingham Palace and Kensington Palace to leave bouquets of flowers, letters, gifts, candles and more. The New York Times reported that more an estimated 60 million blooms covered the premises.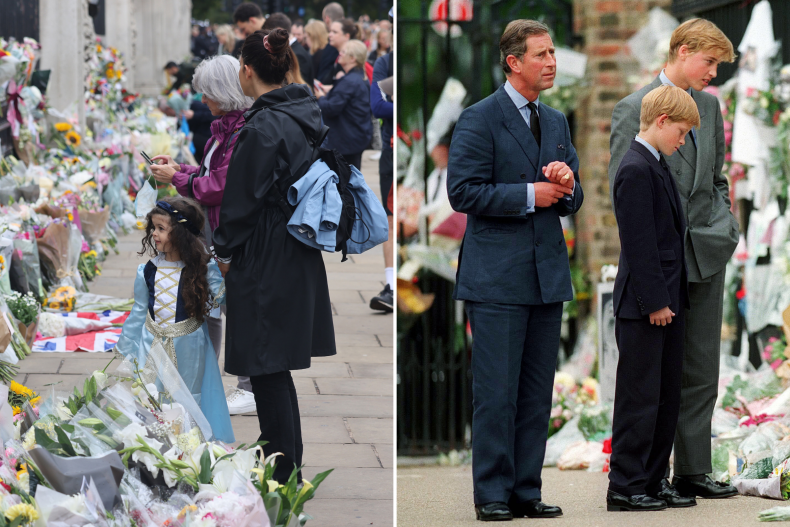 ''If you think about it, one of the cornerstones of the floristry profession is doing funeral work and dealing with people who are bereaved,'' Andrea Caldecourt, a spokeswoman for the U.K.'s Flowers and Plants Association, told the Times. ''People want to express their regret that she had died, and flowers are an obvious way of doing that.''
While the floral displays were beautiful, they proved to be a bit of an inconvenience at her funeral. As the hearse carrying her coffin made its way from Westminster Abbey to her family's Althorp estate, the vehicle had to use its windshield wipers to fend off flying stems. It even pulled over several times along the journey to discard the flowers.
According to CNN, members of the Boy Scouts, Girl Scouts and other volunteer organizations assisted in cleaning up the floral tributes. The live flowers were transported to hospitals and nursing homes, and the decaying flowers were used for fertilizer in Kensington Gardens.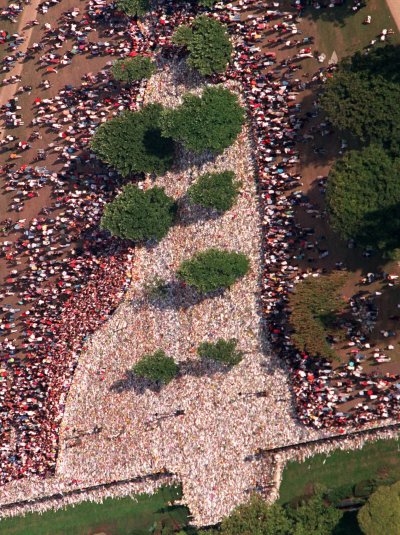 Elizabeth was born in 1926 and was Britain's longest reigning monarch, serving the public for 70 years after she became queen in February 1952. When she died on Thursday, September 8, the Royal Family's official Twitter account shared this message, "The Queen died peacefully at Balmoral this afternoon. The King and The Queen Consort will remain at Balmoral this evening and will return to London tomorrow."
Her son and heir to the throne, King Charles III, also released an emotional message to his "much-loved Mother."
"The death of my beloved Mother, Her Majesty The Queen, is a moment of the greatest sadness for me and all members of my family," he said. "We mourn profoundly the passing of a cherished Sovereign and a much-loved Mother. I know her loss will be deeply felt throughout the country, the Realms and the Commonwealth, and by countless people around the world."
"During this period of mourning and change, my family and I will be comforted and sustained by our knowledge of the respect and deep affection in which The Queen was so widely held," he concluded.
On Friday, the palace asked members of the public who wish to leave floral tributes to place them in dedicated areas at London's Green Park or Hyde Park.
A sign placed outside of Buckingham Palace's gates read, "Floral tributes in this area will be removed after 12 hours and placed in the tribute area in Green Park."
Soon after Queen Elizabeth's death was announced, informal comparisons of the floral tributes on social media started to appear. On Twitter, Aimless Monkey posted, "Haven't been to Buckingham Palace since we laid flowers for Princess Diana. I'll be there again this weekend to do the same for Queen Elizabeth II." And mostly jokes said, "Early estimates show Queen Elizabeth on pace to get way less flowers than Princess Diana."