5 Ways Quentin Tarantino Introduced the Female Characters in His Screenplays
Quentin Tarantino's reputation as a feminist filmmaker is slipping. Though the Kill Bill director was once praised for creating weapon-wielding, cold-blooded and most importantly, interesting female characters, lately women are scrutinizing his so-called feminism.
The suspicion boiled over in October 2017, when Harvey Weinstein—Tarantino's longtime friend and collaborator—was publicly accused by over 80 women of rape, sexual assault or harassment. Shortly after, admitted that he'd known "enough" about Weinstein's predatory behavior, but did little to prevent it—and perhaps worse, Tarantino continued to work with the movie mogul and his production studio.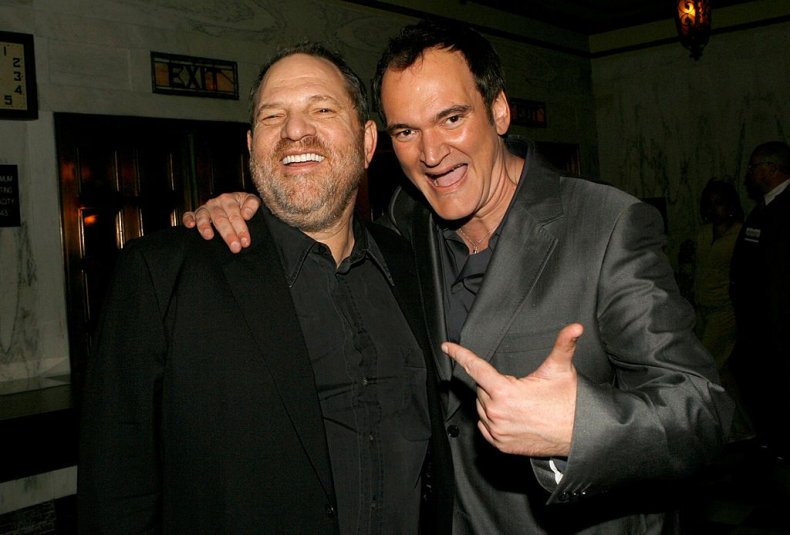 Then, months later, Pulp Fiction and Kill Bill star Uma Thurman—who has been cited by Tarantino as his "muse"—hinted to the New York Times that the director mistreated her on the Kill Bill set. Thurman revealed she had only recently been granted footage of a terrifying car crash she was involved in while filming a scene she was pressured into shooting herself (rather than a stunt double). The report also mentioned that Tarantino choked and spat on Thurman in order to make some scenes look realistic, though Tarantino later told Deadline she readily agreed to both.
Most recently, Tarantino's scripts are getting a second look, thanks to a compilation from Vulture, "How 50 Famous Female Characters Were Described in Their Screenplays." Tarantino's description of "Jungle" Julia in the script for his 2007 film Death Proof stood out—the character played by Sydney Tamiia Poitier was introduced by Tarantino as a "tall (maybe 6ft) Amazonian Mulatto goddess" who is "dressed in a baby tee, and panties that her big ass (a good thing) spill out of, and her long legs grow out of."
The hyper-sexual description and use of the term "mulatto" stirred up controversy on social media. And it got us thinking—how were Tarantino's other famous "strong female characters" described by the filmmaker in their scripts?
Mia Wallace, Pulp Fiction
Audiences first meet Thurman's beloved character while she is getting dressed in her house. The sparse description of her in the Pulp Fiction script is:
MIA, Marcellus' beautiful young wife. Video screens are in the background. Dusty Springfield is singing "SON OF A PREACHER MAN". Mia's mouth comes toward a microphone.
Beatrix Kiddo, Kill Bill
At the beginning of the Kill Bill script, Thurman's character is simply referred to as "the woman" and then, "the bride." Here's how Tarantino introduced her,
BLACK AND WHITE CU of a WOMAN lying on the floor, looking up. The woman on the floor has just taken a severe spaghetti-western-style gang beating. Her face is bloody, beaten up, and torn. The high contrast B/W turning the red blood into black blood.
There's not much physical description upon introduction, but a few lines later Tarantino says this about her appearance:
The Bride, still in B/W, still in a bridal gown, but the asswippin she took in the scene before must have been in the past, because she looks like a million dollars now.......three million even.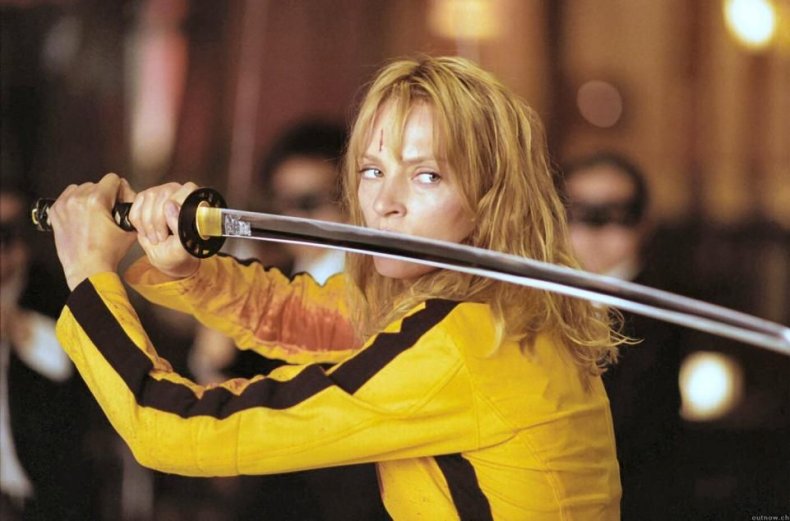 Jackie Brown, Jackie Brown
Here's how Tarantino described his titular character, played by actor Pam Grier:
Jackie stands still as a people-mover slowly inches her through the airport. The CREDITS APPEAR and DISAPPEAR in front of her. Jackie Brown is a very attractive black woman in her mid-forties, though she looks like she's in her mid-thirties. The people-mover reaches the end of the line, she steps off.
Elle Driver, Kill Bill
Another of Tarantino's female assassins, played by Daryl Hannah, was described thusly upon her first introduction:
The door marked "ladies" is opened, and a beautiful 6-foot blonde in a white nurse's uniform, with a matching white eye patch over her left eye, steps out, carrying the nurse's tray with the "Goodbye forever"-filled syringe on it. She walks down the corridor towards The sleeping Bride's room.

SUBTITLE UNDERNEATH BLONDE NURSE: "ELLE DRIVER​"
Santanico Pandemonium, From Dusk Till Dawn
As played by Salma Hayek, here's how Tarantino described this small but sensual role:
And on the stage steps SANTANICO PANDEMONIUM. This Mexican goddess is beautiful, but not the beauty that Stendhal described in "As the Promise of Happiness," but the beauty of the siren who lures men to their doom. She dances to the raunchy music, not like she owned the stage, but like she owned the world.