How to Rage-Quit Your Prestigious Media Job on Principle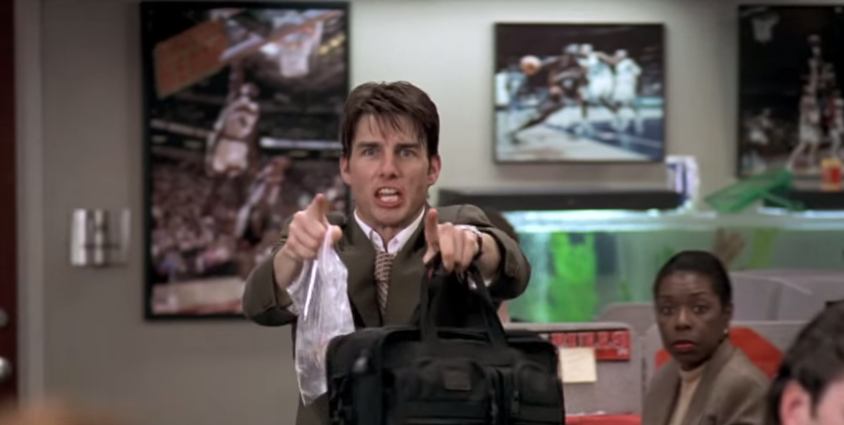 There's a new trend in media, and it's publicly resigning prestigious editing gigs on principle.
You've fantasized about it. We all have. The best reason to take a top media job at this point is so you can one day make a big show of quitting it. As they say in Heathers, whether to rage-quit or not is one of the most important decisions an editor can make.
The latest bloodbath: Gawker Media, where Nick Denton's flagship site has fallen into chaos following a reviled Gawker post outing a Condé Nast executive who tried to hire a male prostitute. Denton removed the post against the wishes of the editorial staff. Gawker editor Max Read and Gawker Media executive editor Tommy Craggs have both resigned in protest.
This drama arrives just seven months after a herd of New Republic editors publicly quit over a regime change. As Read himself wrote on that occasion, "Never give a journalist an opportunity to Take A Stand."
Too late. Are you thinking of flexing your principle muscles and quitting in style? Much like the Dramatic Message Board Exit of the early 2000s, there's a subtle art to the journalism resignation. Here's our guide to Getting the Most Out of Your Melodramatic Public Resignation.
Tip 1: Make sure you have a noble reason to quit.
The right to publish a near-universally loathed blog post outing a private figure's sex life? Not noble enough. A breach in the once-sacred firewall between business and editorial? Better.
Remember: Future generations are only going to know your resignation from a single sentence in the lengthy "Controversies" section of Gawker's Wikipedia page, so you'll want the reasoning to make you look good.
Tip 2: Have money.
This one's self-explanatory: You're quitting your job! In most cases, you won't be getting severance pay (though Nick Denton said Monday's resignations could be "subject to severance"). As Flavorwire's Sarah Seltzer wrote after the Great TNR Exodus of 2014, "It's very hard to stand up to a power structure and threaten to walk away from a paycheck over a matter of principle when your salary and welfare are at risk."
Tip 3: Know your enemies.
Media is catty—competitors are always going to take glee in a large media organization's meltdown. When Gawker is involved, schadenfreude levels rise well above sea level.
That's to be expected. Gawker has long reveled in other outlets' miseries—it's part of what makes the site great. It's also part of what makes anyone who's ever harbored a grudge happily pile on when Gawker is on the receiving end of the shaming. Which is why staffers at The New Yorker and The New York Times aren't even trying to conceal their glee over Gawker's implosion:
Be ready for this volcano of ill will, especially if you have mocked other journalists' melodramatic resignations in the past. In his almost-but-not-quite-resignation letter to fellow staffers, Max Read shouts out "the army of Gamergaters and Redditors" and "the Twitter squad of smarmy media enemies," both of whom "are desperate for [Gawker's] collapse."
Of course, Gawker is not going to collapse. The site thrives on controversy; meltdowns of this nature (if not quite this scale) are a semiregular occurrence. Losing top editorial talent in one weekend is a substantial loss. But the Gawker editor position is like the Defense Against the Dark Arts professorship of online media—no one holds onto it for more than a year or two.
Tip 4: Compare your boss to Hitler.
Can't hurt at this point, can it? You're out the door. Might as well say what you really think.
Which is essentially what outgoing Gawkerer Tommy Craggs did at a Gawker gathering on Monday, telling staffers: "This is Nick [Denton]'s Reichstag fire." According to an anonymous source in New York magazine who may or may not hold a Ph.D. in European history, Craggs meant that this fight provided "the pretext by which [Nick Denton] can Vox-ify Gawker." For those unfamiliar with the reference to the Reichstag fire, it has a lot to do with a 1933 arson attack in Berlin (which became the basis for Hitler to suspend civil liberties in Germany and get Nazi political rivals out of the way) and not much to do with ethics in gossip-blog journalism.
Tip 5: Angrily tweet your resignation at your (former) publication.
Because it's fun! This is your resignation, so make it as melodramatic as possible.
Sure, you're only really tweeting at the 21-year-old social media intern. CEOs and media brass rarely involve themselves with the nuts and bolts of social media management. But it gets the point across nicely, doesn't it:
This is especially easy to do when you're resigning from a part-time masthead prestige position that never required you to write more than a few pieces a year for the publication in the first place.
(Note: If you can fit the reason for your principled resignation in 140 characters—as Mark Maslin did when he resigned from the trade publication Scientific Reports in March—that's a neat plus. If you're resigning from BuzzFeed, a Rihanna GIF will suffice.)
Tip 6: Or, better yet, announce your resignation in a post on the site you're leaving.
As pioneered by ex-Gawker editor Emily Gould, who famously penned the truck-accident-report-turned-public-resignation post "A Long, Dark Early Evening of the Soul With Keith Gessen" in 2007.
Tip 7: In the middle of your honeymoon? No problem!
Tip 8: Leak internal chats.
In Tommy Craggs's farewell memo to Gawker, he made a point about Gawker managers' detachment from the company's editorial culture by leaking a private text message thread. The best excerpt: ad guy Andrew Gorenstein complaining about getting requests for comment from Gawker reporter Keenan Trotter and saying he's "not dealing with her," to which Craggs responds: "By the way, Andrew, Keenan is a male. You all should get to know the writers you just sold out." Trotter, naturally, posted the memo containing the exchange on Gawker Dot Com.
Tip 9: Praise your colleagues (the ones who are good and not bad).
Do they inspire you? Do they make "work" feel like "fun"? Are they the rare glimpse of sunshine in an otherwise toxic, journalistic-principle-violating cesspool of a company?
You probably don't hate everyone you're leaving in the dust, so take this opportunity to start wooing the writers you're going to want to poach for your next venture. It is important to use the word "inspire" here. For instance, as former Politico editor Rick Berke wrote in his resignation letter, "I was inspired every day by your competitive drive, vast knowledge, creative ideas and relentlessness to dig deeper and reach higher." You may need to borrow some lines from the candle-lighting speech from your bar mitzvah.
Tip 10: Don't pretend you resigned if you were actually fired.
You're a journalist. Expose the truth behind your exit. In 2014, former New York Times editor Jill Abramson admirably refused to frame her termination as a resignation when publisher Arthur Sulzberger Jr. delivered the news. More recently, ex-Gawker writer Adam Weinstein cleared up confusion about what appeared to be his resignation: Actually, he was fired—quietly, weeks ago—with the expectation that he would make it look like a mutual parting of ways.
Tip 11: Celebrate!
After investigative reporter Ken Silverstein resigned from The Intercept, he took his kid to a Wizards-Cavaliers basketball game. Gawker's Tommy Craggs racked up a $500 Balthazar bill on the company credit card.
Tip 12: Don't apologize.
This isn't that kind of resignation. You're in the right. Never forget it.