Election Day is coming up on November 3, 2020. If you plan to vote in the 2020 election but have not yet registered to vote, it is important to do so before the deadline.
The guidelines around registering to vote vary by state, including ID requirements, who is eligible to register, and the deadline for registering. However, the process of registering to vote is generally similar across the U.S.
To register to vote online, head to vote.gov.
For more information about who can vote, what you will need to register, and when you need to register, keep reading.
Who is eligible to vote?
To be able to vote in the U.S., you must be a United States citizen; be 18 years old; be a resident of your state; not be in prison or on parole for a felony conviction (unless parolee pardoned or restored rights of citizenship); not be adjudged mentally incompetent by a court and not claim the right to vote elsewhere.
People under the age of 18 can pre-register to vote as long as they will be 18 at the time of the election, although the rules surrounding pre-registration varies by state. For example, in New York, 16 and 17-year-olds can pre-register to vote, while to be able to pre-register in Texas, residents must be 17 years and 10 months old.
Check with your state for its specific rules surrounding pre-registration for those under 18 years old.
Deadline to Register to Vote 2020
The deadline to register to vote varies by state. In California, residents must register to vote 15 days before Election Day, but in other states, including Ohio, residents must register to vote 30 days before Election Day, which means October 5, 2020, is the final day to register for Election Day on November 3, in some states.
Some states allow some people to register to vote after the deadline. In California for example, someone who becomes a U.S. citizen less than 15 days before the next election may still be eligible, as will someone who becomes California resident less than 15 days before the next election.
Check with your state to find out the deadline to register to vote before the election.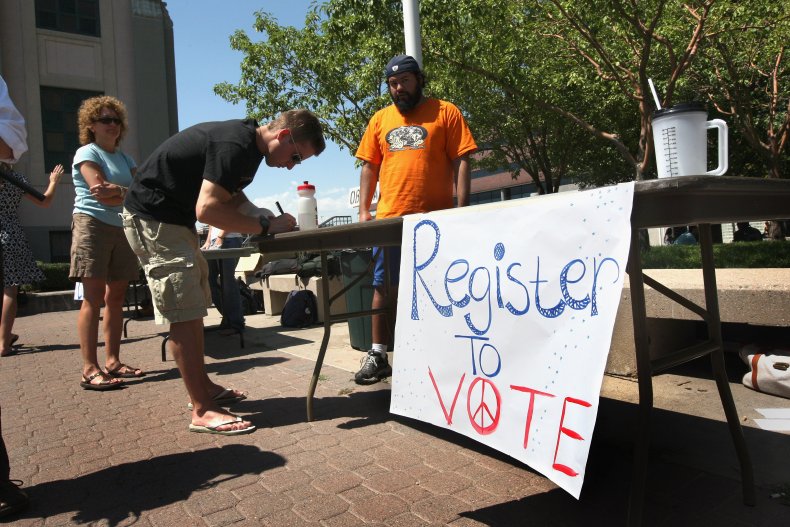 How to Register to Vote
To register to vote, head to vote.gov and enter your state. You will then be taken to your state's online voter registration where you will be asked to fill out an online form.
Requirements vary by state but those wishing to register to vote online will generally need a state DMV-issued driver's license, permit, or Non-Driver ID; the ZIP code on record with the DMV, and the last 4 digits of their Social Security Number (SSN). There are also options for those who do not have an ID, but this varies by state.
Alternatively, there are other ways to register offline that may not have the same requirements as the online registration, though again this can vary by state. If you would prefer to register offline, your state's registration portal will let you know where to obtain a registration form.
Generally, forms will be available at a DMV office, post offices, public libraries, and government offices. You can also request one from your county elections office or receive a voter registration application by mail from the Secretary of State by calling the Voter Hotline.
You will need to fill in the form, sign it, and mail it to your County Boards of Election within the state's deadline.
ID Requirements for Voting
When voting on Election Day, you may be required to show an ID, depending on your state. A total of 36 states have laws requesting or requiring voters to show some form of identification at the polls, 35 of which are in force in 2020, not including North Carolina. The other states use different methods to verify ID.
Additionally, in the states that require voter ID, the rules surrounding photo ID versus non-photo ID vary, so be sure to check with your state to find what is required before Election Day.
First-time voters who registered to vote by mail and did not provide a verified ID at the time of the registration are required to show ID, which could be a "current and valid photo identification" or "a copy of a current utility bill, bank statement, government check, paycheck, or [another] government document that shows the name and address of the voter."
However, if you do not have ID in a state that requires ID, some states will let you sign a form affirming your identity or will allow you to cast a provisional ballot until they can confirm your identity.
Once you have everything you need to register to vote, head to vote.gov to begin the registration process.