How Reid Wiseman Tweeted Through His Space Mission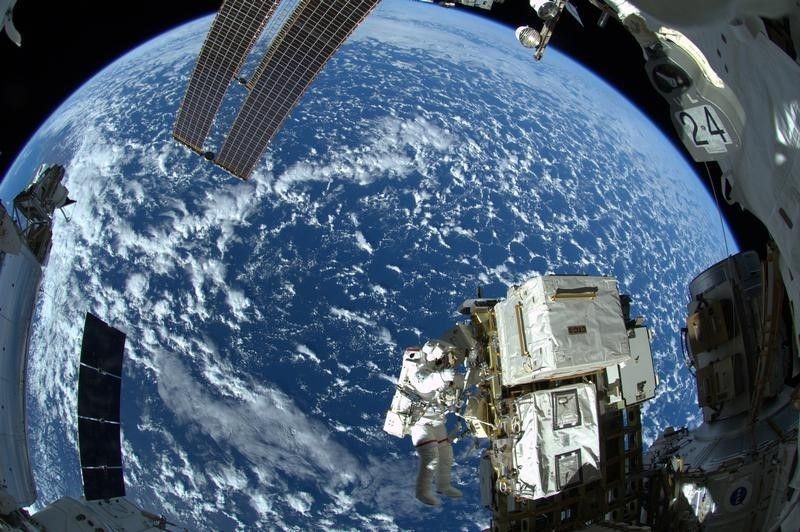 An American, a Russian, and a German went on a space mission together. The story, which sounds the start of a corny joke, reached its conclusion Monday when Reid Wiseman, Maxim Suraev and Alexander Gerst landed safely back on Earth in Arkalyk, a city in the steppes of northern Kazakhstan.
Wiseman, a former test pilot for the U.S. Navy who was deployed to the Middle East multiple times before becoming a NASA astronaut, gave those restrained by gravity back home a window into space during the 165-day mission. He tweeted photos and shared brief Vine videos throughout his journey, taking crew selfies and rolling the camera as they had fun with weightless water, sometimes with a GoPro.
"I'm one of the first rookies to do a long-duration space flight, and I really wanted to share that," Wiseman told reporters in a post-landing interview televised by NASA. He wanted to share what it was like to be up in space and look down at Earth, what it's like to be weightless, he says. "I just wanted to tell that story from my point of view."
The mission included investigations in biology, physical science, and Earth and space science, such as "seedling growth, observation of meteors entering Earth's atmosphere and studies of animal biology and bone and muscle physiology," according to a NASA summary of Expedition 41. But it was Wiseman's continuous social media updates from his Twitter account @astro_reid and his eponymous Vine account that captured the most amount of interest from the public.
As of Monday, Wiseman had more than 365,000 followers on Twitter, with his posts regularly being re-tweeted and favorited hundreds and even thousands of times. Over the course of his mission, he shared a mix of crew photos that captured the planet in miniature; images of states, countries, and landmarks from space; time-lapse videos; and beautiful shots he labeled with the hashtag #EarthArt.
The other crew members aboard the Soyuz TMA-13M spacecraft, especially the German geophysicist-volcanologist Gerst, also shared experiences from the mission through social media.
Wiseman is not the only one to have shared his cosmic perspective via social media in the last couple of years. Last month Chris Hadfield, a "mustachioed Canadian astronaut," as his website describes him, published theYou Are Here, a book of photos from the International Space Station. The book comes after Hadfield documented his time at the ISS in 2013, posting on Twitter and Tumblr and earning himself a following that currently stands at nearly 1.2 million on the former platform. His cover of David Bowie's "Space Oddity," which he made while at the ISS, has nearly 24 million views on YouTube.
Another kind of space mission captured audiences' attention back in October of 2012 when Felix Baumgartner jumped from a helium balloon 24 miles above the surface of the Earth in Roswell, New Mexico, and became the first human to break the sound barrier. The live stream video of the jump from a camera in his capsule drew 8 million pairs of eyes.
As for Wiseman, in addition to seeing his wife and two daughters again and getting to choose his own meals, he told CBS in an interview last week that he was looking forward to just sitting down. "I haven't sat down in 160 days and just that feeling of sitting down and having gravity pull me down onto a chair, I'm really looking forward to that," he said.