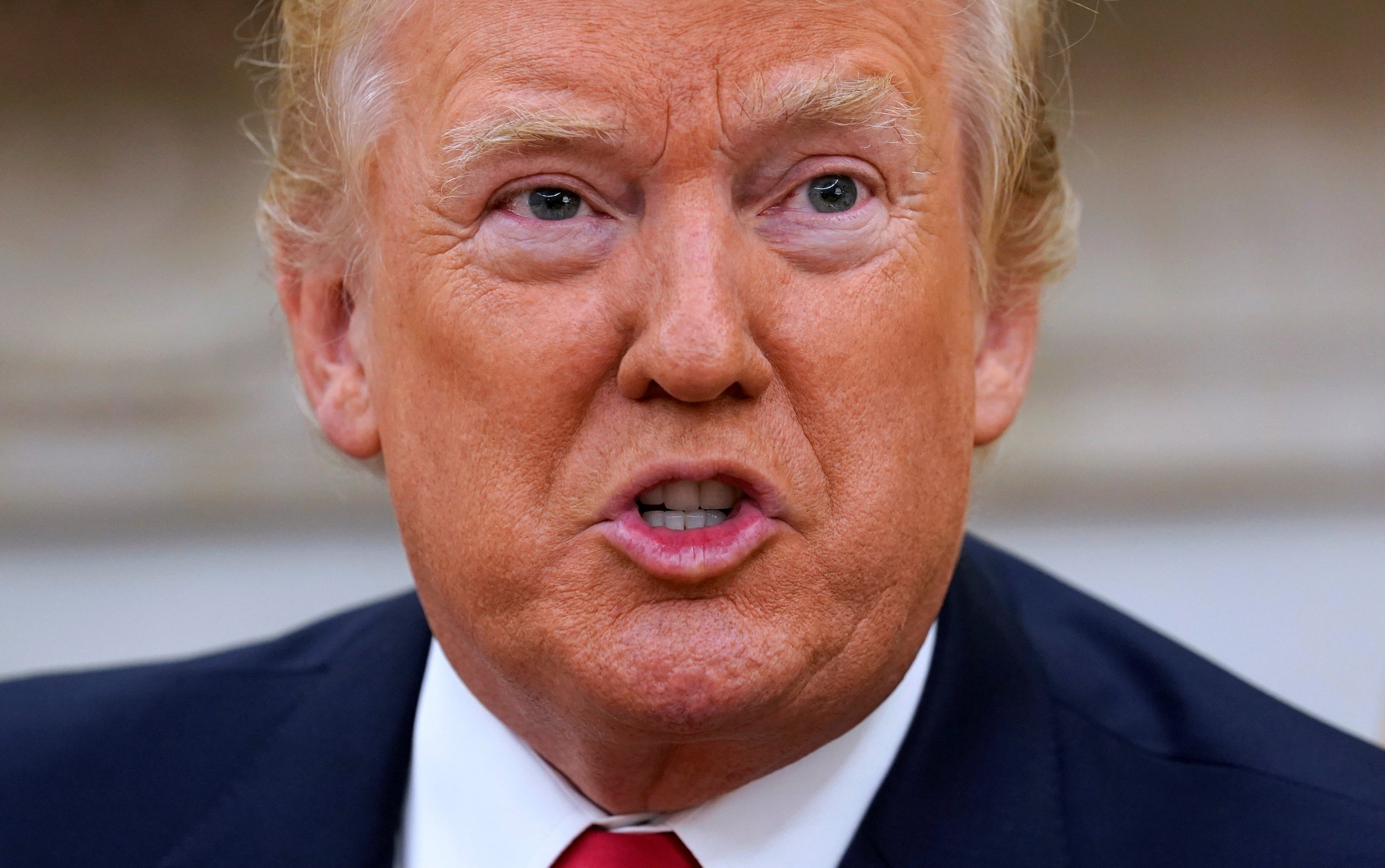 U.S. Representative Jamin Raskin had a day at the beach on Tuesday, in more ways than one. He was literally on the sand at Cape Cod, Massachusetts, far from Washington, D.C.. But a day at the beach also meant at least a brief respite from another Trumpslosion.
"It's been so healthy for me, I haven't seen TV all day long," said Raskin, a liberal Democrat who represents some of the Maryland suburbs of the capital.
A constitutional scholar and law professor, Raskin had long been disturbed by Donald Trump's incendiary tweets and other erratic behavior during the presidential campaign. His concern only deepened when the president's obsessions about his margin of victory, the size of his inaugural crowd and "fake news media" reports about his ties to Russia followed him into the Oval Office. The White House chaos that engulfed the administration alarmed him even more.
So in April, Raskin introduced a bill to create a constitutional mechanism for removing a president from office if he were nuts. Of course, "nuts" wasn't in the bill; the more genteel language is "mentally incapacitated." But in the weeks since then, "nuts" has been increasingly whispered as a diagnosis for the 45th president's behavior.
On Tuesday afternoon, Raskin, 54, deflected a question about Trump's mental stability.
"I have tried to resist opining myself on the subject," he says.
But in May he wasn't so restrained. "This is a president who has insisted that Ted Cruz's father was involved in the assassination of John F. Kennedy and that Barack Obama was born in Indonesia," Raskin told The Washington Post. "And he has uttered blatant lies and never retracted them... a sign of a serious mental disturbance." Trump's volatility has only worsened with the ongoing investigations into his Russian ties, many observers note.
This week Raskin preferred to talk about a gap in the 25th Amendment to the Constitution, passed four years after John F. Kennedy's 1963 assassination, which called for the creation of a bipartisan body to assess whether an ailing president was able to carry on "the powers and duties" of his office.
That body was never established, Raskin discovered. So, he thought, "Well, there's no time like today. So, we should go ahead and do it."
The bill has virtually no chance of passing, of course. For starters, Raskin is a freshman Democrat in a Republican Congress. He has only 27 cosponsors, none of them Republicans. Legal scholars have also dismissed it as unrealistic and "premature."
Raskin counters that he's only trying to jump-start a provision that was passed into law 50 years ago but never activated.
"The thing I've been trying to emphasize is obviously that the Trump administration underscores the importance of acting, but we need this body for all times," says Raskin, who authored a 2003 best-seller, Overruling Democracy: The Supreme Court versus the American People, a look at conservative groups and money in electoral politics..
The 25th Amendment only set procedures for the vice president and a majority of Cabinet officers to sideline a president they deem is "unable to discharge the powers and duties" of the office. After sending their judgment to the leaders of the House and Senate, the amendment says, "the vice president shall immediately assume the powers and duties of the office as Acting President."
The president can fight back, the current law says, by writing a letter to the leaders of the House and Senate assuring them that he's fine and resuming his duties. But then the vice president and Cabinet members can say no, he really isn't fine. At that point, the issue gets tossed to Congress and if, in their collective wisdom, two thirds of its members agree with the usurpers, the president is out. If not, he gets back into the Oval Office.
Raskin's Oversight Commission on Presidential Capacity Act would activate Section Four of the 25th Amendment to establish a permanent 11-member commission of high ranking officials and medical experts to determine whether the president is mentally, not just physically, able to do his job. The Democratic and Republican leaders of the House and Senate would each name a physician and a psychiatrist to serve on the commission. But the panel wouldn't be licensed to demand the president sit for an examination. Only after Congress passed a resolution could it go into action. Then, if the president were found to be incapacitated, the vice president would immediately become acting president.
"It could be a heart attack, it could be a stroke, it could be a coma, it could be a nervous breakdown, it could be psychosis" that disables the president, says Raskin.
Nor would the president's diagnosis just be determined by the DSM, the Diagnostic and Statistic Manual of Mental Disorders, Raskin says. In his bill, it would be defined "according to the Constitutional language of capacity to meet the duties of office."
But what about impeachment? That's designed to deal with "high crimes and misdemeanors," Raskin says, not a situation where the chief executive looks to be off his rocker.
"Of course, they're not mutually exclusive," he adds. "You could also have a president who is incapacitated for various reasons and also is committing high crimes and misdemeanors."
"That's why," he says, the panel he offers has to be composed of of both medical professionals and former officials with long, distinguished careers at the highest levels of government. Plus the vice president, a person who presumably "understands the demands of the office as well as having some degree of personal knowledge of the president."
"None of this happens," he underscores, "without the vice president's action."
While Republicans are showing increasing distress about Trump, no one's calling him nuts yet.
Then again, Raskin said from the beach, he hadn't checked his phone for awhile.
"What's the latest?" he asked Tuesday afternoon. "I mean I wasn't looking for like the last 20 minutes. Did something else happen?"