How Resurfaced Johnny Depp Video Calling Fans 'Relatives' Relates to Trial
A video of Johnny Depp calling his fans "relatives" has resurfaced on social media as he uses the term once again while arriving at the courthouse amid the ongoing defamation trial between Depp and ex-wife Amber Heard.
Day 17 of the trial has finished on Tuesday in Fairfax County, Virginia as cross-examination continued as well as hearing from one of Heard's witnesses. Depp is suing Heard for $50 million for an op-ed she wrote in 2018 about domestic violence published in The Washington Post. Although Depp was not mentioned in the article, his lawyers say it's obviously about him. Heard is countersuing for $100 million. The trial is set to end on May 27 with closing arguments.
The couple was married in 2015 and filed for divorce just 15 months later. Heard got a restraining order against Depp as he was allegedly violent towards her while under the influence. Depp denied the alleged abuse and a $7 million settlement was issued as Heard allegedly said that she would donate it to charity.
A user named @donald_newshd shared a video on TikTok that has gone viral with over 100,000 likes and 1.7 million views. In the clip, Depp—who was dressed up as his character from Pirates of the Caribbean, Captain Jack Sparrow—was asked what he would like to say to his fans.
"I don't have fans," Depp said, "These are all relatives!"
The video dates back to 2015, but it's still relatable today, as fans crowd the courthouse and try to wave and give him gifts as he pulls up and departs from the courthouse. Depp shows his appreciation to his fans that wave to him while waiting outside the courthouse in hopes to get a glimpse of the actor, and many videos have shown him waving out the window of a vehicle.
While getting out of the car to walk into the courthouse, Depp can be heard multiple times calling his fans "relatives."
"Those are all relatives, all relatives," Depp smiles and waves to supporters.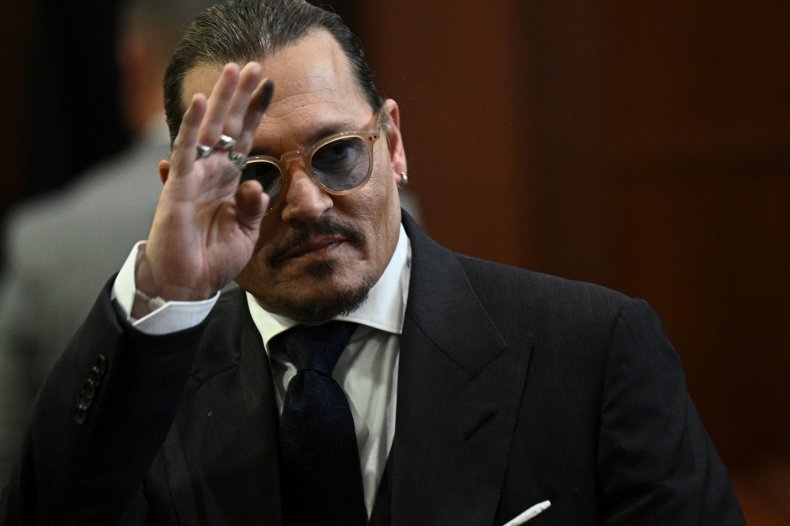 Many TikTok users took to the comment section to share positive messages about Depp.
"He basically says we are his family," one user exclaimed.
"now I can proudly say that I am related to johnny Depp," another user said.
One TikTok user wrote, "this what I love about him..very down to earth."
"He's like: 'I'm adopting you all,'" one stated.
"Awwww he so adorable and sweetest man ever," gushed another.
The trial will continue Wednesday morning and will be live-streaming beginning at 9 a.m. EST.