Rugby: The Game Should Learn From the All Blacks' Legacy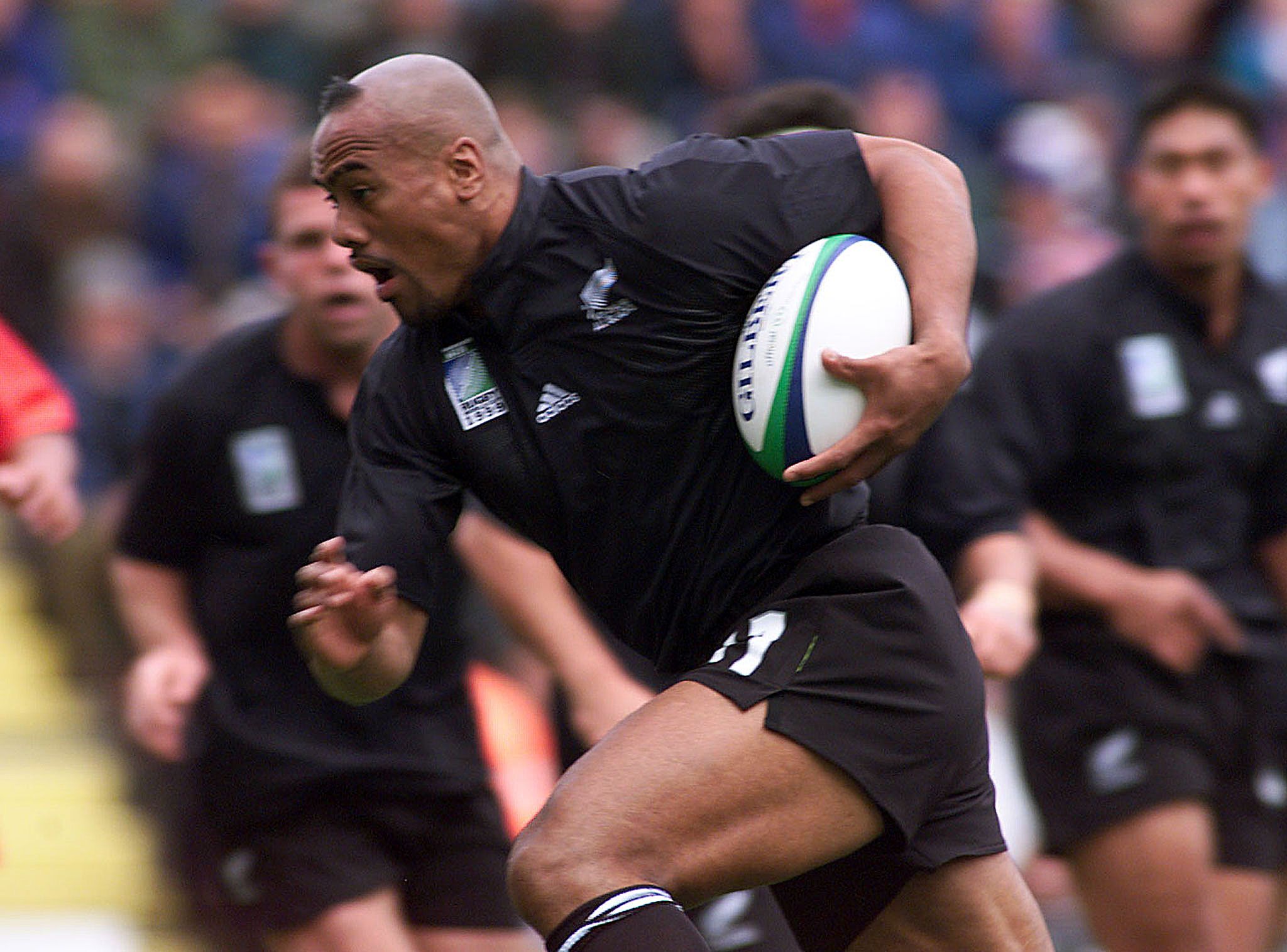 Despite moments of brilliance, 2015 saw Rugby Union suffer from deep loss borne on the backs of the New Zealand rugby community. Some were intentional, others tragic, but if lessons are learned, they can shape the game for years to come.
"We are the most dominant team in the history of the world"
Ahead of their match with England at Twickenham in 2013, the All Blacks reminded themselves exactly how tall they stood when placed shoulder-to-shoulder with history's great teams. The message written on a whiteboard at a team meeting was anything but modest: "We are the most dominant team in the history of the world."
The sentiment could hardly be denied. For the past decade, the sport's governing body, the International Rugby Board (IRB) has ranked New Zealand as the world's No.1 team. The All Blacks have an all-time win percentage of 78 percent, a number that rises to around 90 percent if you only consider games played over the past decade.
The team's recent dominance was nurtured by five players who in August hung up their black jerseys for good.
Pack leader was Richie McCaw, a player who has directly contributed to a third of all New Zealand's wins, and is the sport's most capped test player. Protecting the points fell to Dan Carter and his swift left boot—he amassed more points than any player before him. Ma'a Nonu and Conrad Smith acted as perfect chasers to the others' natural spirit, forming a record-breaking partnership that grew from identifying when the game need subtly, strength or outlandish flair. Meanwhile, Keven Mealamu retires as the most-capped hooker of all time.
This crop of competitors did not just bring gold-plated trophies home to their small island, but showed competitive sport that generational success is best maintained when teams fight for the win rather than set out to avoid defeat.
The northern hemisphere could do worse than learn from what McCaw, Carter, Nonu, Smith and Mealamu's All Blacks represented over the past decade if it wants to reverse the south's grip on the game in the coming year. Japan knew this when it orchestrated its shock pool win over South Africa, arguably the rugby highlight of 2015. England, though, chose to demonstrate the opposite when it thought bulldozing its way past Wales was a reasonable tactic for a side with ambitions not only of winning a home World Cup, but inspiring a new generation of players to take up the game.
"It's better to walk into a room, sit at the back, and be asked to go to the front than to sit at the front and be told to get to the back"
At 6-feet-4 inches tall, and weighing 119 kg (262 lbs), it's hard to imagine a time when Jonah Lomu considered himself small, but then the former All Black was known for his humility.
By the time of his death at the age of 40 in November, the New Zealander was considered a giant of the game. His record of 15 tries in World Cups, the last of which came in 1999, is still unmatched. When Eric Rush eulogized his former international teammate, he spoke of Lomu's tendency to sit at the back of a room, having been taught that the measure of a man was in his ability to inspire people to invite him to the front.
For many players—young, old, professional, semi-professional, amateur or distant observers—Lomu was the guy at the front of the class, showing what was achievable seconds after it seemed impossible. He was rugby's first global superstar. On the field, every stride, heavy shuffle, and crisp finish across the white line was made more impressive with the knowledge he was also carrying the sport on his shoulders.
Lomu suffered from a chronic kidney disease that forced him into retirement in 2004, after amassing 37 tries in 64 international appearances. Although his health issues were publicly documented, it was hard to picture a man who would literally trample over opponents failing to overcome any physical obstacle.
In sport, the space left behind by a loss doesn't stay empty for long, thanks to fans' seemingly endless supply of adoration waiting to be poured into the next big thing. But there are moments when even the most hardened observer struggles to move on. Jonah Lomu's death was a reminder of how hard rugby has fought for its place at the top table of sport.
That fight continues in the New Year, and it's up to dazzlers like England fly half George Ford, New Zealand winger Julian Savea, and South Africa's Handre Pollard to show the gentleman's game still has the ability to shock. The players must toss aside the normal rules of engagement and write adventurous narratives that go against the ethos of a sport that prides itself on always finding order in chaos.
Lomu showed the way. They just have to follow.
"I want a game tomorrow. Can you fix me up with a game?"
Amid all the talk of rugby's professionalism, the game gets its life from the recognition that professional sport is simply an extension of the community game.
While visiting the clubhouse of semi-professional team Barnstaple RFC in 2007—only months after playing for New Zealand in the Rugby World Cup—Jerry Collins made a surprising request. "I want a game tomorrow," he said. "Can you fix me up with a game?"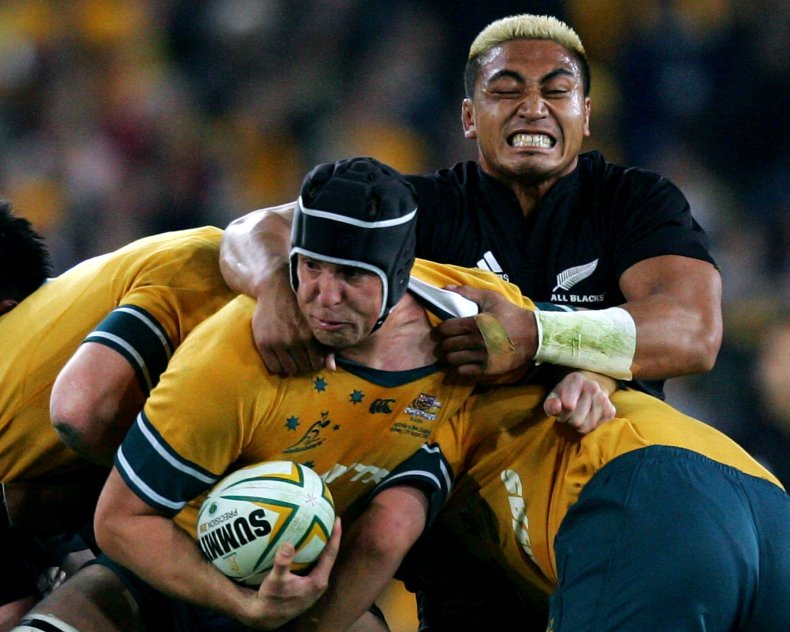 When Collins died along with his partner in a car accident in June, the world of sport thought back to this great story: a tale of one of the world's best ever players lining up for an amateur side because, despite his 48 caps for New Zealand and all the accolades that came with being one of toughest tacklers in rugby's history, he was still driven by the simple pleasure of playing the game.
Collins was fully aware that appearing for Barnstaple would mean everything to everyone associated with the club, and he even took time to lay on the floor for a picture with an injured player who was headed to hospital and would miss the team photo at the end of the game. Collins used his profile to leave something of himself to people who cherished what he represented as a professional athlete.
At some point, to be considered truly elite, a sport needs to leave an imprint on the wider world. That's how heroes are made.
Australian flanker David Pocock could be leading the way in the coming years. As well as being a climate change activist, Pocock is a vocal supporter of gay rights—in a club match in Sydney in March, he twice approached the referee to complain that an opponent had used a homophobic slur, reminding the official that there could be gay players on the field or watching at home. Center Sonny Bill Williams has also actively campaigned for more to be done to support Syrian refugees.
Not all efforts need to be made public, and many players do great work away from the cameras. But the global success of last year's World Cup shows that rugby should look outward not only for the sake of the sport but also the many global communities and clubhouses that a hero's presence can transform.