How RuPaul is Changing Hollywood and Why 'Con Man' Donald Trump Will Never Be on His Talk Show
At this point, everybody knows RuPaul. To some he's that massively tall drag queen, to others he's the spokesperson for individuality and self-expression, but regardless how you know him, the point is that you do. Besides Ellen DeGeneres, there is no other openly gay celebrity that comes close to the level of international recognition that RuPaul does. His sheer presence in Hollywood and the stature of his career has opened countless doors for others who maybe don't fit the "normal" mode.
Just think of the impact he's had: drag queens are kind of everywhere, dominating screens, stages and hearts worldwide. Not only can you go to a gay bar to support a local queen (and you should), but you can also watch Taylor Swift's new music video "You Need to Calm Down" to see a few (including Mother Ru herself). From RuPaul's Drag Race to the rise of the YouTube beauty industry, the reason for all of this is the growing mainstream popularity of drag, and the person who has made drag accessible to the masses is RuPaul.
And you know what? He's not done yet.
Now he's taking his brand of love and acceptance to daytime with his new talk show RUPAUL. It's unlike any other talk show currently on TV and is a perfect example of what it means to live Pride all year round. For example, where else will you see Adam Lambert talk about the new man in his life and also spotlight Sarah Cunningham, an Oklahoma mother who started "Free Mom Hugs" to combat homophobia in her community—all that in one episode, airing Monday, June 24 on select Fox stations.
We spoke with RuPaul about his new daytime talk show, drag, why Amazon needs to stream more seasons of Murder, She Wrote and how he would handle Donald Trump if were a guest.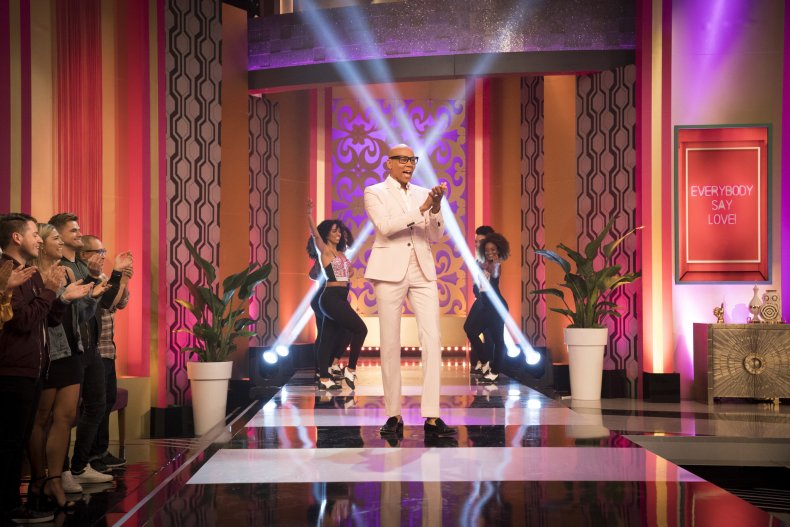 What do you think RUPAUL brings to daytime TV? How is it different from others?
It's a real conversation. We are actually vibing, you know? It's not over-produced in a way that every answer is thought out. In fact, we talk about that, before the guests come out, what we could talk about, but then, once they come out, I see their shoes or something strikes me, and that's the question I ask, just like if you were in my living room. So, it's a real organic conversation, and I think that's what makes it compelling.
The producer of RUPAUL, Jill Van Lokeren, is a veteran of The Oprah Winfrey Show. How has that show and Oprah impacted your own show?
It feels as if our show is a continuation of The Oprah Winfrey Show. But really, if you look back at tapes of me starting in 1982 on YouTube, my message hasn't changed. It's always been if you can't love yourself, how in the hell are you going to love somebody else? You better learn how to love yourself. I'm interested in showing how people navigate through this life and how to balance out their inner saboteurs with a loving message and how you maintain that. So all roads lead to that discussion on our show.
Do you think drag queens have a special ability to connect with audiences on a deeper level?
Drag is more than putting on a wig and a pair of cha cha heels. It's really about deconstructing our experience as humans on this planet. Shamans, witch doctors, court jesters, drag queens are all there to remind culture to not take itself too seriously. Emphasis on the too seriously. Given that, we are able to break the proverbial fourth wall, and in breaking the fourth wall, that's when you can deconstruct what it is we're doing, and then rebuild what it is we're doing on this planet into something better without all of the fear and superstition that marks our experience as humans on this planet.
If Donald Trump were a guest on RUPAUL, what would you ask him?
Well, first of all, he would not be a guest because he wouldn't want to have a real conversation. Donald Trump is a con man. It's like The Emperor's New Clothes, drag is the person in the audience who says, "Yes, the emperor is not wearing any clothes." And that's what drag is about. A con man would never want to be in the presence of a drag queen because the drag queen is going to tell the truth.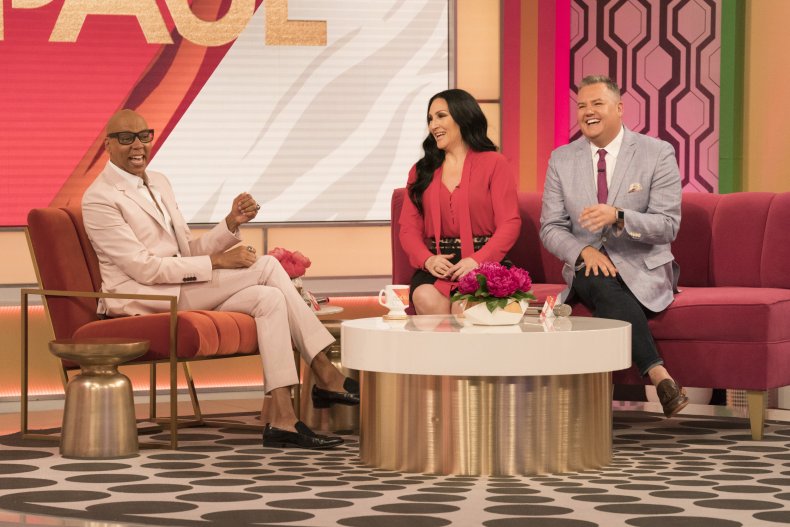 In the documentary Wigstock, your friend and fellow drag icon, Lady Bunny, said you have the best taste in music. What musical guests would you like to have on the show?
Well I love all music, I really do. I would love to have Nile Rodgers and Chic, I'm a big fan of his and all the music he's produced. He's a friend of mine and he's really a musicologist. I would love to interview Giorgio Moroder, who has recorded some of the greatest songs in pop recorded music history. I not only want to hear their music, I want to interview them about their musical knowledge and their approach to music. Same with Barry Gibb, who is just a genius.
Many credit you as an inspiration. Who inspired you?
I'm inspired by the human spirit, it could come from anyone. When I was growing up my idols were David Bowie, Cher and Diana Ross. But I'm always inspired by people who are straight shooters like Judge Judy, Oprah, Jane Fonda and Quincy Jones. People who have been able to live several lives in one lifetime and navigate it beautifully.
I'm a huge fan of Murder, She Wrote, and I know you are as well. Are you as angry as I am about Amazon only having the first few seasons available on Prime Video?
They have the first five or six seasons available, but my guess is when they start counting how many times I've been watching on Amazon Prime, they're going to add all 12 seasons. I watch them over and over again. You know, my favorite episode is "Weave a Tangled Web." Do you know that episode? That's where [Jessica Fletcher] goes undercover with this bookie in this bar and she chooses music in this jukebox and dances around.
My favorite thing to do is to call out all the guest stars who also starred on The Golden Girls.
You're right. Part of the fun is watching it on my iPad, and then I see all these stars and go, "I wonder whatever happened to them?" Then I look them up on IMDb and realize, oh, that was their last appearance on television.
We are living the same lives, yours is just immensely more fabulous. Speaking of fabulous, in what ways can us regular folk "drag up our lives," if you will?
Well, the truth is, it has to do with deconstructing your whole belief system, and this is where most people fall short when it comes to drag.
I'm asked the question all the time, "Oh, drag is mainstream, you've mainstreamed drag." On a superficial level, it is mainstream, only with the paint and the powder and the wigs and all that. But what drag really is, on a deeper level, is deconstructing the idea we have of ourselves. The list of attributes on our driver's licenses, oh you're white, male, whatever. When you're able to wipe all of that away and build it up, based on what you feel from the inside out, that's when you really understand drag.
That's why drag, on a deeper level, will never be mainstream. That deconstruction is too much of a tall order for most everyday people. And we little gay boys who decided to do drag, we understand that very well, and we were able to do it because society never wanted to have us as a part of it. So we had to build our own value system based on feelings and ideas we collected along the path. Not based on what society said, but what we gathered from our experience. In that regard, everyday people—for them to really do drag—they'd have to reconstruct their whole belief system and rebuild it.
If you had to lip sync for your legacy to any song, what would it be and why?
It would be to Cher's "Save Up All Your Tears." It's my favorite Cher song. Can we just state: Cher is phenomenal. She's a fantastic singer, her voice is better today than it ever was. But this song, I lose count of how many modulations she does, it keeps going higher and higher. It's a Diane Warren song that is absolutely brilliant. It's so theatrical. A good lip sync song gives you drama, it gives you musical modulations, and the content is sort of bittersweet, morose content, which is "Save Up All Your Tears." Because you're going to need them someday. (laughs)
This interview has been edited and condensed for publication.