How Russia and Trump Collusion Would Have Worked, From First Contact to Election Day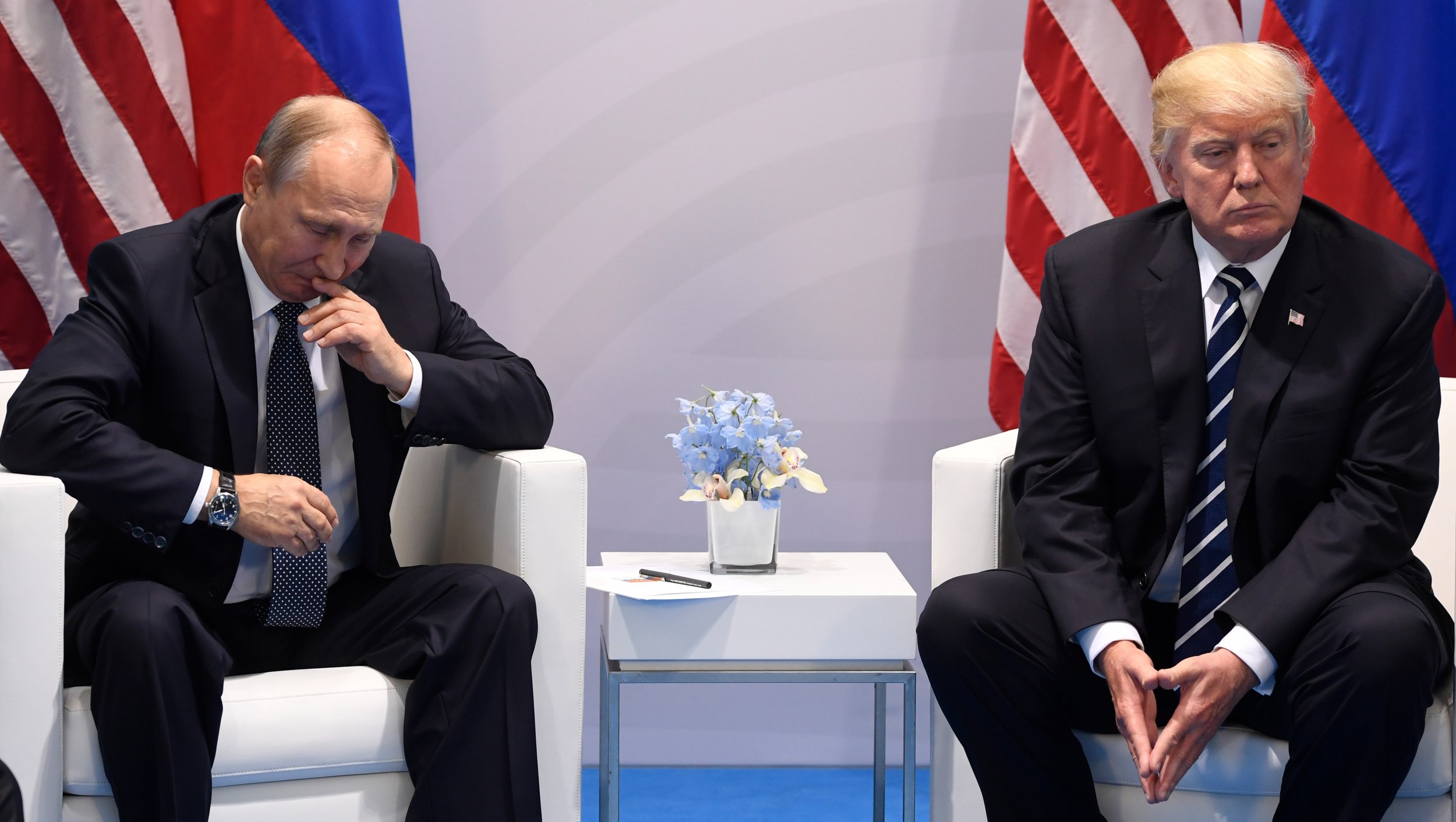 U.S. intelligence agencies are convinced that Russia attempted to disrupt the 2016 election by influencing voters to help Donald Trump, making him the first president to take office after meddling from a foreign government. Trump calls the reports of Russian election meddling "made-up."
The outlines of what exactly happened are still coming into focus, with lingering suspicion driving a pair of congressional investigations and a special counsel to find out if Trump's campaign tried to work with Russia. To get further insight, Newsweek spoke with a handful of former intelligence and law enforcement officials to map out how collusion could have worked, based on Russia's long history of sophisticated intelligence and influence operations.
"Your goal is... to weaken the United States, to sow seeds that they're no better than we are," said John Sipher, a former CIA operative who ran the agency's Russia program for several years.
Just like any major world power, Russia is constantly probing for information that might be useful to its causes. The Kremlin's tactics have been honed for years by the country's intelligence agencies looking to recreate its Soviet-era sphere of influence over its Eastern European neighbors. Their potential success with the 2016 race, however, would mark Russia's biggest victory against a Western democracy.
"It could have started as an effort to collect information and then morphed into 'how do we use this,'" Sipher said.
The campaign would have entailed deploying some of the advanced hacking tools in Russia's arsenal against a range of political targets. Intelligence operations rarely have a singular target, progressing in unpredictable directions depending on what can be obtained. (The Democratic National Committee (DNC) hack, which led to leaks of internal emails that embarrassed the DNC and the Hillary Clinton campaign, matches the types of targets that would most excite Russian intelligence operatives. Several Republican computer systems were also hit.)
"There's no one tool, you're going to adjust as you go along," Sipher said. "With every intelligence operation, you push forward until you hit a red light, and then you find another way."
Operatives would have had to figure out what to do what to do with the information they had obtained: Does the operation transition to spreading hacked information, or distortions of that information, independently of a campaign? Should the information be anonymously fed to one candidate to provide ammunition? Should intelligence agents approach a campaign to coordinate?
Russia's intelligence apparatus has broad experience fabricating stories or distorting basic facts as part of information operations to sow discord. The key to success involves targeting those stories using special regional knowledge. That's where colluding with a U.S. campaign, one where Russia has a clear candidate preference, comes into play. Modern campaigns spend millions developing data on persuadable voters, the types of people who can be most influenced by information or outright lies.
"Even if they're using technology, social media platforms, this is a foreign culture to them and they need to know certain things about how our political culture operates," said Asha Rangappa, who specialized in counterintelligence investigations at the Federal Bureau of Investigation and now serves as an associate dean at the Yale Law School.
Many post-mortems of the 2016 election have talked about the tactics used by the Trump campaign to reach specific subgroups of the voting population, with the secretive Cambridge Analytica credited with developing atomized data on potential Trump voters. The company, set-up by Trump's son-in-law and senior advisor Jared Kushner, was tasked with developing and deploying databases to help the campaign target certain demographics. Cambridge was managed by Brad Parscale, whose previous experience with the Trump family focused on building websites for Trump properties according to a story published by Bloomberg Businessweek shortly before the election that included rare interviews with the company's staff.
As the campaign progressed, the Trump team increasingly leaned on the data collected by the company to shape its message and fundraising. Bloomberg Businessweek wrote:
It's identified 13.5 million voters in 16 battleground states whom it considers persuadable, although the number of voters shrinks daily as they make up their minds.

Trump's team also knows where its fate will be decided. It's built a model, the 'Battleground Optimizer Path to Victory,' to weight and rank the states that the data team believes are most critical to amassing the 270 electoral votes Trump needs to win the White House.
Russia could have launched it efforts by assessing who within the Trump team would be amenable to working with a foreign power. "The two things I look for as an intelligence officer looking to recruit someone is ego and greed," Sipher said. "If I look at the Trump team, I'm saying, 'holy shit.'"
Reaching out to a campaign also could provide a favored Russian asset, Kompromat. Kompromat, or compromising information, is real or fabricated material that could be used to blackmail an individual.
The tactic, while not new, gained attention in the U.S. after former Acting Attorney General Sally Yates warned the White House that then-National Security Advisor Michael Flynn might be susceptible to Kompromat because of public statements about his communications with a Russian official. Several declarations from Trump officials indicated that Flynn had not discussed sanctions against Russia with Russian Ambassador Sergey Kislyak before Trump took office, although intelligence community intercepts of phone calls between Kislyak and Flynn demonstrated that the topic had been raised. Yates was concerned that Flynn might be susceptible to manipulation by Russian operatives because of the apparent contradiction.
It doesn't really matter what Russia might have discussed with a campaign official after initiating contact. If a Russian intelligence operative approached a campaign official offering information, and the official agreed to a meeting on that premise, "all you need to learn from that meeting is that they're serious," Sipher said.
The Russian operation would likely want to create some plausible deniability in terms of the involvement of Russian intelligence by using an intermediary who would not be directly associated with the government. That scenario matches what may have happened with Donald Trump Jr. and his meeting last year with Russian lawyer Natalia Veselnitskaya.
For Russia, there would be few risks in making contact. If the campaign calls the FBI, and it becomes public, broader doubts about the election and foreign interference might be sown. If the campaign doesn't call law enforcement, coordination could follow, or the connection could be dropped entirely.
"There's no downside, if they want to help you that's great, if it goes bad you can weaponized it," Sipher said. And if the campaign doesn't disclose the meeting, well, then, "you got your answer, they're willing to play ball," Sipher said.
The former officials said that once first contact is made, there would be no need to use the same intermediary to actually coordinate between Russian intelligence operatives and the campaign. Knowing how closely communication with foreign nationals is monitored by the National Security Agency and other groups, email and unencrypted messaging carries their own risks.
Continued communication could be arranged, or even means of making data available that the Russian intelligence agents would want without future direct contact. Russian intelligence officials are well versed in U.S. intelligence collection and if they chose to communicate directly with campaign officials, they would likely do so during foreign trips where transmissions would be less closely monitored.
It's unclear if the Trump campaign was talking to Russia. A cybersecurity researcher recently found a data drop by a Cambridge Analytica intern on a public website, although the exact utility for voter targeting is unclear.
If Russia and the Trump team did coordinate, the officials said, it would probably be exceedingly difficult to prove given these means of cloaking collusion. If the Trump team were relatively inexperienced using the technologies needed to mask exchanges, the Russian intelligence operatives could easily school them in effective techniques.
Once the contact was set up, the Russian operation could have used the Cambridge data to target persuadable voters or to suppress voters likely to cast their ballots for Trump's opponent. Trump's team could also look to manage the timing of releases to help provide critical boosts to the campaign.
The target of timed, coordinated efforts would not necessarily need to be voters. A Washington Post report attributed former FBI Director James Comey's decision to go public about the investigation into Clinton's emails to a Russian intelligence report. The Russian document was likely a fake, according to multiple reports.
The major intelligence community assessment, released in January, was unequivocal in its conclusions. "Russia's goals were to undermine public faith in the U.S. democratic process, denigrate Secretary Clinton, and harm her electability and potential presidency," the report, produced by the Central Intelligence Agency, Federal Bureau of Investigation, and National Security Agency, said. "We further assess Putin and the Russian Government developed a clear preference for President-elect Trump."
The report further concluded that Russia tried to help Trump win. "We also assess Putin and the Russian Government aspired to help President-elect Trump's election chances when possible by discrediting Secretary Clinton and publicly contrasting her unfavorably to him," it said.
The one topic the report carefully avoided was the effectiveness of the Russia's efforts. But if Russia did get Trump elected, that could translate to an administration that likely feels it owes Moscow. Even if direct pressure is not exerted, you have a campaign that might have closer contacts with Russian influencers who could tilt future policy in their direction.
Roughly 54 percent of Americans say Trump did something either illegal or unethical regarding Russia to gain office, according to an NPR/PBS NewsHour/Marist poll released in July. With recent reports of social media companies uncovering efforts by Russia to reach voters through social networks, an identical 54 percent of Americans say Russian-backed social media content affected the 2016 presidential vote, according to a September poll by CNN.
We might never know what, if anything, happened between Russia and the Trump camp. But the poll numbers show that regardless of Russia's direct actions, a broader Russian goal was achieved: Lingering doubts remain about the sanctity of the 2016 election.
It worked.