If you have read the headline "Russian Doping Scandal" some time in the past month with the same wary eyes that gaze upon the unopened copy of The Brothers Karamazov on your bookshelf, you're not alone. Like a Russian novel, the characters, machinations and subplots involved in the possible banishment of the Russian Olympic federation from the Rio Olympics appear daunting.
With the opening ceremony of the Rio Olympics looming on August 5, the potential absence of the country that accumulated the third-most medals at the 2012 London Olympics (and the most at the 2014 Sochi Winter Games) is newsworthy. The International Association of Athletics Federations (IAAF) already banned the Russian track and field team from Rio and the International Olympic Committee (IOC) is meeting this week to determine if the entire Russian federation will join them.
The story, first reported last May in The New York Times, is both accessible and intriguing, involving star-crossed lovers, mysterious deaths and the most nefarious and morally conflicted chemist this side of Walter White. The tale is not painful to absorb, like an epoetin injection; it's palliative, like ingesting Turinabol in pill form and washing it down with Chivas or vermouth, all of which Russian Olympians did under a state-sponsored doping program during the past half-decade.
Here, in the spirit of glasnost, is a concise and sports fan-friendly synopsis of Russia's Olympic doping scandal, including a cast of characters and timeline. As the IOC mulls whether to bid das vadanya to Russia's Olympic athletes before they arrive in Brazil, these are the facts of the case they will be considering.
CAST
The Whistleblowers
Yuliya Stepanova: Russian 800-meter runner, wife of Vitaly Stepanov
Vitaly Stepanov: Employee at Russian anti-doping agency, Yuliya's husband
Grigory Rodchenkov: Ph.D. in analytical chemistry, director of Russia's anti-doping lab
Guest Starring
Vladimir Putin: President of Russia
Evgeny Blovkin: Member of Russia's intelligence service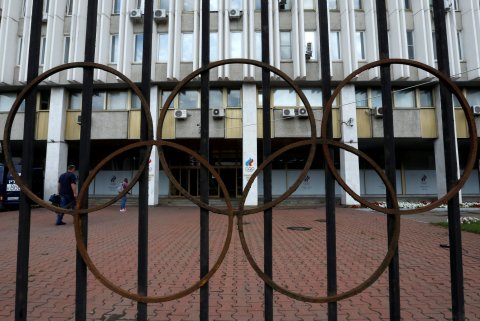 Timeline
Summer 2009: Vitaly Stepanov, 27, an information officer with RUSADA, the Russian anti-doping agency, meets Yuliya Rusanova, 23, a top-ranked 800-meter runner, at the Russian national championships in Cheboksary. By this time, Rusanova had been doping for three years. Stepanov is legitimately shocked to hear her tales of doping and cover-ups and asks his boss at RUSADA if her stories are true. Stepanov's boss remains silent for half a minute or so before replying, "Take my advice, and don't get involved with this girl."
October 2009: Stepanov and Rusanova are married (her surname becomes Stepanova).
Winter 2011: RUSADA fires Stepanov, by now an outspoken opponent of doping and cover-ups who had been clandestinely corresponding with World Anti-Doping Agency (WADA) officials.
February 2013: Stepanova, who missed the London Olympics due to a thigh injury, is given a two-year ban by the IAAF due to her blood tests containing a prohibited substance.
2013–2014: Grigory Rodchenkov, the director of Russia's anti-doping agency lab, creates a concoction of steroids and liquor known as "the Duchess." The mixture contains three anabolic steroids—methenolone, trenbolone and oxandrolone—with either Chivas whiskey for men and a vermouth in a martini for women. Rodchenkov oversees the delivery of this cocktail to Russian officials who then pass it on to athletes.
Autumn 2013: A still unnamed official from the Federal Security Service (FSB), the Russian intelligence service, begins visiting the Russian anti-doping lab in Moscow. The FSB agent peppers Rodchenkov and his staff about the urine bottles, which are made by the Swiss company Berlinger and used to store athletes' samples. The agent collects hundreds of the bottles, whose toothed-metal rings are thought to be tamper-proof.
Circa New Year's 2014: The agent presents Rodchenkov with an opened sample bottle, its cap intact. The most difficult obstacle to fooling drug-testing officials at the upcoming Winter Olympics, to be hosted by Russia in Sochi, has now been overcome.
February 2014: Host nation Russia tops all countries at the 2014 Winter Olympics in Sochi with 33 medals. Russia, which had finished sixth in the medal count at the 2010 Winter Games in Vancouver, British Columbia, also takes home the most gold medals with nine. The U.S. finishes second in both categories in Sochi with 28 medals and nine gold, respectively. Rodchenkov is awarded the prestigious Order of Friendship medal by Vladimir Putin.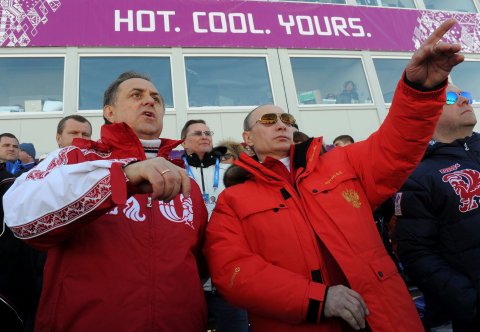 Later in 2014: German documentary filmmaker Hugo Seppelt releases a 60-minute film titled The Doping Secret: How Russia Creates Champions, on the German public broadcasting network ARD. The film's allegations are bolstered by interviews with Vitaly Stepanov and Yuliya Stepanova and also by conversations between Yuliya and Russian sports officials that she had secretly taped after her ban. After the film airs, a spokesman for Putin calls Stepanova "a Judas." By this time, the Stepanovs have fled to Germany, where they will live for a year before emigrating to an undisclosed location in the United States.
November 2015: WADA releases a 323-page report implicating Rodchenkov as being "at the heart of" doping in Russian athletics and accusing him of manipulating or destroying as many as 1,400 blood and urine samples. The report further alleges that blood doping, switching of urine samples, bribes and cover-ups were systemic within the Russian sports ministry.
January 2016: Fearing for his safety, and with the assistance of Los Angeles-based documentary filmmaker Bryan Fogel, Rodchenkov flees Russia for the United States.
February 3, 2016: Vyacheslav Sinev, the founding chairman of RUSADA, dies unexpectedly. Details of his death are not provided. Sinev had resigned in December following the WADA report.
February 14, 2016: Nikita Kamayev, 52, the former director of RUSADA, dies of a heart attack. Kamayev, who had no previous signs of coronary illness, had also resigned in December.
May 12, 2016: In a lengthy interview with The New York Times Rodchenkov, now living in Los Angeles, provides a detailed account of how the Russians were able to switch urine samples during the Sochi Games. The conspiracy involved a pair of adjoining rooms at the anti-doping laboratory at the Olympics.
A hole was driven in a lower section of a wall adjoining rooms 124 and 125. The former room was in an unsecured area, a storage room that Rodchenkov and a few associates converted into a mini lab. After midnight someone would pass the tainted samples through the mouse hole to Rodchenkov, who would then hand them to Evgeny Blovkin, a Russian intelligence official who had obtained clearance as a sewer engineer. A few hours later Blovkin would return with the bottles empty and the caps intact. Rodchenkov and his team would fill the bottles with clean samples that had been taken from the athletes months earlier and would add either salt or water to adjust for variances. They would then pass the samples back through the hole.
One-third of Russia's 33 medals were awarded to athletes whose names appeared on a spreadsheet that Rodchenkov provided outlining the government's doping plan.
June 2016: The IAAF bans the Russian track and field team, including 2012 gold medalists Ivan Ukhov (men's high jump) and Tatyana Lysenko (women's hammer throw), from appearing at the Rio Olympics. In addition the IAAF recommends that the IOC permit Yuliya Stepanova to compete in Rio as an independent athlete. That decision is still pending.
July 18, 2016: Canadian law professor Richard McLaren issues a 97-page report, the product of a months-long investigation commissioned by WADA, detailing what McLaren termed Russia's "disappearing positive methodology" program. According to McLaren's findings, Russian anti-doping officials were able to hold back 312 positive results out of 577 sample screenings between the years 2011 and 2015.
Hours after McLaren's published report is released, WADA calls for a full ban of Russian athletes from the 2016 Rio Olympics. Putin promises to suspend officials named in the report (provided they are still living) but requests more "objective" information, citing the report's over-reliance on Rodchenkov as a source.
July 19, 2016: The IOC meets to discuss a collective ban on all Russian athletes but decides to delay its decision while it "explores the legal options." Meanwhile, in a high-altitude mountain town somewhere in the American West, Stepanov and Stepanova wait to hear whether she will be given an independent athlete exemption to run the 800 meters in Rio.
About the writer
John Walters is a writer and author, primarily of sports. He worked at Sports Illustrated for 15 years, and also at NBC Sports where he won two Sports Emmys for his on-air writing at the Athens and Beijing Olympics. He has also worked at AOL Fanhouse and The Daily, as well as waited at a popular Manhattan steakhouse. Walters is the author of The Same River Twice: A Season With Geno Auriemma and the Connecticut Huskies. He is the founder of mediumhappy.com, a pop culture blog that he updates daily. He holds a B.A. from the University of Notre Dame, where he studied pre-med and rowed crew.