In 2018, on an average weekday in New York City, almost five and half million people rode the subway per day. But, with the onset of the coronavirus pandemic, those numbers have significantly dropped as many New Yorkers are now working from home, or if not, staying away from spaces that might not allow social distancing to be practiced properly.
Starting in March, the majority of riders continuing to utilize the city's public transportation were essential workers who continued to work while most of the city stayed home to help fight the coronavirus pandemic. On July 27, as the city's daily coronavirus numbers continue to steadily drop, and restrictions loosen, just under 1.2 million people used the subway system—a 78.2 percent drop from the same date last year.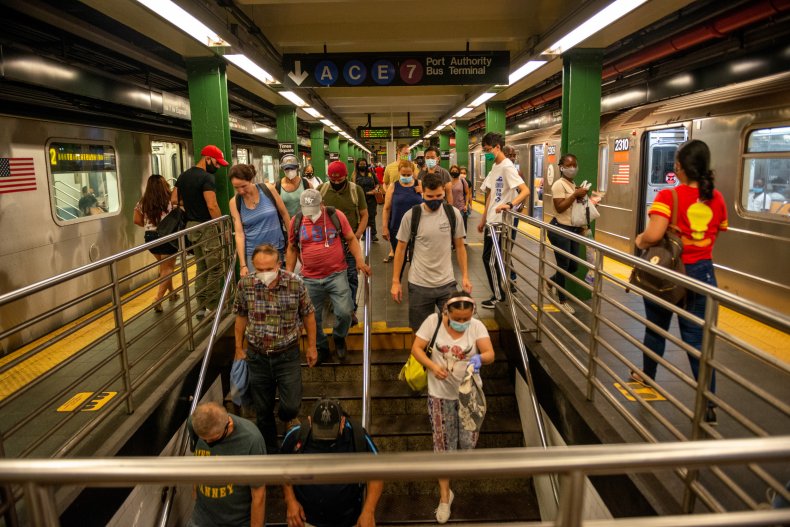 "Public transit is a bedrock social service critical to New York City's survival and recovery," a spokesperson for the New York City Department of Transportation tells Newsweek. "While ridership dropped steeply during the height of the pandemic, the riders that remained, relied on subways, buses and ferries to connect them to jobs providing medical care, food and other essential services that allowed others to stay home and stay safe."
With restaurants, stores and even public pools and beaches now open after months of being shuttered, some New Yorkers might wonder whether it's safe to swipe their Metrocards again and hop on the train or bus. Interim MTA President Sarah Feinberg says, "It's time to come back."
In May, the MTA restricted its otherwise 24/7 service and began shutting down trains from 1 a.m. to 5 a.m. in order to completely sanitize each car.
"We're doing 24/7 cleaning," Feinberg tells Newsweek. "But, it obviously is helpful for us to be able to have the system completely free of all riders in those overnight hours, so we can be particularly efficient."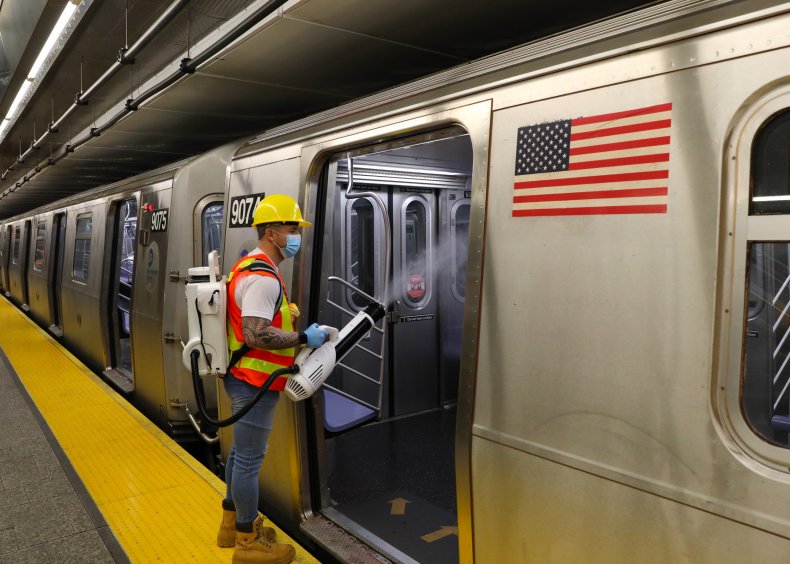 In the beginning of March when the virus began affecting New York City, MTA workers were not allowed to wear masks while on duty—in alignment with the CDC recommendations at the time. The ban was then lifted after backlash from the Transport Workers Union Local 100, the New York Daily News reported. The MTA reports that 4,110 MTA employees have tested positive for the virus as of July 29.
Feinberg says the MTA is in the beginning stages of a study, carried out in conjunction with academic and health care partners, to look at how exactly the virus affected transit workers.
"[We're doing] a study to see how our employees fared just generally but also in comparison to the rest of the city and the rest of the state," Feinberg said. "But the early data, the antibody data, shows that it looks like MTA workers may have been exposed less than most people in the city. The city's rate of antibodies is 21 and the MTA rate of antibodies is 14."
Despite what might have been previously believed, the virus has not been traced through the subway system, Feinberg says.
"Public transportation has really not been a spreader of the virus," she said. "Particularly at the beginning of the pandemic, there was a lot of misinformation out there. I'm not sure much of it was intentional, but there were a lot of folks just making assumptions: 'Subway cars are crowded. Therefore that must be where people are getting the virus.' You know, and a lot of that has just not turned out to be accurate at all."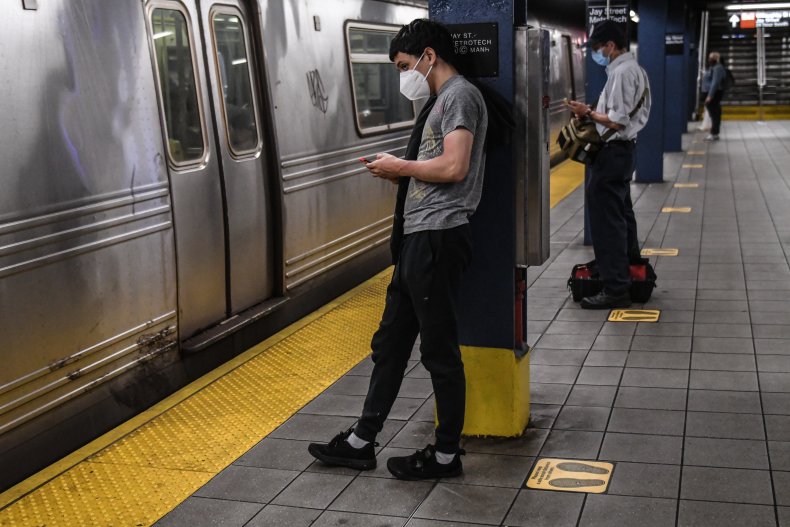 Virologist at Columbia University Angela Rasmussen suggests avoiding public transportation, if possible, especially if crowded.
"Any type of public transportation that has a lot of people crowded together in an enclosed, poorly ventilated space is an environment with increased transmission risk," Rasmussen tells Newsweek. "This especially applies to packed subway cars or public buses."
Feinberg says there is not an issue with ventilation within subway cars; in fact, MTA's numbers surpass the recommendation promoted by the CDC. Though there are no standards for subway cars, the MTA has adapted the guidelines for the air exchange rates for health care facilities. She says that while the recommendation from the CDC is 10 times per hour, the subway's numbers are upwards of 16 or 18 times per hour. "It doesn't mean we are perfect, we are always looking for what else we can do," Feinberg says."But we are in a pretty good place there."
The issue of crowding, though, is really up to the rider, Feinberg adds.
Patience is key, the virologist explains. If a train pulls up that is too crowded to allow for appropriate social distancing, then wait for the next one.
"That is something that is unheard of—a typical New Yorker would roll their eyes at that—but it is very much possible with ridership where it is," Feinberg says.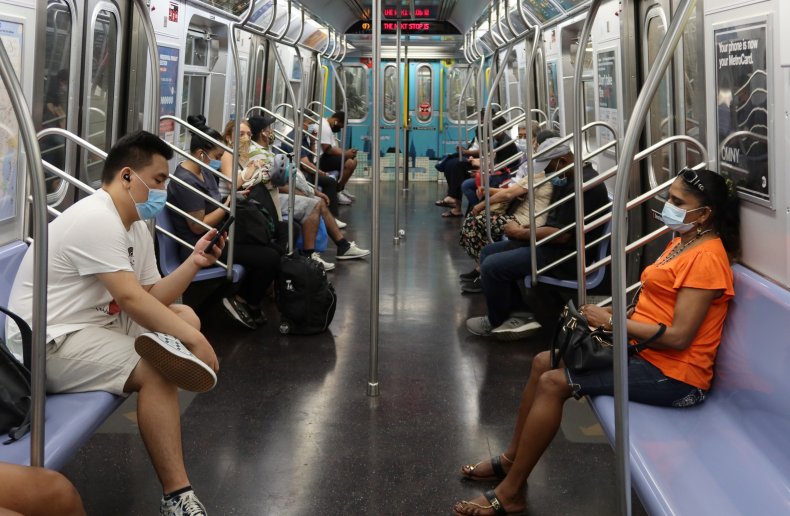 Stations are being cleaned twice a day and subway cars are being cleaned at various times throughout the day in addition to the 1 a.m. to 5 a.m. cleaning. Masks are also mandatory within the system, and so far the MTA is seeing a 95 percent compliance rate. To make it easier for riders, masks are available at each booth in each subway station around the city for free. In addition, hand sanitizer stations have also been installed in every station.
"There's nothing that 95 percent of all New Yorkers do other than breathe and visit their bodega," Feinberg said in reference to the high compliance rate.
While Feinberg is giving the green light for New Yorkers to return underground, she notes that this does not mean those who are more vulnerable to the virus should be riding. Those who might be more susceptible to the virus should continue to isolate as much as possible, and the subway might not be the best place to ensure distance from others.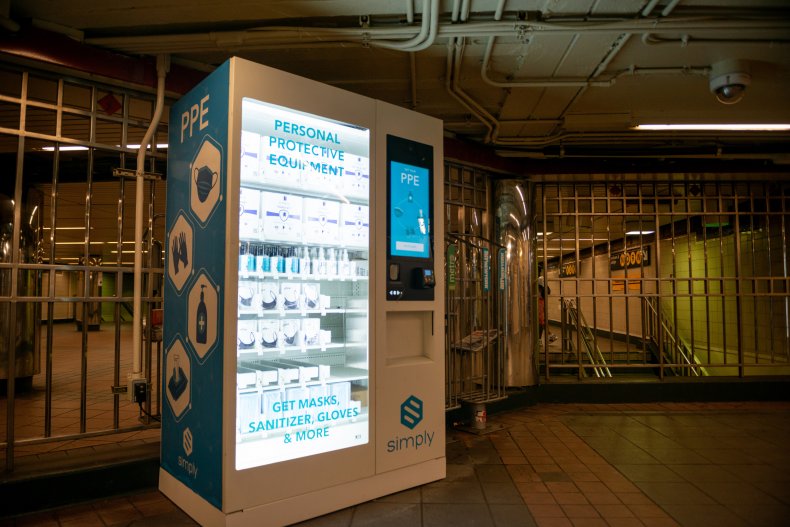 "Around the world, we are seeing that constant vigilance is key," Rasmussen says. "That means robust testing and surveillance and rapid response (isolation, contact tracing, and quarantine), as well as a willingness to adjust "reopening" policies if cases begin to climb. It's crucial that people remain consistent with distancing, staying home when possible, and wearing face protection."
As the city continues to loosen restrictions on public spaces and New Yorkers venture outside their homes more and more, it's important to do what makes sense for you and those in your household. That will look different for each person. If taking the subway becomes part of your routine again soon, continuing to follow the guidelines of wearing a face covering and practicing social distancing are key in flattening the curve of the virus.
"We are really doing everything on our end," Feinberg said. "And all we are asking of riders is, wear the mask, provided, get as much social distance between you and the next person as you can responsibly get and just about your commute, we'll handle the rest."