How Sarah Palin Was Thwarted in Alaska Election by Ranked-Choice Voting
Democrat Mary Peltola has won the special election for Alaska's single seat in the U.S. House of Representatives and defeated former governor and 2008 vice presidential candidate Sarah Palin.
Peltola triumphed over Palin and another Republican, Nick Begich III, in an election held under Alaska's new ranked-choice voting system that was approved by voters in 2020.
Under that system, voters can rank their preferences, so that those opting for Begich were able to choose either Peltola or Palin as their second choice for the seat.
Al Gross had also qualified for the special election in the nonpartisan top-four special primary in June but then dropped out of the race, leaving three candidates.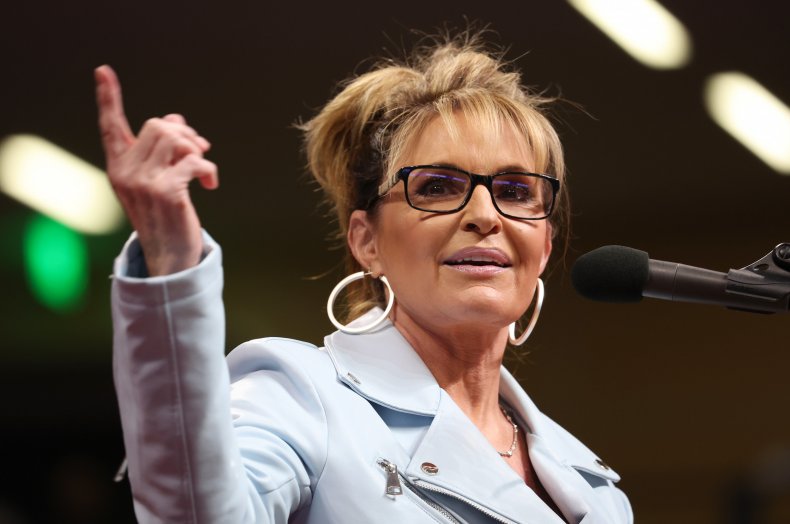 An individual wins the election if they garner 50 percent plus one of the votes cast. If nobody reaches that threshold after ballots are counted, the candidate with the lowest number of first preferences is eliminated and their voters' second preferences are then counted and distributed.
In this case, Peltola won 39.7 percent of first preferences, followed by Palin with 30.9 percent and Begich with 27.8 percent, with 99 percent of the ballots counted. Write-ins also garnered 1.6 percent of the vote.
That means 58.7 percent of voters initially cast their ballots for Republican candidates.
Those who had voted for Begich or write-in candidates first then had their ballots reallocated to their second choice. Once those votes were counted, Peltola had won 51.5 percent to Palin's 48.5 percent, with 93 percent of the ballots counted.
Palin was endorsed by former President Donald Trump and served as governor of Alaska from 2006 until 2009. She was also the late Senator John McCain's running mate in the 2008 presidential election.
Alaska's new voting system is highly unusual as most U.S. House races across the nation are decided using a first-past-the-post system, meaning whichever candidate wins the most votes is elected.
Senator Tom Cotton (R-AK) strongly criticized Alaska's system following the result on Thursday.
"60% of Alaska voters voted for a Republican, but thanks to a convoluted process and ballot exhaustion—which disenfranchises voters—a Democrat 'won,'" the senator tweeted.
Cotton's remarks echo criticisms that Republicans have previously made about the ranked-choice voting system but that system is in place for upcoming midterm elections, including the Senate race where Republican Senator Lisa Murkowski is defending her seat against Trump-backed Kelly Tshibaka.
Nevertheless, Peltola's win represents a major victory for Democrats in the deep red state. She is the first woman and first Alaska Native who will represent the state in the House and her election is already being seen as a good sign for Democrats heading into the midterm elections.
The special election was called following the death of Republican Representative Don Young in March and Peltola will serve the remainder of Young's term, ending in January 2023.
Alaska election officials are expected to formally certify the results by Friday.
Peltola, Palin and Begich are all competing to win a full term in the House in the November 8 general election. They advanced from an August 16 nonpartisan primary along with Libertarian candidate Chris Bye.
Though Palin has not yet made what many believed would be a political comeback, it is still possible she could win the seat in November under the ranked-choice voting system.