How to Save About $50 on Thanksgiving Weekend Food This Year
Thanksgiving gatherings are expected to cost more this year, but there are several ways to save money, including carefully choosing the kind of meat a person puts on the table and planning ahead.
Inflation, compounded with disruptions to supply chains, is driving up the cost of groceries and in October, the Consumer Price Index saw the highest 12-month increase in 30 years. While Americans can't control the price of goods, changing up traditions can help reduce the financial burden of gathering for Thanksgiving, this year.
One of the easiest ways to cut costs is to spend extra time planning for how much food hosts will need at their gatherings. While Thanksgiving leftovers are a coveted part of the holiday for some, overbuying can force people to throw out leftovers days later and reducing food waste is an easy way to save money.
Experts often recommend budgeting for 1.25 pounds of turkey per person, but that often factors in having leftovers. Cutting that down to one pound per person, as recommended by the United States Department of Agriculture, could help save money on the Thanksgiving centerpiece.
Frozen smaller turkeys–at about eight to 16 pounds–—are up about 23 cents per pound from last year. Larger turkeys–up to 24 pounds—are up 21 cents per pound. For a gathering of 10 people, a person can save about $4 by budgeting for one pound of turkey per person versus 1.25 pounds. Making the same decrease in turkey per person could result in almost $6 worth of savings for a 15-person gathering.
Purchasing a frozen turkey is also the more financially conscious route than a fresh turkey, according to data from the USDA. To feed 15 people fresh turkey (budgeting 1.25 pounds per person) could cost someone $27. Opting for lower portion amounts and a frozen bird could bring the cost down to about $20.
However, some consumers won't be purchasing a turkey at all this year. Grocery stores and other companies are offering turkey incentives for people who patronize their business ahead of Thanksgiving.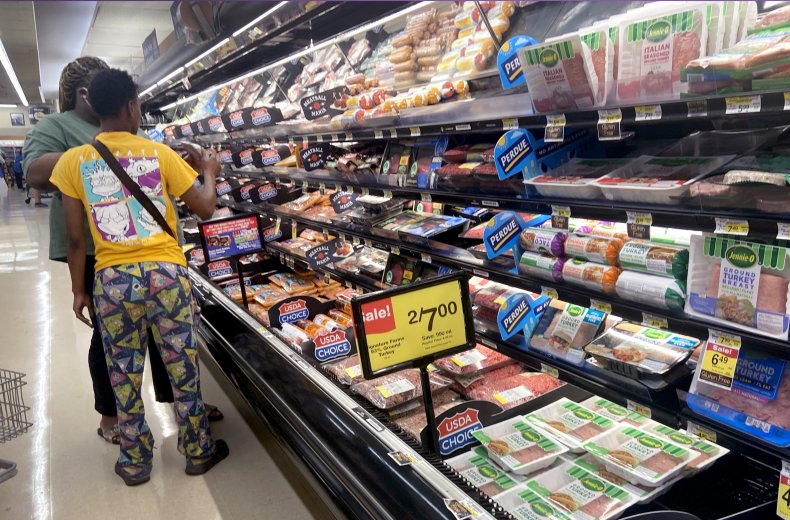 Members of BJ's Wholesale Club can receive a free Butterball turkey when a person spends $100 on qualifying items in one transaction. For a 24-pound turkey, it's a savings of about $23, according to BJ's website. Qualifying items include Bisquik, which can be used for making Thanksgiving biscuits, pie crusts, Italian dressing and some frozen vegetables, so people can use the shopping trip to buy some of the ingredients needed for their Thanksgiving side dishes and desserts.
ShopRite is also offering a free frozen turkey, up to 21 pounds, for customers who spend a total of $400 through November 25 and use their Price Plus club card at checkout. In stores where turkeys cost $1.99 per pound, a person shopping for a 10 pound turkey could save $20 by using their price plus card.
Using a credit card that offers cash back on grocery store purchases can also offer financial benefits around the holidays. The Blue Cash Preferred card from American Express offers 6 percent back at American supermarkets, so if a person spends $400 at ShopRite, they could save $44 or more through the cash back perk of the credit card and the free turkey.
Datasembly, a company that tracks grocery prices, sampled about 11,000 stores and found the average cost of the "Thanksgiving basket" increased 7 percent from October 2020.
Ben Reich, CEO of Datasembly, told Newsweek he wasn't surprised by the increase in cost for Thanksgiving staples and expect the trend to continue through the Christmas season.
"Prior to this summer, many produce prices remained relatively unchanged and even below 2020 prices in some areas. That has dramatically changed over the last few months, with drastic increases across the whole produce category," Reich said.
For many people, Thanksgiving celebrations aren't confined to one day and span a weekend if family and friends come in from out of town. Feeding additional people multiple meals per day for several days can significantly raise a person's weekly food budget and just like turkeys, the price of meats has risen over this past year across the board.
So, carefully selecting proteins can help alleviate some of the financial strain. Instead of offering guests a steak dinner to commemorate the holiday weekend, opting to serve pork chops could save a person $6 per pound, according to data from the USDA. For a family of five budgeting half a pound of meat per person, it's a savings of $15.
It's also worth considering adjusting the extent of this year's Thanksgiving menu. Instead of offering five or six sides, which can require additional ingredients to make, try paring the menu down to three or four. Planning side dishes ahead of time can also help a person reuse expensive grocery items, such as spices, and cut down on what needs to be purchased to prepare the meal.
Also consider slight adjustments to menus based on what's on sale. For example, a person can save $2 by opting for boxed stuffing instead of stuffing cubes. While not a huge saving on its own, if a person is able to find similar savings on other items, it can add up to more significant savings at the cash register.
Leaving shopping to the last minute could also increase the cost of a Thanksgiving dinner. Those who shop early for non-perishable and pantry items are likely to have more choices when they go to the store. Waiting until the day before Thanksgiving could mean only organic options are available, which tend to be higher in cost than non-organic products, or a person has to buy a more expensive brand or version of an item because it's the only one on the shelf.
It's also worth looking into the cost of frozen versus fresh vegetables. While many people gravitate toward fresh vegetables, they tend to be more expensive than frozen and don't have the added perk of being able to buy in bulk, put in the freezer and use at a later date.
Before even making a Thanksgiving grocery list, experts advise consumers to take a look at what they have in their pantry first. Slashing items from a grocery list because a person already has them can reduce the price tag of a shopping trip.
This article has been updated with comment from Ben Reich, CEO of Datasembly.