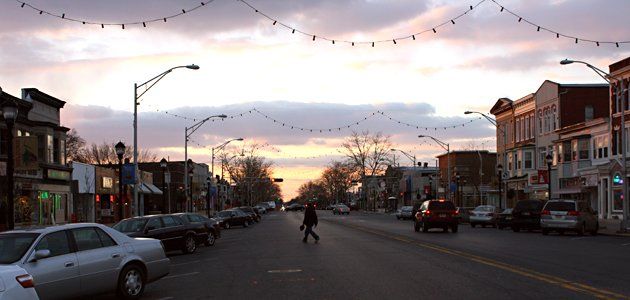 After the housing bubble burst in 2007, the Wells Fargo mortgage office became yet another dead-weight property along the main drag in Vineland, N.J. "The blinds would always stay closed," recalls Stephen Wilson, a baker with a storefront at the back of the same building. Not that there was any foot traffic for the mortgage office to attract. Until recently, Vineland's main street was full of empty storefronts, and many of the city's nearly 60,000 residents believed it was unsafe. "It really looked like a criminal area," says Uzi Cohen, who recently opened a furniture store on Landis Avenue.
But this year, Wilson persuaded his landlord to let the Sweet Life Bakery expand from its location into the Wells Fargo space. Soon Vineland lost a defunct mortgage office and gained a corner shop to buy wedding cakes or sip cappuccinos. Wilson's move was part of a larger growth trend: 60 businesses have been created around Vineland's downtown in the past three years. While some of those failed, the total number of businesses in the area has hovered around 230. But even as the nationwide economy has tanked, the city has managed to generate a buzz that has put its downtown back on the map. "We have comments from people [visiting downtown] that said 'I haven't been downtown in years,'" says Gary Galloway, chairman of Main Street Vineland, a local nonprofit organized to help the city's downtown. "The metamorphosis is unbelievable."
The story of how Vineland has started to turn the corner offers lessons for reviving small businesses on main streets across the country. For this rural town, it was about offering government loans to kick-start small-business growth and then rallying local support to keep those new storefronts afloat. In Vineland, as in many other towns and cities, small businesses have been the "backbone" of the city's economic growth, says Todd Noon, Main Street Vineland's executive director. (the National Trust for Historic Preservation's Main Street program, the national affiliate of Vineland's nonprofit, says it has helped establish about 1,100 local programs to spur economic growth in local downtowns.)
To be sure, Vineland's efforts are far from complete. Growth has slowed in the past two years, with fewer than a third of those 60 new businesses opening during 2009 and 2010. There are fewer vacant storefronts now, but Main Street Vineland still lists 33 available commercial properties on its website. Meanwhile, Cumberland County, Vineland's home, still has an unemployment rate hovering at about 12 percent—the highest in New Jersey and more than 2 percentage points higher than the national average.
Still, the progress Vineland has made can't be boiled down to a simple political talking point. For Republicans who would call for government to get out of the way of small businesses, Vineland's story doesn't fit: the city's downtown investment program is "the only game in town" when it comes to raising the capital to start a new business, says Sandy Forosisky, Vineland's economic development director. Indeed, Forosisky and others say few of Vineland's new shops would have opened without the city's financial assistance. But for Democrats who would sing the virtues of government investment, Vineland's story makes it clear that government alone can't do the whole job. "It takes a village" of involved community members to sustain downtown's recovery, says Russell Swanson, whose deli and coffee shop was one of the first businesses to open during Vineland's recent resurgence. "We have that." Vineland's comeback is a reason to ignore the political spin from Republicans and Democrats alike. To bring small businesses back to its main street, the city needed an engaged community, a cadre of entrepreneurs, and the government's helping hand.
Businesses in downtown Vineland did not always need help. The city saw its share of growth in the years after Charles Landis, a wealthy property developer who wanted to build his own Utopia, bought a chunk of land southeast of Philadelphia and founded a new planned community in 1861. Welch's, the grape-juice maker, first opened shop in Vineland in 1869. The real boom started in the 1940s. A plethora of chicken farms sprouted around the city, earning Vineland the nickname "the egg basket of America." Manufacturers hired thousands of skilled workers to make glass from the silica sand found nearby. Older residents fondly remember Landis Avenue, Vineland's main street, during the 1950s and '60s, when it teemed with shops and consumers. "This avenue was a metropolis," says Frank S. Martini, who has worked at Martini Shoes for 46 of its 90 years in business on Landis Avenue.
But during the following decades, factory farms in other states began to out-compete Vineland's egg producers. The glassmakers found cheaper labor elsewhere and shrank or closed their operations. Even worse for Landis Avenue's small businesses, most residents began to do their shopping at the Cumberland Mall, about five miles down Route 47, or at the big-box retailers that began popping up off the area's major highway. "The dollar was being spent out of town," Martini says. As the jobs and money left, the city's downtown deteriorated. Residents recall more boarded-up windows, vacant storefronts, and crumbling curbs. Downtown started gaining a reputation for being unsafe. As shops closed around him, Martini says, he survived by focusing on his own business. "I saw outside deteriorating and I said, 'My energy's got to go inside.'"
Yet, Vineland had a solution waiting to be tapped. In the late 1980s New Jersey's state government had established a targeted tax credit to help urban areas: it would pay for half of local consumers' sales tax as long as local government reinvested the cash locally. Until about five years ago, Vineland's leaders had used funds from the Urban Enterprise Zone to encourage the development of warehouses, food-processing businesses, and other industry near Route 55, mitigating the job loss as other manufacturers left town. When those loans began to be repaid, the downtown area became the next recipient of the government's helping hand.
Swanson was one of the first entrepreneurs to take advantage. Other businesses had come and gone during Landis Avenue's dark ages, but Swanson says his 2007 renovation of a corner shop may have been the first project to do more than "put paint on the wall and mop a dirty floor." He redid the building from basement to roof.
But Swanson wouldn't have done that without help. The city, set on gaining momentum in the form of a new and popular restaurant, provided a $200,000 loan to fix the building's façade, another $100,000 loan for equipment, and a third loan of $184,000 for other improvements to the property—all from the local government's funding pool. "There had to be some financial incentive, otherwise … you would go to the mall" to open up shop, Swanson says. Forosisky, the economic development director, adds, "if not for the incentives, I wouldn't be having people call me" asking about opening up shop on Landis Avenue.
More than three years later, Swanson's combination of deli, coffee shop, and performance venue is no longer the lone new business on Vineland's main street. The city has doled out about $6 million for refurbishing façades on 44 buildings, including about $300,000 for all four sides of Cohen's furniture store, which he says would not have had its grand opening this month—or at all—without the help. Last summer the Landis Theater, which opened in 1937 and had decayed in the more than 20 years since its last film viewing, reopened as a performing-arts center with downtown's fanciest restaurant next door. Without $10.3 million from various government funding sources for that project, developer Hans Lampart says, "there's no way" it would have happened. Lampart is now poised to put senior housing near the theater, also with the help of tax breaks and other government incentives.
To keep growing, the city has continued to step in where private investors might not have. On the key issue of attracting new foot traffic to the area, Vineland is pushing a public marketplace anchored by ever-popular Amish farmers, which is set to open in March. Swanson looks forward to the market's being "the Macy's of the mall" for Landis Avenue. Without the city's investment, the market would still be a vacant storefront: Vineland owns the building and is putting up $4 million from Urban Enterprise Zone funds for the renovation.
But if government assistance helped small businesses get their start downtown, organized community support has sustained those businesses and helped them grow. New stores such as Swanson's deli still face competition from the Cumberland Mall and big-box stores within 10 miles (including two Walmarts). Were it not for events and group promotions organized by local volunteers, they might not have reached nearly as many customers. Main Street Vineland coordinates the community effort, handling logistics for the chili cook-off or making sure all the restaurants sign on for a weeklong promotion of lunch for $8. These efforts have received rave reviews. Martini, the shoe-store owner, says he rolled his eyes when he first heard about that latest revitalization effort. Now he praises it: "They're doers," he says of the Main Street Vineland volunteers.
Still, growth in downtown Vineland is fragile. Forosisky says her office has stopped pushing more loans to new restaurants for the moment, even though entrepreneurs are interested and cannot obtain funding elsewhere. "I don't want them to fail," she says. Meanwhile, Gov. Chris Christie has put the Urban Enterprise Zone funding that Vineland has been using to make small-business loans on hold pending a review of the program's effectiveness across the state. If Christie decides to cut the funding, Forosisky's budget for new loans may not exist next year.
Forosisky and others are betting that attractions such as community events, performances at the Landis Theater, and the Amish market will sustain their momentum. "You've got to keep going, to become bigger and better. You have to make Vineland a destination," says Galloway, the Main Street Vineland chairman. For some residents, though, the verdict is still out. Munching one of the Sweet Life Bakery's homemade desserts on a recent afternoon, an Atlantic City card dealer named George sang the praises of the new family-owned spot. He gave his opinion of Vineland's new downtown: "On a scale of one to 10, I give it a five." Given the state of Landis Avenue in past years, the volunteers working to revitalize it will count that rating as progress—and motivation.
—Follow the author on Twitter or send him an email at ryan.tracy@newsweek.com.