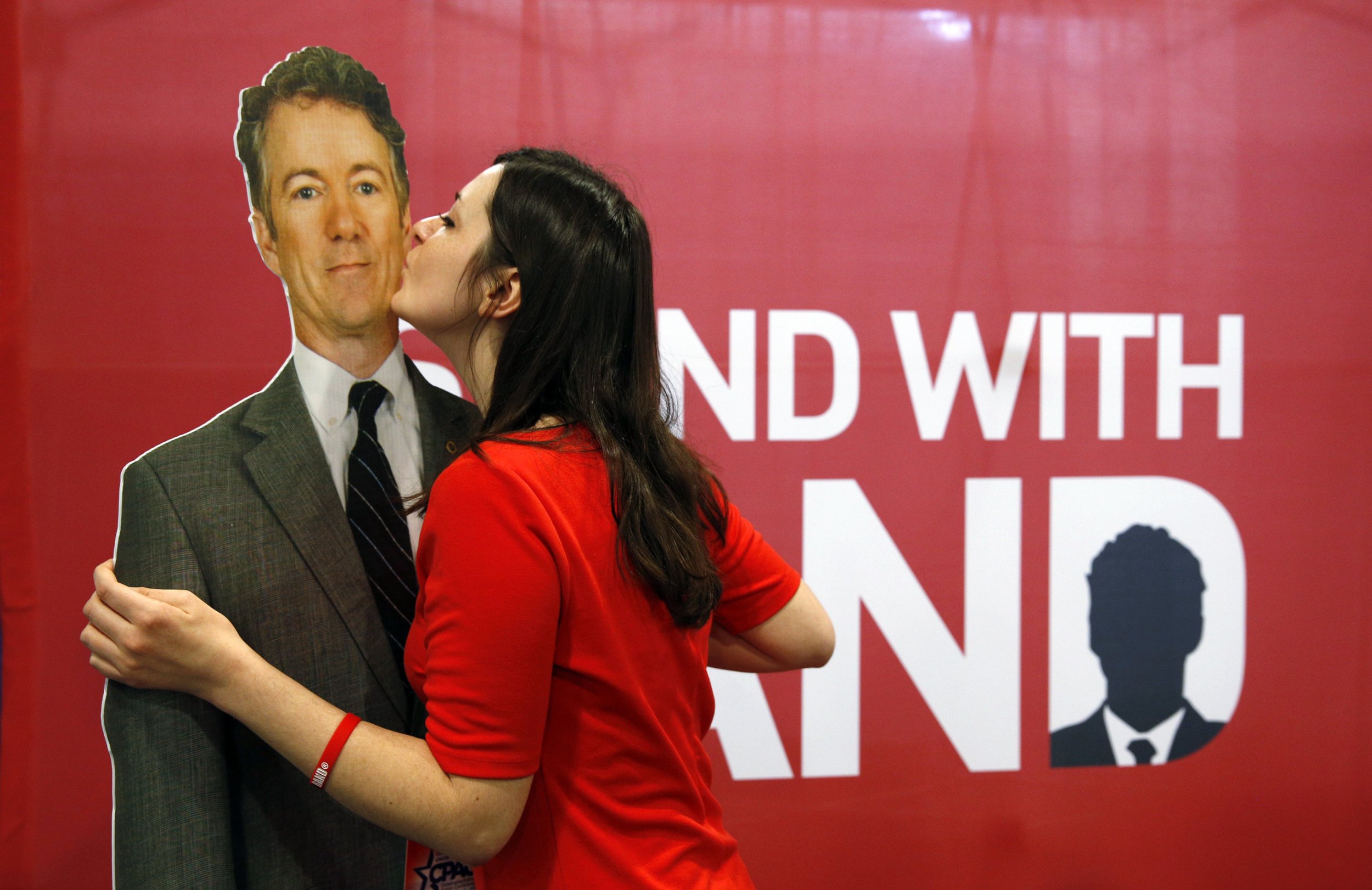 National Harbor is a convention center and hotel on the banks of the Potomac River, a few miles from Washington. Like any number of modern, multi-use developments, it has that disorienting, I'm-on-spaceship feel of a Las Vegas casino. With its 19-story atrium and restaurants set amid an Old Tyme village, its convention center is a world away from nearby Oxon Hill, Maryland, which is more than 90 percent minority.
Last month, National Harbor hosted the Conservative Political Action Conference (CPAC), an annual gathering of conservatives that gets a lot of attention for its cavalcade of would-be presidential candidates. (You've read by now that Kentucky Senator Rand Paul won the presidential straw poll here and a fellow Republican, former Florida Governor Jeb Bush, while booed, did well enough.) But that's just one story. What's less remarked upon and worth lingering over is the offstage action at CPAC, which arguably is more revealing about where the Republican Party is heading than any polls of on-camera performances.
If you wanted to immerse yourself in the conservative id, the right-wing iteration of Freud's legendary drive, you might learn more--and have more fun--by heading one floor below where the likes of Sarah Palin and Senator Ted Cruz gave their speeches. Think of it as the Upstairs, Downstairs/Downton Abbey way of looking at the event.
Here is the exhibition space at CPAC, where conservative groups set up booths the way, say, flange makers might at a plumbing trade show or console makers might at the Consumer Electronics Show. In that vein, a CPAC exhibitor promoting its tax-cut and fiscal-tightening crusade had a giant robot called Govtron--representing the evil government--that was being pursued by two very large and realistic robots from the Iron Man films. In the comic being sold at the booth, Govtron, who runs on government waste, is brought down by Gold Standard and Captain Personal Freedom.
Other booths are equally nuanced. There are groups designed to invite college-age students into the movement--complete with non-ironic posters touting Ron Swanson, the crusty libertarian character on Parks & Recreation, and tons of merch with the hashtag #BigGovernmentSucks. There are gun groups such as the Second Amendment Foundation putting out magazines like Women & Guns with headlines touching on subjects including whether one might need to pack a second pistol and where to stash it. (Spoiler alert: It's under your blouse.)
Then there's a self-styled traditionalist Catholic group collecting signatures for a petition to Pope Francis, begging him to uphold traditional marriage. It seems questionable that the Holy See would ever see such a plea, but what is clear is that candidates who are trying to hone their messages to what conservatives might want should look here to a part of CPAC that's less scripted and more, well, free-marketish, if that's a word.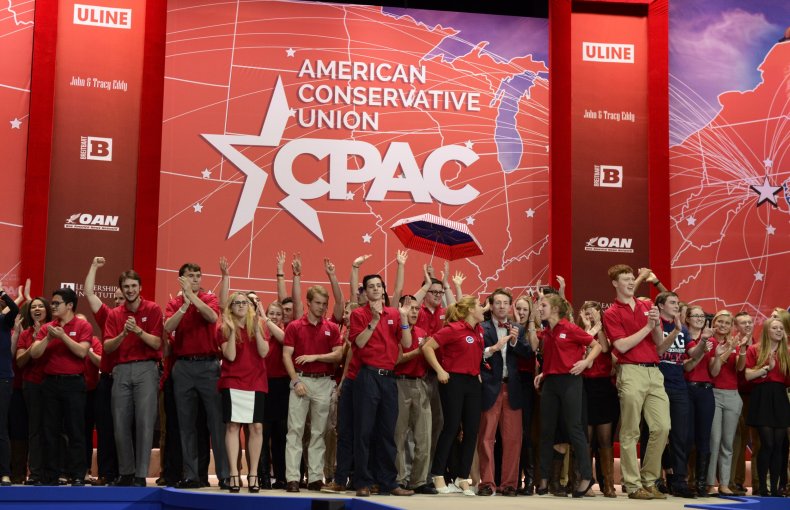 Each Republican presidential campaign is a bit like a mating ritual, as those seeking the Oval Office try to find the conservative erogenous zone. What words and positions will seduce? Back in the '90s it would have been "Monica." La plus ca change: "Hillary" is back in vogue. This year the potential presidential candidates who came to CPAC checked these boxes dutifully--Obamacare, tax cuts, etc. Each was a sure-fire applause line, the equivalent of bringing your band to Madison Square Garden and asking, "How're you doing New Yoooooork?"
If candidates wants to take it to the next level, they have to find a riff, a way to take the basic conservative ethos and make it their own, put their own spin on it. The path to the GOP convention in Cleveland next year is a conservative one, but the Republican nomination never goes to the most conservative candidate--otherwise we would have had Michele Bachmann and Rick Santorum instead of John McCain and Mitt Romney.
Consider the last Republican to win a presidential race, George W. Bush. He made his path to the White House in 2000 very much his own--a mix of front-runner elan along with an ideological twist that is little remembered because his presidency was so defined by terrorism and Iraq.
Bush ran on a direct challenge to House Republicans like fellow Texan Representative Tom DeLay, the party's leader in the chamber, not to "balance the budgets on the backs of the poor." He jettisoned talk of eliminating the Education Department and vowed to expand it. While in office, Bush presided over the biggest expansion of Medicare since Lyndon Johnson--the Part D prescription drug benefit--and more than doubled aid to fight HIV around the world.
This kind of compassionate conservatism, a quaint moniker, helped make Bush the nominee. It has come and gone. No Republican would back this now. But what a presidential candidate in 2016 should find is his or her own way to put a personal stamp on conservatism.
The answer may be in those exhibition booths. Bound around the hall and you'll see more than just booths skewering the Humane Society for being cruel to pets and Ayn Rand T-shirts and book clubs for conservative women who want "a safe space" to talk Milton Friedman instead of Nicholas Sparks.
If you want to get a hint of what's smart and likely attract get followers, come see the several booths devoted to reversing a generation--maybe two generations' worth--of knee-jerk "tough on crime" solutions. Families Against Mandatory Minimums, Conservatives Concerned About the Death Penalty and several groups advocating marijuana legalization--they're an archipelago of advocates for a new way of thinking. Bad-ass dudes in cowboy hats reading "Cops for Legal Pot" could be seen at CPAC.
The intellectual rigor behind the look at prison reform is from the Texas Public Policy Institute, which has promoted rethinking of sentences for years and has found interested listeners from Texas Governor Rick Perry to former Virginia Attorney General Ken Cuccinelli. "So many of the people I consider my fellow conservatives think that government can't do anything right," said Cuccinelli at the group's oyster-and-cocktails reception. "When it comes to justice they don't think it can do anything wrong."
It's telling that the Koch Brothers are lending support to the Coalition for Public Safety, which is trying to bring together the left and the right on criminal justice issues. It wasn't one of Rand Paul's biggest applause lines, but he got claps for discussing the case of Kalief Browder, who spent three years in New York's Rikers Island prison without trial.
Grover Norquist, the well-known head of Americans for Tax Reform, has also been a supporter of the justice reform movement. It's all a far cry from when Republicans ran as being tougher on crime than Democrats. Much of the 1988 presidential election turned on the first George Bush making his opponent seem weak on crime, for instance. Republicans are moving to a new place.
When it comes to marijuana decriminalization and legalization, they're not as far along. At CPAC, the candidates denounced Colorado's recent legalization of cannabis. But at CPAC's exhibition area, the move to legalize seems to have more buzz, no pun intended.
I spoke with Ann Lee who started Republicans Against Marijuana Prohibition after her son was left a paraplegic following a car accident in 1990. It proved incredibly difficult to get medical marijuana, and the tragedy made her an activist. She's makes free-market and other arguments to fight against a prohibition she considers to be an unadulterated overreach by big government. "Prohibition is not what Republicans should be for," she said. Her group's slogan--Marijuana Saves Lives and Prohibition Destroys Them--is a long way from being embraced by either party, but at 80 she says she feels the wind is at her back. "It's changing," she says.