How Senate Leaders Honored John McCain After His Death
John McCain's absence from the U.S. Senate was felt throughout the chamber on Monday as senators honored the GOP maverick by placing a vase filled with white roses over a black sheet draped across his desk and shared stories of their colleague.
McCain's wife, Cindy McCain, tweeted a photo of the flowers on Monday, breaking her silence on social media days after tweeting on Saturday: "My heart is broken. I am so lucky to have lived the adventure of loving this incredible man for 38 years.
"He passed the way he lived, on his own terms, surrounded by the people he loved, in the place he loved best," she wrote. McCain died a day after his family announced that he had decided to end treatment for an aggressive brain tumor diagnosed in July 2017.
On Monday, Senate Majority Leader Mitch McConnell paid tribute to the senator and celebrated Vietnam War hero, saying in his opening remarks: "John treated every day, every issue with the intensity and seriousness that the legislative process deserves.
"He would fight like mad to bring the country closer to his vision of the common good, but when the day's disputes were over, that very same man was one of our most powerful reminders that so much more unites us than divides us. That we should be able to differ completely on policy and stay united in love of our country.
"John himself once put it, 'We have nothing to fear from each other,'" McConnell continued.
"When John saw an issue the same way you did, you knew you'd just found your most stalwart ally," he said.
"You'd thank your lucky stars. Because when you found yourself on the other side of that table, as I think all of us learned, you were in for a different kind of unforgettable experience," McConnell said. "Either way, serving alongside John was never a dull affair."
"I found myself on both sides of that table over the years," the Senate majority leader confessed.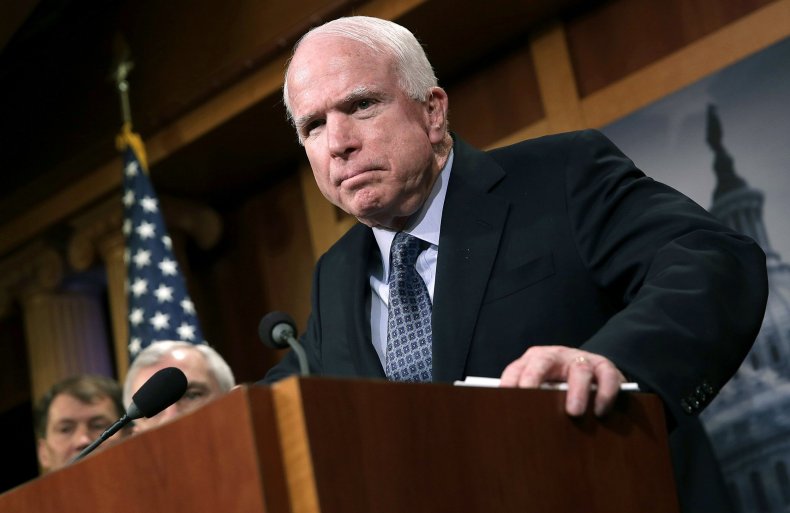 "John and I stood shoulder to shoulder on some of the most important issues to each of us, and we also disagreed entirely on huge subjects that helped define our careers," he said.
McCain saw one such defining moment when he emerged from treatment with a visible wound over his eye to single-handedly sink the GOP effort to repeal the Affordable Care Act last year, casting a thumbs-down vote in front of McConnell.
Read more: Vietnam Veteran Gives John McCain's Wife His Military Medallion
The Senate majority leader reflected on time recently spent with McCain at the late senator's home in Sedona, Arizona.
"We sat on his back porch in Sedona, under the desert sky, replaying old times," McConnell said.
Senate Minority Leader Chuck Schumer also shared a few thoughts, taking the floor to urge senators to honor McCain's legacy with a commitment to bipartisanship.
"We can try, as he did, to put country before party. We can try, as he always did, to speak truth to power," Schumer said. "And we can try, as he summoned us to try, to restore the Senate to its rightful place in our national political life."