How 'Sesame Street' Is Helping Families Eat Better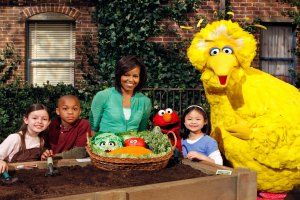 The Sesame Street set is swirling with action one warm summer day in Queens, N.Y., and NEWSWEEK gets a special sneak peek. The lights are bright, the cameras are on, and the puppeteers are crouched on the floor ready to go live with their Muppets. Opening scene: Elmo peering down at a roundish little object on a plate. "Hmm, what could this be?" he asks. Seconds later, Super Grover, decked in a blue cape, soars over the table and crash-lands next to Elmo. "It is I, Super Grover!" he announces. "Here to save the day!" But Super Grover isn't much help. His first guess: "That is a rock!" And then this: "Ah! It is fuzzy. That means this must be … a French Poodle!" It's only when the "Super Foods"—a brightly colored foursome composed of one banana, one hunk of cheese, one head of broccoli, and one whole-wheat roll—arrive that the mystery is solved. It's a … kiwi!
There's nothing like Sesame Street to make kids (and their parents) happy. And children actually listen to what the Muppets have to say. Which is why Sesame Workshop, the nonprofit educational organization behind Sesame Street, has teamed up with AmeriChoice-UnitedHealthcare, a healthcare company serving low-income adults and children, and the Merck Company Foundation to promote healthy eating habits for kids and families on limited budgets through a bilingual (English and Spanish) multimedia program. "Food for Thought: Eating Well on a Budget" is scheduled to debut in December and includes a DVD (the kiwi scene is one of several "Super Foods" vignettes), a guide for parents and caregivers about how to make nutritious and economical food choices, and some child-friendly recipes. Its target audience: the "food insecure."
That's a technical term for a vexing problem: lack of access to a sufficient amount of food because of limited funds. More than 49 million American households fit the definition, and they're vulnerable to poor health as a result. Food insecurity has increased in recent years: in 2008, 14.6 percent of U.S. households fell into the category at some time during the year—the highest rate since the Department of Agriculture began recording stats in 1995. And yet, "many families feel isolated and ashamed," says Jeanette Betancourt, vice president of Sesame Workshop's outreach and educational practices. "It's a very quiet crisis that no one really knows about."
Food insecurity goes hand in hand with "food deserts"—neighborhoods that don't have good access to grocery stores. Some 23.5 million people, including 6.5 million kids, live in low-income areas more than a mile away from a supermarket. (For more, check out the USDA's interactive Food Environment Atlas, which provides info about food access and socioeconomic characteristics by county.) Grocery stores are the place to go for fresh produce, variety, and affordability; convenience stores, which tend to sell processed, packaged snacks, are not. But without a car or decent public transportation, which is a reality for many low-income Americans, the corner store is the only option. A diet of high-calorie, high-fat foods leads to obesity, and tends to be the paradoxical outcome to poverty.
All of this falls hardest on particularly vulnerable populations. New stats released by the Centers for Disease Control last week show that obesity is on the rise among American adults, and the rates among blacks (36.8 percent) and Hispanics (30.7 percent) are significantly higher than those among whites (25.2 percent). Studies show a clear connection between weight and income. In the most recent annual report, "F as in Fat," published by the Trust for America's Health and the Robert Wood Johnson Foundation, researchers found that about one third of adults earning less than $15,000 per year were obese, compared with one quarter of those in the $50,000-plus category. "The link between poverty, race, and obesity is undeniable," says Angela Glover Blackwell, founder and CEO of PolicyLink, a research institute focused on economic and social equity.
Change can happen in innovative and collaborative ways. The Food Trust, a nonprofit based in Philadelphia, runs 30 farmers' markets in greater Philadelphia that accept food stamps as well as vouchers provided by the Farmers Market Nutrition Program, which is affiliated with WIC, the government's supplemental nutrition program for women and children. Today, 25 communities in the Philadelphia area are on a waiting list to get farmers' markets of their own. "There's a misconception that folks in low-income areas don't care about fresh food," says executive director Yael Lehmann. "The truth is that the markets are really popular and successful, even with very limited funds for advertising."
The Food Trust is also working locally with corner-store owners to improve the quality of the foods they sell. And through the Pennsylvania Fresh Food Financing Initiative (FFFI), a private-public partnership, grants and loans are being provided to grocery-store operators so they can open up or renovate existing stores in underserved areas. Since its launch in 2004, FFFI has funded 83 supermarket projects throughout the state. Other states are now replicating the model. And after a visit by government officials last summer, first lady Michelle Obama, Treasury Secretary Tim Geithner, and Agriculture Secretary Tom Vilsack went back to Philadelphia earlier this year and announced the formation of a $400 million federal model called the "Healthy Food Financing Initiative." "If you can do it here," said the first lady, who has made access to healthy, affordable food a pillar of her "Let's Move" initiative to combat childhood obesity, "we can do it around the country."
Food insecurity. Food deserts. This is heavy stuff for Sesame Street. But the Workshop is tackling it in the way it does best: with simplicity and humor. The project does provide info on how to make good food choices when there are limited options. But none of the scenes in the DVD mentions poverty, income, or obesity. The focus instead is on trying new foods, exploring a variety of nutritious and colorful foods (in the words of the whole-wheat roll: "Eating a rainbow of healthy, different colored foods makes you stronger and smarter!"), eating meals together, and making sure to chow down on breakfast. The Workshop started focusing on young eating habits six years ago when it launched "Healthy Habits for Life,"an initiative aimed at increasing awareness about good nutrition early in life. The new program, which will be distributed through UnitedHealthcare, Merck, and a variety of other outlets, including the National WIC Association and the hunger-relief charity Feeding America, continues to take full advantage of the Muppets' appeal. And they do have appeal: several years ago, workshop researchers gave kids a choice between a chocolate bar and broccoli; three quarters of the kids chose the candy. But when researchers put an Elmo sticker on the broccoli and an unknown character on the chocolate, the numbers changed for the better, with half of the kids going for the veggie. "We thought we should get into this because we have a megaphone," says Workshop president and CEO Gary Knell. Let's see how loud it can get.