How SNL Covered the Chinese Balloon: 'Well, You Got Me'
Saturday Night Live (SNL) has focused in on the Chinese spy balloon controversy that has gripped the nation.
On Saturday, February 4, the Pentagon announced a Chinese spy balloon had been brought down off the coast of South Carolina on the orders of President Joe Biden.
According to the Pentagon, the balloon had attempted to gain surveillance information about strategic sites across the continental U.S.
The bizarre situation proved ripe material for the SNL cast to lampoon.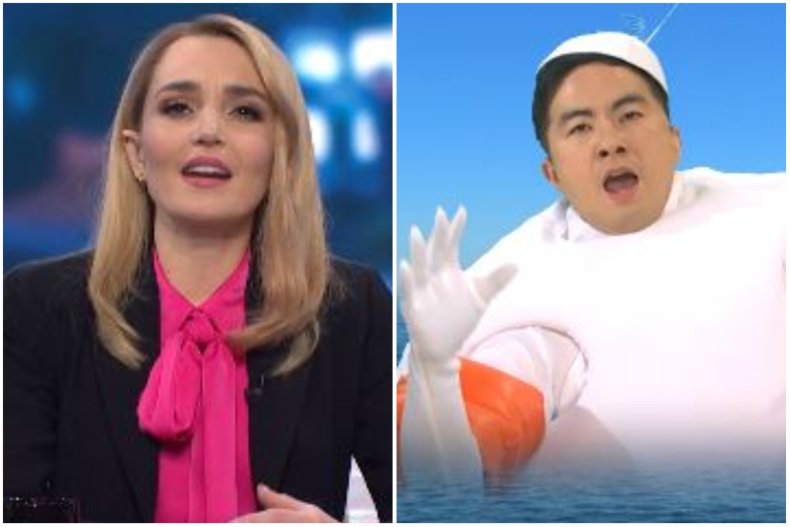 Chloe Fineman as MSNBC anchor Katy Tur opened a segment of the show by commenting: "I'm getting word we've located the remnants of the balloon and I'm told we have a live feed, let's see how it looks."
The camera then cut to Bowen Yang as the balloon, complete with inflatable armbands, complaining while he floated in the ocean.
Yang said: "Well, you got me. Congrats, you shot a balloon."
He later added: "I entertain you, people for four days and then get shot by Biden. Can't believe I'm Joe's Osama [Bin Laden]."
When Fineman as Tur asked the balloon why it was flying over Montana, Yang replied he loves the show Yellowstone.
Yang as the balloon then took issue to having his size being compared to buses, exclaiming "Ouch."
He continued: "I'm a balloon, so that's my body. How would you like it if someone compared your width in buses? I'm sorry I'm not camera ready."
Fineman's Tur then questioned the balloon asking if he was spying on the American people, something that led to a frank exchange about data privacy and the apparent willingness of people to casually share it.
Yang commented: "Everyone's being surveilled constantly, but it's always 'shoot the balloon' and never 'unplug Alexa.'
"If you all care so much about your data, why do you all keep your bank passwords in the notes app. You mail your literal DNA to a company to find out if you're, like, 10 percent French."
Yang then vigorously denied that he was spying on the U.S. and that people were freaking out over the fact he was "a Chinese balloon."
The Chinese Foreign Ministry has described the real-life object at the center of media attention as a "civilian airship" that was mostly used to monitor the weather, an explanation rejected by the Biden administration.
Colombia's air force has said it had also monitored an unidentified balloon in its airspace although it was later determined it did not represent a threat to national security and defense.
Newsweek has contacted the White House for comment.