How Some Crypto Companies Plan to Thwart Possible Russian Sanctions Evasion
At least four cryptocurrency companies are making moves to stop anyone who may try to use digital currency to evade newly implemented sanctions against Russia.
In response to Russia's invasion of Ukraine, the Biden administration on Thursday enacted the new measures to hurt the country's financial system. They include locking assets of large Russian banks, imposing export controls and sanctioning business oligarchs, the president said. But there is some fear that wealthy individuals close to Russian President Vladimir Putin could use cryptocurrency to get around the various sanctions, according to a New York Post report.
A Coinbase spokesperson told Newsweek the company is taking a number of steps to ensure that does not happen. For instance, the company, which was founded in 2012 and says it's "building the crpytoeconomy," is constantly screening global watchlists and blocking questionable IP addresses.
"[We're] conducting sanctions screening as part of our onboarding KYC protocols, regular screening as global watch lists are updated, and monitoring and blocking relevant IP addresses services being provided in prohibited jurisdictions," the spokesperson said.
Additionally, the company has implemented top-of-the-line blocklists and technical systems to stop transactions that originate from problematic addresses.
"[We're] utilizing our cutting-edge blocklist and other technical systems to prevent transactions going to or coming from blockchain addresses that have either been identified as prohibited, such as by the [federal] Office of Foreign Assets Control, or that we otherwise have identified as being possibly controlled by sanctioned individuals or entities," the Coinbase spokesperson said.
Coinbase is also working closely with "various industry-leading threat intelligence vendors who are focused on monitoring emerging risks and helping identify applicable threat actors and their networks. Separately, we proactively use blockchain analytics to monitor wallets to identify additional illicit activity," the spokesperson said.
The blockchain infrastructure already has "built-in mechanisms to help identify and mitigate bad actors, and Coinbase has long-standing KYC and AML procedures in place. We remain vigilant to ensure we are playing our part and meeting our obligations in the context of this rapidly evolving conflict," the spokesperson added.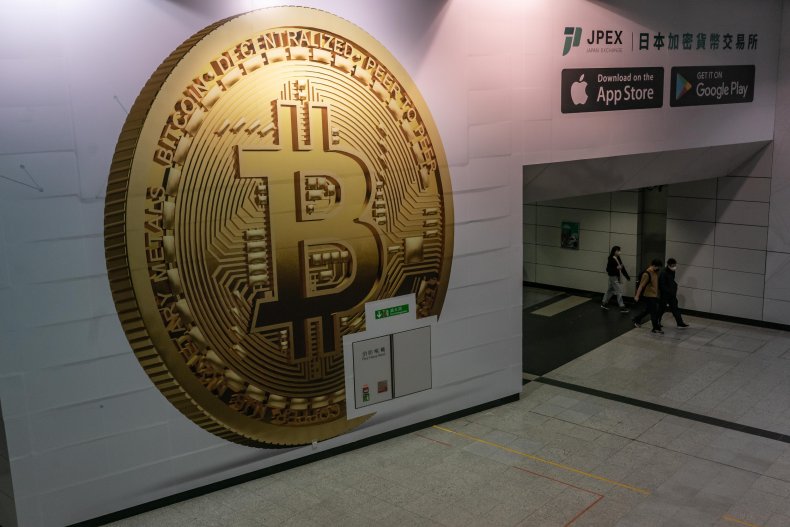 Gemini is another cryptocurrency company that, according to its website, wants "to help you buy, sell, and store your bitcoin and cryptocurrency." It told Newsweek it is also taking measures to stop those who may try to evade the Biden administration's sanctions on Russia.
A Gemini spokesperson said the company is subject to and follows all banking compliance standards in New York.
"Gemini is a regulated crypto platform subject to the capital reserve and cybersecurity requirements, and banking compliance standards, set forth by the New York State Department of Financial Services and the New York Banking Law. This includes anti-money laundering and KYC obligations," a Gemini spokesperson said.
While the company is not even operating in Russia and Ukraine, it is still taking safety measures.
"We are conducting a robust review of customer accounts and activity to identify any exposure to sanctioned parties or regions and will take appropriate steps as necessary," the spokesperson said.
Another cryptocurrency company, eToro, told Newsweek that "the eToro investment platform is not open to users in Russia." A spokesperson said that eToro is "rigorous in its compliance with all relevant rules and regulations, including sanctions."
In response to Newsweek, a Kraken spokesperson said, "given the global scale of our operations, Kraken has been closely monitoring developments in Ukraine and Russia and has acted accordingly following the imposition of sanctions by the U.S. and other governments on the Russian Federation. As this situation remains highly fluid, we continue to liaise with relevant authorities to ensure we are regulatory compliant across all our jurisdictions."
Since the Russian invasion of Ukraine began late Wednesday night, cryptocurrency has been used to support those fighting in the Eastern European country. More than $4 million in bitcoin has been donated to the Ukrainian army and volunteer groups in the country, according to CNBC. The donations included a single cryptocurrency donation of $3 million, which came in on Friday.
Newsweek reached out to eight other cryptocurrency businesses for comment but did not hear back before publication.
Update 02/25/22, 2:30 p.m. ET: This story has been updated with a comment from eToro.
Update 02/25/22, 5:20 p.m. ET: This story has been updated with a comment from Kraken.