How Stacey Abrams Turned Sore Loserdom Into a Political Empire | Opinion
The following is an adapted excerpt from the newly released "The Myth of Voter Suppression: The Left's Assault on Clean Elections" (Bombardier Books).
Under the pen name "Selena Montgomery," Stacey Abrams wrote eight romance novels. One of the novels is titled Reckless, and another is Deception. Both titles are appropriate descriptions for her rhetoric since losing the 2018 Georgia governor's race by about 55,000 votes to Republican Brian Kemp and claiming she really won.
Her continuous claims are reckless in undermining trust in elections and setting a standard for partisans to insist if their side doesn't win, the game was rigged. It's deception because, well, she clearly lost her election. Since the Coca-Cola Company is based in Georgia, we might even call the absurd claims from Abrams the Big Lie Classic. "I did win my election," Abrams told an audience in Washington, D.C., in March 2019. "I just didn't get to have the job."
She had an impressive showing for a state that hadn't elected a Democrat to statewide office in 15 years, hadn't cast its electoral votes for a Democratic presidential nominee since 1992, and had never elected a woman or an African American to statewide office. She had incredible political talents and fundraising skills and came very close to winning—which she deserves credit for. But she didn't win.
Although she didn't invent the voter suppression hysteria, Abrams has turned it into an industry like no other politician. She has never conceded her loss was legitimate—and why would she if claiming she won has made her a celebrity? After starting Fair Fight Action, she became a regular on the Democrat speaking circuit, routinely introduced—without evidence—as the rightful governor of Georgia.
Had Abrams won the 2018 election, she would likely be far less of a political celebrity as she juggled pesky problems such as fixing Georgia highways, funding public schools and public universities, crime prevention, balancing the state budget, and other cumbersome tasks that governors must handle. It is difficult to think of a single candidate who gained as much from losing an election.
The media is fond of calling out Donald Trump for claiming without evidence that the 2020 election was rigged. Abrams has been doing the same—and she lost the state of Georgia in 2018 by about five times as many votes as Trump lost the Peach State by in 2020. Still, she has only gotten fawning media treatment.
FiveThirtyEight reported that 55% of eligible Georgians voted in the 2018 midterm election. That means a 21% increase for the Georgia midterm average, ranging from 1982 to 2014, turned out in 2018 to vote—which is rather astounding. Black voter turnout reached a record in 2018 in Georgia. So, if Kemp and the state of Georgia were engaged in a nefarious voter suppression plot, they did a horrible job pulling it off.
Nevertheless, speaking at an Annie's List fundraiser for progressive women candidates, Abrams called Kemp an "architect of voter suppression" and was quite blunt. "If you want to run for office again, you've got to concede the election so that everyone knows that you're a good sport. I am not," Abrams said.
No kidding.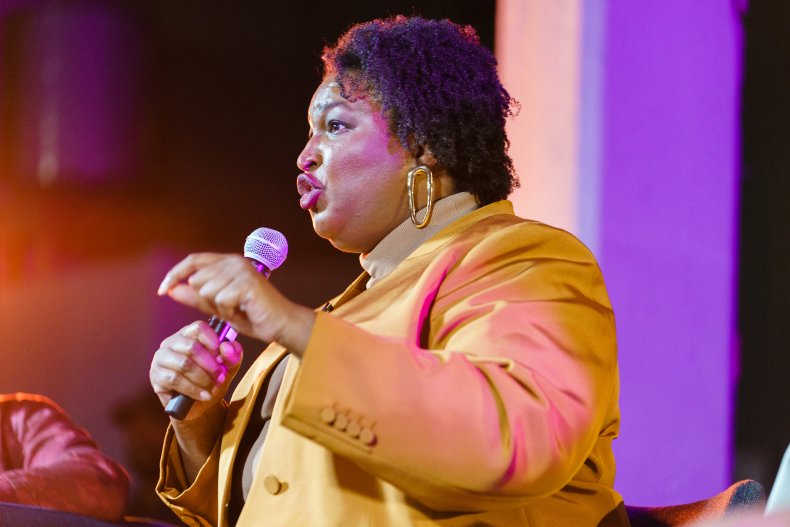 In the same speech, she declared, "I'm here to tell you a secret that makes Breitbart and Tucker Carlson go crazy: We won."
Outside the political realm, Abrams was an Atlanta tax attorney and founded NOW Account Network Corporation, which is a payment services system for businesses.
This tax lawyer who made money advising others on taxes entered the 2018 governor's race after racking up a $50,000 debt to the Internal Revenue Service. She said this is because she was spending much of her money to assist her family in Mississippi who were devastated by the 2005 Hurricane Katrina.
Separate from Abrams' Fair Fight Action, a 501(c)(4) group that advocates for policy, she established Fair Fight PAC, which is engaged directly in campaigns. Abrams has also been a board member for the Center for American Progress, the most prominent think tank on the Left.
Abrams' activism may have put things in motion for many of the problems in Georgia in the 2020 election. In 2019, under pressure, the Republican-controlled legislature passed, and Kemp signed into law, a provision to relax signature requirements. That wasn't enough. The Democratic Party of Georgia, the Democratic Senatorial Campaign Committee, and the Democratic Congressional Campaign Committee sued Georgia Secretary of State Brad Raffensperger to get the state to make further changes to matching signatures on mail-in ballots. Raffensperger entered a consent decree with the Democrat plaintiffs that made it more difficult to reject mail-in ballots that seem suspicious.
As it turns out, being a sore loser pays with regards to expanding speaking gigs and book deals. When Abrams ran for governor in 2018, her debts were an issue, and she had a net worth of $109,000. When she ran again, according to her March 2022 financial disclosure report, she had a net worth of $3.17 million.
She has certainly been able to drive the conversation, having introduced the phrase, "Jim Crow 2.0" into the political lexicon after the Georgia legislature passed S.B. 202, the election reform bill that added a voter ID requirement to absentee ballots and restructured the state board of elections.
"Republican state leaders willfully undermine democracy by giving themselves authority to overturn results they do not like," Abrams said. "Now, more than ever, Americans must demand federal action to protect voting rights as we continue to fight against these blatantly unconstitutional efforts that are nothing less than Jim Crow 2.0."
To demonstrate the disingenuousness of her argument, Abrams championed the New Jersey early voting law, a so-called voting rights bill, making a virtual appearance when Democratic Gov. Phil Murphy signed the law. In her role as a Democrat national spokesperson on voting legislation, Abrams exclaimed, "I am so excited to be looking up, looking at New Jersey, knowing that New Jersey is taking us in the right direction."
The "right direction" means nine fewer days of early voting than the 17 days enacted under the Georgia bill she called "Jim Crow 2.0."
Abrams is back as a candidate in 2022 for governor. In one sense, that's surprising. If she runs again and loses, her star power will quickly evaporate; however, she could likely continue to be a national player through her interest groups. But loser stardom could not last forever. Winning the Georgia governor's race would make her an instant presidential contender in either 2024 or 2028.
If she wins, it could be difficult for her to make the case that a system that made her governor was rigged. She could argue she should have won by a bigger margin.
And if she loses again, well, we already know what she will say.
Fred Lucas is the manager of investigative projects at The Daily Signal and author of the newly released "The Myth of Voter Suppression: The Left's Assault on Clean Elections."
The views expressed in this article are the writer's own.