How Starbucks Got Its Mojo Back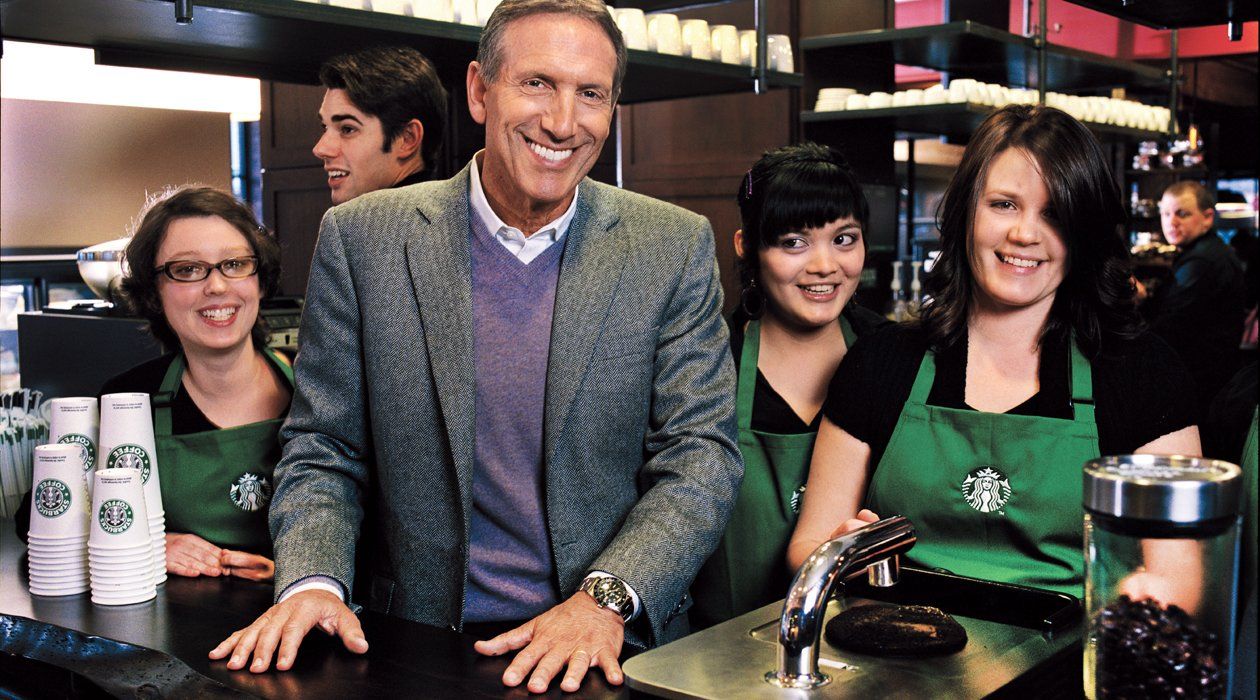 My love of coffee developed when I first went to work as head of marketing for the four stores of a small company in Seattle named Starbucks. That was in 1982. I didn't truly discover coffee's magic, however, until one year later on a business trip to Italy.
Strolling from my hotel, I popped into a small coffee bar.
"Buon giorno!" an older, thin man behind the counter greeted me, as if I were a regular. Moving gracefully and with precision, he seemed to be doing a delicate dance as he ground coffee beans, steamed milk, pulled shots of espresso, made cappuccinos, and chatted with customers standing side by side at the coffee bar. Everyone in the tiny shop seemed to know each other, and I sensed that I was witnessing a daily ritual.
"Espresso?" he asked me.
I nodded and watched as he repeated the ritual for me, looking up to smile as the espresso machine hissed and whirred with purpose.
This is not his job, I thought, it's his passion.
For a tall guy who grew up playing football in the schoolyards of Brooklyn, being handed a tiny white porcelain demitasse filled with dark coffee crafted just for me by a gracious Italian gentleman called a "barista" was nothing less than transcendent. This was so much more than a coffee break; this was theater. An experience in and of itself.
My bosses did not share my dream of recreating the Milan coffee bar experience in Seattle, so I left Starbucks and opened my own coffeehouses. I called my company Il Giornale.
In 1987, I found myself in a position to buy, with the support of a few investors, my former employer's six stores and roasting plant. I merged them with my own stores and chose to keep the name Starbucks Coffee Company.
By the end of that year, we had eleven stores. By 2000, we had 2,600 stores in thirteen countries and revenue just shy of $2 billion. That year I decided to step down as CEO to become chairman, moving away from day-to-day operations to focus on Starbucks' global strategy and expansion.
In 2006, as I visited hundreds of Starbucks stores in cities around the world, the entrepreneurial merchant in me sensed something intrinsic to Starbucks' brand was missing. An aura. A spirit. The stores were lacking a certain soul.
It was with a heavy heart that, early one morning in February 2007, I sat at my long kitchen table in Seattle, alone, handwriting a confidential memo to Starbucks' senior leaders. Outside, the morning would be dark for another two hours as rain drizzled down our kitchen windows. Rainy winter mornings like this one were ideal for contemplation.
I spelled out my concerns. New automatic espresso machines that we'd installed in our stores, while effectively increasing efficiency, were too tall, which kept baristas from engaging with customers in the same manner that had enchanted me back in Milan in 1982.
We had also removed much of the romance because the full-bodied, suggestive, rich aroma of freshly ground coffee had become weak to nonexistent, due in large part to how we shipped and stored ground coffee, as well as the intrusion of other aromas (see sidebar). Without the coffee aroma, Starbucks was losing a way to tell a story that transported customers out of their day to far-flung places like Costa Rica and Africa. And the stores' design, so critical to atmosphere, seemed to lack the warm, cozy feeling of a neighborhood gathering place.
The numbers also told a dispiriting story. The growth in our store traffic was slowing to levels we had never seen. I was faced with a dilemma. On the one hand, I wanted to support our senior leaders and forge ahead with our mutual growth goals. On the other hand, the deterioration in the store experience greatly disturbed me.
As December 2007 came to a close, I knew that Starbucks would not make its projected earnings and that I would return as CEO.
Only weeks after my return, I entered a large event space in Seattle's Palace Ballroom for a three-day brainstorming retreat conducted by a consulting firm from San Francisco, SYPartners. Historically, I was not a fan of business consultants. Rarely had I looked to outsiders to tell Starbucks what Starbucks needed. But given the company's perilous situation, I was willing to challenge even my own past assumptions.
Someone handed me a pack of index cards and a white iPod and, following instructions, I put on the earphones like most everyone else in the room.
The familiar rhythm of "Come Together" was a jolt of joy on the chilly morning. I walked over to a table displaying oversized pictures of bright album covers and photos from the Beatles' remarkable career and looked at the message on one of the cards I'd been given: "What does it take to reinvent an icon?"
Wow. There could not have been a more apt question for Starbucks at this juncture. Using the Beatles as a metaphor swept us into the creative process, and we spent the rest of the day reflecting. What did John, Paul, George, and Ringo teach the world about the art of reinvention? We also considered other brands that had evolved, some radically, yet preserved their stature after taking a hit. Brands such as Apple, Gucci, Mini Cooper, even New York City. How could their experiences inform Starbucks? These were questions that would not be answered that day.
In the first half of 2008, Starbucks was entering a tremendously chaotic period. There was a lot the company could try to control, but so much we could not—the tanking economy, competition, vocal critics. In the first three months of our fiscal year our same-store sales—that all-too-important measure of retail success—had gone up by only 1 percent. One percent after 16 years of 5 percent or better growth! It was Starbucks' worst performance since the company went public in 1992.
At a board meeting that spring, I sat transfixed as Arthur Rubinfeld, Starbucks' president of global development, and Mike Malanga, who headed development in the US, recommended that the company close about 200 company-operated US stores.
"Are you sure that's enough?" a director asked.
Arthur and Mike looked at each other and at me. We already knew that this number was huge for a retail organization that had never shuttered more than a handful of stores in its entire existence.
Other retailers were suffering from sales slumps as consumer confidence hit a 16-year low, but none had announced such drastic steps—at least not yet. What's more, we'd already pulled the plug on 348 planned store openings. For me, closing so many stores felt like a defeat, even if it was the right thing to help ensure the company's health.
I deeply wanted people to fall back in love with Starbucks and recapture the essence of what we set out to do: inspire the human spirit. I realize this is a lofty mission for a cup of coffee, but this is what merchants do. We take the ordinary—a shoe, a knife—and give it new life, believing that what we create has the potential to touch others' lives because it touched ours.
During my first months back, I made many decisions. Two were particularly controversial. First, Starbucks would retrain 135,000 baristas at the same time by closing all of our US company-owned stores during a single afternoon. Despite being bombarded with warnings that this would be a public relations and financial mistake, we went ahead and closed more than 7,000 stores for three hours.
Pouring espresso, we reminded baristas that afternoon, is an art. If poured too fast from the spout into a shot glass, like water flowing from a faucet, the espresso's flavor will be weak and the body will be thin. A shot poured too slow means the grind is too fine, and the flavor will be bitter. The perfect shot looks like honey pouring from a spoon. It is dense and tastes caramely sweet.
No doubt, after that Tuesday, thousands of Starbucks espresso shots were poured like honey. In the weeks following the retraining, quality scores for our beverages went up and stayed there.
My second contentious decision was to commit to holding a leadership conference for our almost 8,000 US store managers and 2,000 more partners [Starbucks' term for its employees]. I did not know how we would justify to Wall Street the millions of dollars the massive event would cost, but I viewed it as a critical deposit in the evaporating reservoir of trust between our people and the company. But if done right, the leadership conference would be a galvanizing event, a sincere reminder of what Starbucks stands for, and what we needed to do to survive.
Almost every major US city wanted to host us. The food and lodging revenue alone—a significant piece of the conference's $30 million price tag—would be a windfall for any local economy.
We chose New Orleans.
To some people this seemed absurd. Starbucks had never held a leadership conference outside Seattle, and coordinating travel and lodging and meals and programs for tens of thousands of people in a hard-to-reach city that was still recovering from 2005's Hurricane Katrina would be a logistical nightmare. And it was.
Each day, in addition to discussing how to improve our business, groups of partners spent five hours volunteering throughout the city—restoring parks, building playgrounds, cleaning up neighborhoods. I spent my volunteer hours painting a house, one of the 86 homes that our people worked to repair that week.
All told, Starbucks' partners volunteered approximately 50,000 hours of time in New Orleans. I was beyond proud of the impact we had on the city, as well as proud of the company that we had gone there to rebuild. Despite our financial challenges, Starbucks was not abandoning its values.
Since my return as CEO, many sustaining initiatives had blossomed, from redesigning shorter espresso machines and once again grinding beans in our stores, to customer loyalty programs and new products. Although no one thing is responsible for transforming the company, I took special pleasure in Starbucks' surprise entry into the huge instant coffee market with VIA, which we finally launched in February 2009.
Twenty-four years prior, an entrepreneurial cell biologist from Sacramento by the name of Don Valencia had walked into our Pike Place store and handed a barista a small pouch of soluble coffee powder that he'd created. In his free time, Don was an outdoorsman who disliked the sour, watery instant coffee that he and his wife, Heather, drank on their hikes. So Don turned his kitchen into a makeshift lab where he made a concentrated form of coffee grounds, which he then brought to his office laboratory where he subjected the grounds to the same delicate process he used on cells in his research on autoimmune diseases, trying to find the best way to dehydrate the concentrate but preserve the flavor and aroma. Eventually, Don moved to Seattle and joined Starbucks, where he spent years working on a secret assignment he labeled JAWS, an acronym for just add water and stir. Neither of us imagined that something sounding so simple would prove to be so very complex. Scaling the process that Don had conjured up in his lab so that a high-quality powder could be produced in large batches for consumer use proved incredibly difficult, and there were periods when JAWS took a back seat to other research projects.
By 2007, we were very close. Despite some internal pressure that instant coffee had no place at Starbucks, I pushed our engineers and coffee experts to make it happen. They experimented, tweaked, and tasted and tweaked again until one day they all took a sip and agreed. They had exceeded their own expectations so much that, when added to water and stirred, the powder produced a cup of coffee as rich and distinctive as Starbucks' fresh brewed.
Even before we officially launched VIA, it was condemned as a desperate move by a rash of bloggers who'd never even tasted it. Then, at a press conference on February 17, 2009, I looked out at the influencers of public opinion as they quietly sipped the small cups of Colombian and Italian coffee we'd poured for them as part, we had said, of a routine coffee tasting, which often precedes Starbucks' meetings. Finally, with the tempered excitement of a kid quietly unloading a great secret, I revealed to the crowd that both coffees were—surprise—instant. VIA Ready Brew was part of a long-term strategy for Starbucks.
"Yes, it fooled us," The New York Times' Joe Nocera would write.
VIA was among other important elements that, in the fall of 2010, enabled Starbucks to post its best performance in its almost forty-year history—despite past predictions that our best days were behind us. Today, Starbucks has more than $10 billion in annual revenue and serves more than fifty million visitors a week in seventeen thousand stores in fifty-four countries.
And even after three decades, coffee continues to capture my imagination because it is a beverage about individuals as well as community. Thousands of baristas around the world. Eighty roast masters at six Starbucks plants on two continents. A single Rwandan farmer. Like a symphony, coffee's power rests in the hands of a few individuals who orchestrate its appeal. So much can go wrong during the journey from soil to cup that when everything goes right, it is nothing short of brilliant!
Except from Onward: How Starbucks Fought for Its Life Without Losing Its Soul, by Howard Schultz with Joanne Gordon, 384 pages, Rodale, $25.99