How to Watch Easter Sunday Services Online—Stream Pope's Mass at Vatican
Easter Sunday may look a little different again this year because of COVID-19 restrictions, but that doesn't mean Christians cannot celebrate the holiday by attending Easter services. Depending on the guidelines in your area, however, it may not be possible to do this in person.
Thankfully, churches across the U.S. and around the world will be streaming Easter services today, allowing people to take part from the safety of their own homes.
Churches have been live-streaming services for the past year, including at Easter 2020, so you may already be familiar with attending your church virtually. If not, read on to find out more.
How to Watch Easter Sunday Services Online
First, head to your church's website or social media accounts to see if they have posted information about a virtual event. If they are hosting virtual Easter Sunday services, they will likely have shared a link to the stream with instructions on how to join.
If you don't have a church that you regularly attend or you'd like to do something special for Easter Sunday, a virtual service is a great way to join the congregation at world-famous places of worship, including the Vatican.
For Easter Sunday, the Vatican will be hosting Holy Mass at 10 a.m. local time or 4 a.m. ET. If you miss the live stream, a video will likely be uploaded to the Vatican YouTube channel later.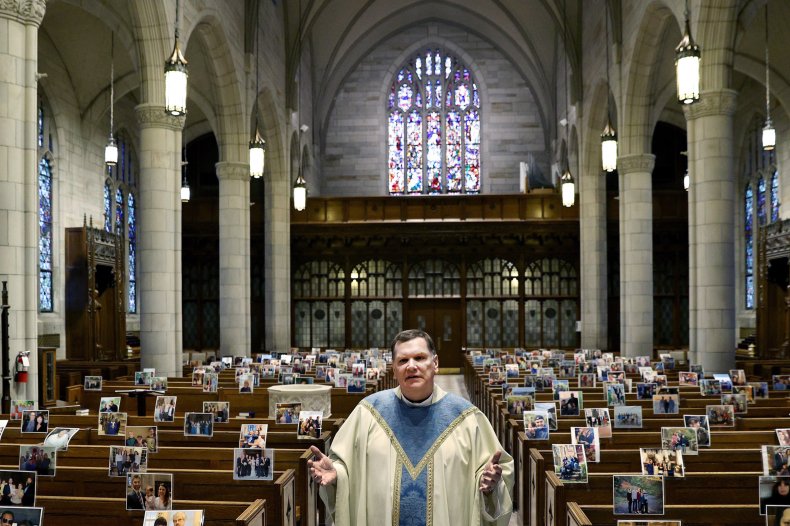 If a 4 a.m. start is impractical, there are plenty of churches in the U.S. that will be live-streaming their services at more reasonable times on Sunday.
St. Patrick's Cathedral in New York City will host a virtual service at 10.15 a.m. ET and Spanish Mass at 4 p.m. ET. The stream will be hosted on the cathedral's website and on YouTube.
Grace Cathedral in San Francisco will host Service of the Word via a Zoom meeting at 8.30 a.m. PT, followed by Easter Sunday Eucharist at 11 a.m. PT, which will be live-streamed. At 6 p.m. PT, the cathedral will host Vesper Light: Easter Sunday via Zoom and a live stream.
The Washington National Cathedral will also be hosting a virtual Easter Mass at 11.15 a.m. ET, which can be accessed via the cathedral's Facebook and YouTube pages.
These are just some of the virtual events taking place this Easter Sunday. Be sure to check with your local and state churches for more information on live streams happening near you.
After "attending" a church service, consider setting up a virtual meeting with loved ones with whom you would normally be spending the holiday. Keep an eye out for other virtual events taking place at Easter and be sure to enjoy the day safely.