2016 Republican National Convention in Cleveland: What You Need to Know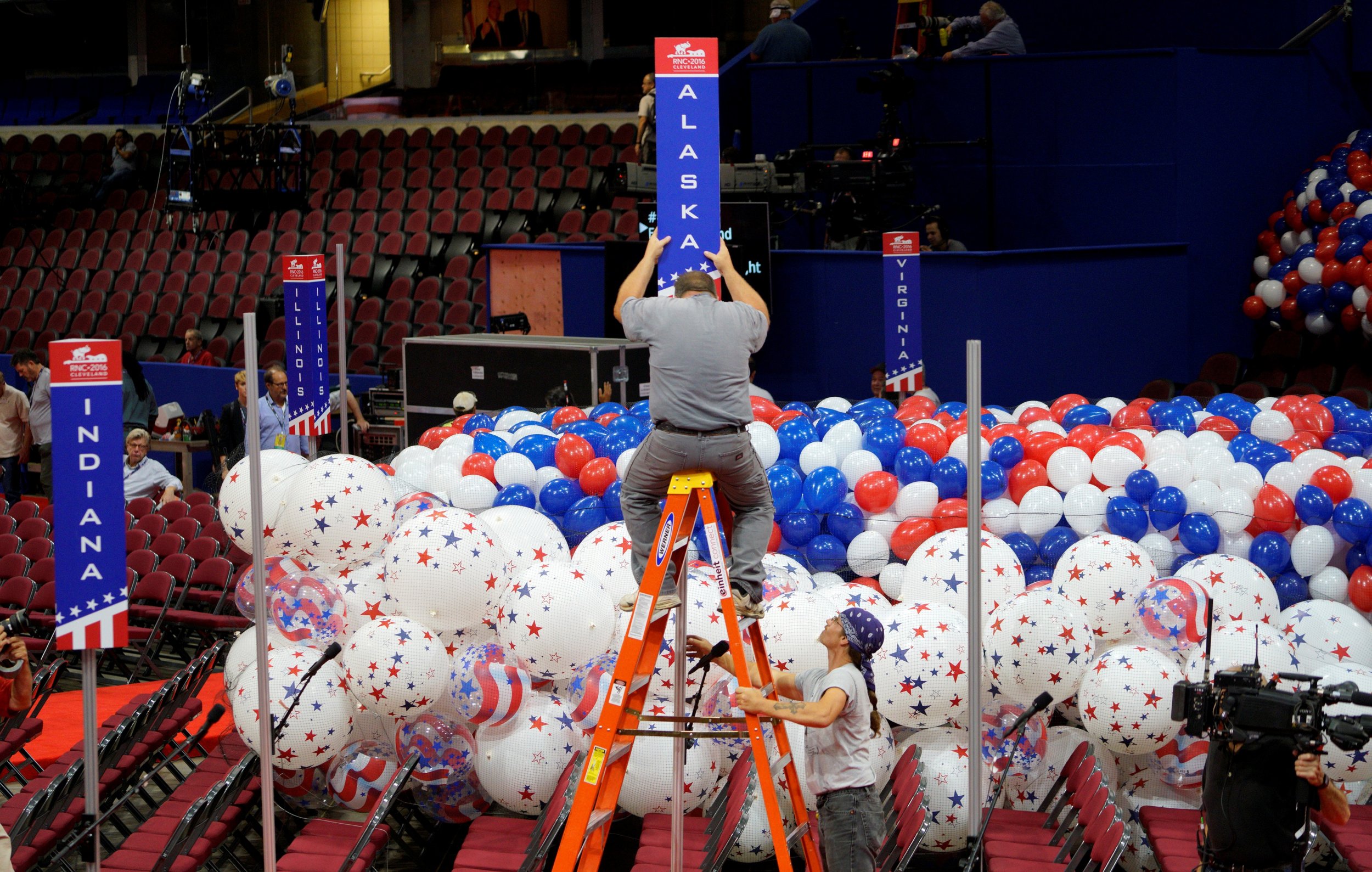 Welcome to the 2016 Republican National Convention in Cleveland, where Donald Trump is expected to be officially selected as the party's presidential nominee. Here's what's happening during the four-day event.
Why Cleveland?
In July 2014, the Republican National Committee selected Cleveland as the site for its 2016 convention. The city, located in the populous swing state of Ohio, beat Dallas as the host location for the GOP's presidential nominating contest. President Barack Obama edged out GOP presidential nominee Mitt Romney in the Buckeye State in 2012, and he topped John McCain there in 2008. Ohio is also home to Governor John Kasich, a former Trump rival for the presidential nomination who is not on the convention speakers' list.
Where and When Will Most of the Action Take Place?
The convention begins Monday and lasts through Thursday, and it will take place inside the city's Quicken Loans Arena. Each day's session starts at a different time: Monday at 1 p.m. Eastern time, Tuesday at 5:30 p.m., Wednesday at 7 p.m. and Thursday at 7:30 p.m. By the end of the week, the party will have voted on and approved a platform, and it will have officially nominated its presidential candidate, who will face off in the November general election against the Democratic Party nominee, expected to be Hillary Clinton.
Who Will Be There?
The initial list of speakers included four people who were viewed as finalists in the contest to be Trump's running mate: former House Speaker Newt Gingrich, New Jersey Governor Chris Christie, Alabama Senator Jeff Sessions and a retired Army lieutenant general, Michael Flynn. Also slated to address the crowd are a few of Trump's former GOP rivals in the presidential primaries: Texas Senator Ted Cruz, Wisconsin Governor Scott Walker, former Arkansas Governor Mike Huckabee and Dr. Ben Carson.
Most of the New York billionaire's close family members (excluding his 10-year-old son, Barron) also will speak: his wife, Melania, and all four of his adult children, Donald Jr., Ivanka, Eric and Tiffany.
Protesters and members of a coalition that has been attempting to stop Trump from winning the nomination also are expected to converge on Cleveland. The convention's rules committee, which decides on the official guidelines that will govern the event, met last week and voted down the effort by the anti-Trump movement.
The nominee typically addresses supporters on the last night of the convention, so Trump likely will speak Thursday. His running mate, Indiana Governor Mike Pence, also probably will make a prime-time appearance.
The RNC hasn't yet released the final speakers' timeline. Officials say the schedule will be made public soon.
Who Won't Speak?
Many of the party's high-profile leaders won't attend the convention this year. That group includes Romney, Kasich and, surprisingly, Sarah Palin, the 2008 vice presidential nominee who is a strong advocate for Trump.
Among other ex-Trump rivals who are not scheduled to speak are Florida Senator Marco Rubio, former Florida Governor Jeb Bush and South Carolina Senator Lindsey Graham.
The RNC has noted the list could change. Tim Tebow, a retired NFL quarterback who has often made his religious views public on and off the football field, has said he won't address the convention, despite multiple media reports saying otherwise. "It's amazing how fast rumors fly. And that's exactly what it is. A rumor," Tebow said Thursday in an Instagram video post.
And Rabbi Haskel Lookstein, who converted Ivanka Trump to Judaism, has backed out of delivering the opening prayer at the event. He was included on the initial speakers list that was released Thursday. "Unfortunately, when my name appeared on a list of speakers at the convention, without the context of the invocation I had been invited to present, the whole matter turned from rabbinic to political, something which was never intended," he said in a letter posted to Facebook on Friday.
Watching From Home
There are several different ways to follow the convention. CNN began offering 24-hour coverage over the weekend, and will continue through the week. C-SPAN is hosting live coverage during the day and evening, beginning Monday. And the major news networks will devote prime-time coverage on the days of the convention.
Twitter has partnered with CBS News to livestream the convention on its desktop and mobile apps, accompanied by a stream of related tweets. PBS and NPR will provide live prime-time coverage from 8 p.m. to 11 p.m. Eastern time each night on both services.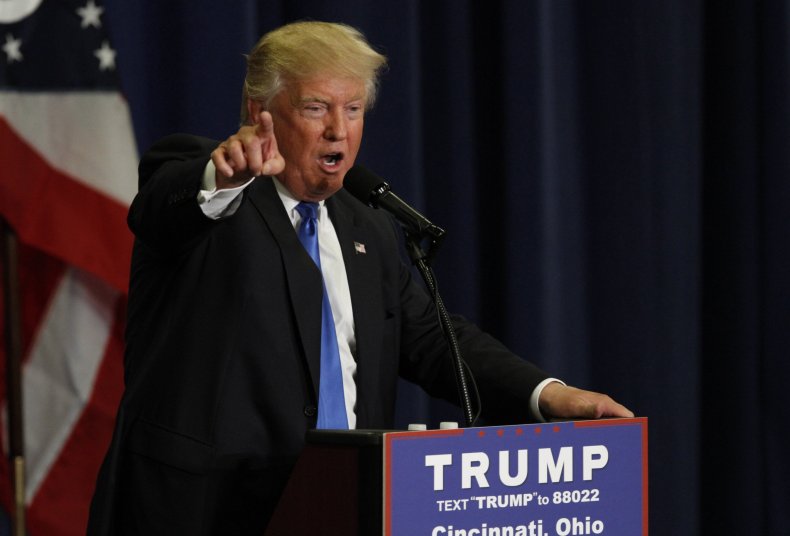 The mobile app, called RNC 2016, will include live-streaming of speeches and the broadcast of 360-degree videos. Users can download the app on Apple and Android devices.
The GOP launched a Snapchat channel to fill with behind-the-scenes content not available on other platforms.
What's Going on With Trump?
After a day of intensified speculation, Trump on Friday named Pence as his running mate. He initially said he would announce his decision at a press conference on Friday at 11 a.m., but postponed the event after the deadly terrorist attack in Nice, France, Thursday night. Then, at 10:50 a.m. on Friday, Trump went ahead and announced Pence as his vice presidential choice.
The conservative 57-year-old governor has described himself as "a Christian, a conservative and a Republican—in that order." He was an early believer in the Tea Party movement who generally is well-liked in Republican circles. It remains to be seen whether he could calm established party members who don't approve of the real estate mogul as their nominee.
A Quinnipiac University poll released Wednesday showed Trump and Clinton tied with 41 percent of support in Ohio.
Will There Be Themes?
Yes. The themes for the week will play on Trump's "Make America Great Again" slogan and focus on the core of his campaign: national security, immigration, trade and jobs. The New York Times reported that Monday night will involve a "Benghazi focus." Mark Geist and John Tiegen, who survived the 2012 attack at the U.S. Consulate in Benghazi, Libya, are slated to speak.
At some point, there might even be "a presentation detailing President Bill Clinton's sexual misconduct," the Times reported.
What About Security?
Homeland Security Secretary Jeh Johnson said he planned to send 3,000 employees from different agencies to the convention, plus 1,000 U.S. government officials. The Ohio National Guard and thousands of local and state law enforcement representatives also will be watching over the event.
In the wake of Thursday's terrorist attack in Nice, Johnson on Friday visited Cleveland for a personal on-site inspection.
This article will be updated as more information becomes available.​