Drew Holcomb, lead singer of Drew Holcomb and the Neighbors, is one of Americana's most popular stars, according to Rolling Stone, but he didn't pursue a traditional music education. In college, he focused on history and religion, as well as on classes where he learned to acquire the tools he uses in his songwriting today.
Holcomb attended the University of Tennessee, about six hours from Memphis, where he grew up, and he told Newsweek it was far enough from home that he felt he was going away to college. Choosing UT also took the financial burden off his family because Holcomb was a recipient of the Peyton Manning Scholarship, which was established by the famed quarterback, so his education was essentially free.
He focused on history and religion, a seemingly unconventional path for someone who would eventually become a professional musician. But his American Revolution professor taught him valuable lessons about the writing process, and he learned in his history classes how to tell a cohesive story, a key element of songwriting.
He said the ups and downs of college life also gave him the experience he needed to become an artist with a sustainable career.
"The artists I see make it over the long haul have lived some sort of life before becoming an artist," Holcomb said. "I think just the experience of college, the highs and lows, the failure and successes of being a student, interpersonal relationships, love and romance, and failure at that and success at that—all the things that you can experience in college help you as an artist."
After years of paying his dues on the road and trying to make it as an artist, Holcomb has forged a career in music. He's performed on Jimmy Kimmel Live!, his songs have been featured on several television shows, and on Friday he'll kick off in Dallas his "You and Me Tour" with his wife, Ellie, who is also a musician.
The interview is part of the "College Credit" series, which focuses on how college experiences affected a person's ability to achieve his or her dreams. It was condensed and edited for length.
Why did you choose the University of Tennessee?
I was fortunate enough to get a really great scholarship that basically made my college experience pretty close to free. I was sort of a bookish, nerdy kid who loved to read and loved to go to class, and I had a great opportunity to be involved in things I was interested in as a high school student.
Aside from meeting your wife at school, do you think your life would be different today if you hadn't gone there?
It's such a million-dollar question, I don't know. I think I would have pursued similar paths had I gone somewhere different, but the scholarship afforded me some opportunities to go abroad. I spent a summer in France and an entire semester in Edinburgh, Scotland, which is where I started writing songs.
Would you recommend studying abroad?
Yes, 1,000 percent. Everybody, if they can, should figure out a way to do it.
Did you study music at school?
No, I was a history major with plans to either get a Ph.D. in history or go to law school. I wanted to be involved in teaching and writing history or public policy. But I was already a musician, and at the time it was sort of a hobby. I started writing songs in college, and my interests took a pretty significant left turn.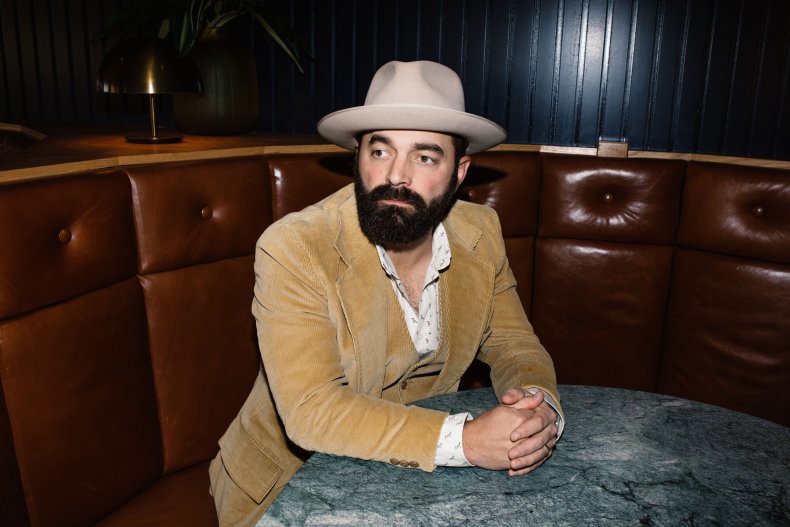 Is there any part of studying history or religion that has affected your songwriting?
Oh, yeah. When I went to college my dad gave me great advice. He said it didn't matter what you major in unless you're doing a specialty like architecture. He said just go to college and learn how to learn, and if you learn how to learn you can do anything.
I think what I learned in those disciplines was self-reflection and narrative and oral history, so storytelling. All of those things serve me as a songwriter.
Was there a specific professor or experience that stands out to you from college?
The first paper of my American Revolution class was a book review of Bernard Bailyn's Ideological Origins of the American Revolution. I got a C+ and I was an A student, so this was very shocking to my 18-year-old entitled sensibilities.
I went to the professor, and she said, "You probably had the best understanding of the book in the whole class, but you don't know how to write a paper, so you need to go learn how to write a paper." She told me, "If you rewrite this one, I'll up it to a B, and next time turn it in a week early and I'll walk you through all the mistakes. If you fix those, you'll get the second grade the first time around."
So I had to do all this work to learn how to write, but she really took me to the woodshed, and in high school that just didn't happen in my experience.
That's really important to a songwriter. To know how to put a consistent, thoughtful narrative together and take the time to double, triple, quadruple check your work.
Would you recommend that young artists today study something other than music?
There are so many different routes into music, and I think getting a university education isn't necessary to it, but I don't meet a lot of people who regret that because it is a really tough business and a really tough field to succeed in. So having a diversity of skills is a benefit to trying to make it as an artist. But then again I also meet artists and musicians who are so completely, entirely dedicated to the dream that they've made it happen.
I've always had more interests than just music and so going to school was great for me, and I'm really glad that I went. With that said, if I graduated college with $150,000 worth of debt and was trying to make it as a songwriter, that would have basically hamstrung that dream and it might not have come true. Everyone's circumstances are different, and that can change the conversation.
Looking back on your college experience, is there anything academically or socially that you wish you did differently?
I wish that I had been a part of the school paper. It was a really good school paper, and I always wanted to be a part of it. But I spent time on other things, and I wish that I had committed to something like that.