How to Succeed at a French Farmers' Market
Follow these tips from "Cook Like a Local in France" to win at the market everytime
The farmers' market is as much a part of life in France as the cafés and bistros. The produce is so gorgeous that you'll want to take a still life photo when you bring your bounty home.
Twice a week, late in the evening, trucks arrived in our neighborhood in Paris. Metallic clattering filled the air as workmen inserted poles into holes in the pavement. They quickly erected frames, from which individual purveyors would create their canvas booths in the morning. The next day we'd find a bustling tent city six blocks long displaying all things edible. Booth after booth of cheese, bread, fish and poultry, olive oil, flowers, herbs, and fresh, plump fruits and vegetables tempted us. The chaos seemed impenetrable and intimidating. Fishmongers with bloody aprons shouted out their specialties, while produce vendors hawked their wares. There was even a traveling cooking school run by the City of Paris where chefs and students huddled over exquisite concoctions while onlookers enjoyed the lesson.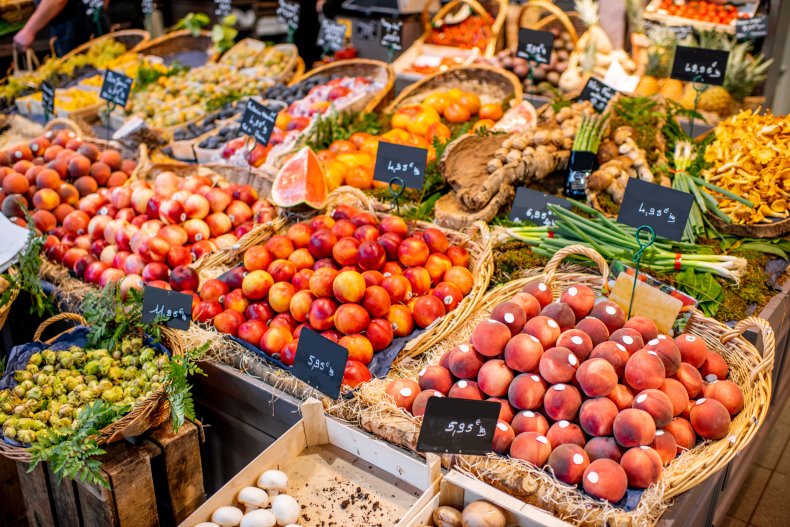 We observed the action in the market for several sessions before plunging into the fray. We quickly learned that customers wait until recognized by the attendant, who uses some kind of French ESP to keep track of which customer is next. Once the transaction begins, he or she bags the items the client indicates, weighs and tags it, and asks for further instructions. It's a good idea to reconnoiter before your turn, because holding up the procedure is not well received by the vendor or your fellow shoppers. When the order is complete, the worker adds the prices scribbled on a scrap of paper and asks for payment. After a few days, the vendors began to recognize us, and we felt relaxed enough to try out our abysmal French, which amused them. We were inordinately proud of mastering the procedure, and we'd happily trundle home with our bounty, our little cart bouncing along the sidewalk.
In smaller towns and villages, the weekly farmers' market feels almost like a county fair. In addition to produce, fish, poultry, and meat, sometimes there are live fowl and rabbits. Strolling along the cobblestones with the lilting calls of vendors touting their wares, the scent of flowers and fresh herbs, and the sight of brilliantly colored fruits and vegetables all surrounded by renaissance buildings and churches, is a moment never to forget. It's the essence of French life distilled into a Saturday morning shopping trip. Good restaurants are almost always nearby, and you'll probably see chefs picking out what you might eat for dinner that night if you go out.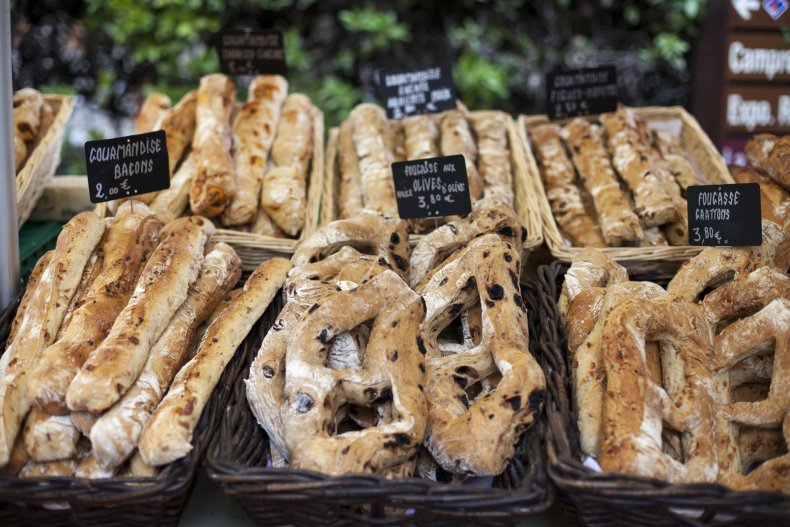 Whether you're shopping in a metropolis or a tiny village, here are some things we've learned about farmers' market shopping that you might find useful:
• Go early because the best of everything will disappear fast.
• Bring a basket or a big bag to corral your purchases. A rolling cart is ideal.
• Remember to bring cash!
• Take a reconnaissance lap around the market before you begin making choices.
• Do ask for samples so you won't be stuck with a chunk of cheese you don't love.
• Consider purchasing some still-warm bread, some cheese, and wine for a picnic. The wine vendor will be happy to open the bottle for you.
• Remember that 1 kilo is about 2.2 pounds.
This article is excerpted from Cook Like a Local in France. Copyright 2019 Lynne Martin and Deborah Scarborough. Reproduced by permission of The Countryman Press. All rights reserved.